NYP
Painel PC industrial
Baseado em processadores Intel® Atom® a Intel® Xeon®
Windows 10 IoT Enterprise, Windows Embedded Standard 7 ou sem sistema operativo
Sistema operativo aberto que permite a utilização de software próprio 
Porta Ethernet para acesso aos seus sistemas de TI
Factor de forma optimizado: opções de 1, 2 ou 3 camadas
Baseado em processadores Intel® Atom® a Intel® Xeon®
Windows 10 IoT Enterprise, Windows Embedded Standard 7 ou sem sistema operativo
Um sistema operativo aberto permite o funcionamento de software e hardware personalizado
Porta Ethernet para acesso aos seus sistemas de TI
Monitor industrial de 15,4 e 12,1 polegadas
Tipos Box PC industrial e Panel PC industrial (Box PC industrial + monitor integrado)
Modelos disponíveis com interface da ligação ao monitor NY para obter conectividade até 100 m entre o IPC e o ecrã
Especificações e info encomendas
| Produto | Screen diagonal | Processor family | Processor specification | Cooling method | Memory | Storage | Operating system | Expansion slot | Modular port | Video output | Display ratio | Number of pixels, horizontal | Number of pixels, vertical | Description |
| --- | --- | --- | --- | --- | --- | --- | --- | --- | --- | --- | --- | --- | --- | --- |
| | 12.1 in | Intel® Core™ i7 | 4700EQ (2.4 GHz) | Active cooling (fan) | 4 GB RAM (non ECC) | No Storage | No OS | 1 x PCIe slot (X4 lanes) | RS-232 | DVI-I | 16:10 | 1280 | 800 | Industrial Panel PC with Intel® Core™ i7-4700EQ, 4 GB DRAM (non-ECC), No storage, No OS, PCIe slot, RS-232, 12.1" display with capacitive touchscreen |
| | 15.4 in | Intel® Core™ i7 | 4700EQ (2.4 GHz) | Active cooling (fan) | 4 GB RAM (non ECC) | No Storage | No OS | 1 x PCIe slot (X4 lanes) | RS-232 | DVI-I | 16:10 | 1280 | 800 | Industrial Panel PC with Intel® Core™ i7-4700EQ, 4 GB DRAM (non-ECC), No storage, No OS, PCIe slot, RS-232, 15.4" display with capacitive touchscreen |
| | 12.1 in | Intel® Core™ i7 | 4700EQ (2.4 GHz) | Active cooling (fan) | 4 GB RAM (non ECC) | No Storage | No OS | 1 x PCIe slot (X4 lanes) | DVI-D | DVI-I | 16:10 | 1280 | 800 | Industrial Panel PC with Intel® Core™ i7-4700EQ, 4 GB DRAM (non-ECC), No storage, No OS, PCIe slot, extra DVI-D, 12.1" display with capacitive touchscreen |
| | 15.4 in | Intel® Core™ i7 | 4700EQ (2.4 GHz) | Active cooling (fan) | 4 GB RAM (non ECC) | No Storage | No OS | 1 x PCIe slot (X4 lanes) | DVI-D | DVI-I | 16:10 | 1280 | 800 | Industrial Panel PC with Intel® Core™ i7-4700EQ, 4 GB DRAM (non-ECC), No storage, No OS, PCIe slot, extra DVI-D, 15.4" display with capacitive touchscreen |
| | 12.1 in | Intel® Core™ i7 | 4700EQ (2.4 GHz) | Active cooling (fan) | 4 GB RAM (non ECC) | No Storage | No OS | 1 x PCIe slot (X4 lanes) | NYML | DVI-I | 16:10 | 1280 | 800 | Industrial Panel PC with Intel® Core™ i7-4700EQ, 4 GB DRAM (non-ECC), No storage, No OS, PCIe slot, NYML port, 12.1" display with capacitive touchscreen |
| | 15.4 in | Intel® Core™ i7 | 4700EQ (2.4 GHz) | Active cooling (fan) | 4 GB RAM (non ECC) | No Storage | No OS | 1 x PCIe slot (X4 lanes) | NYML | DVI-I | 16:10 | 1280 | 800 | Industrial Panel PC with Intel® Core™ i7-4700EQ, 4 GB DRAM (non-ECC), No storage, No OS, PCIe slot, NYML port, 15.4" display with capacitive touchscreen |
| | 12.1 in | Intel® Core™ i7 | 4700EQ (2.4 GHz) | Active cooling (fan) | 4 GB RAM (non ECC) | 32 GB SSD | WES 7 (32 bits) | 1 x PCIe slot (X4 lanes) | RS-232 | DVI-I | 16:10 | 1280 | 800 | Industrial Panel PC with Intel® Core™ i7-4700EQ, 4 GB DRAM (non-ECC), 32 GB SSD-SLC, WES 7 (32-bit), PCIe slot, RS-232, 12.1" display with capacitive touchscreen |
| | 15.4 in | Intel® Core™ i7 | 4700EQ (2.4 GHz) | Active cooling (fan) | 4 GB RAM (non ECC) | 32 GB SSD | WES 7 (32 bits) | 1 x PCIe slot (X4 lanes) | RS-232 | DVI-I | 16:10 | 1280 | 800 | Industrial Panel PC with Intel® Core™ i7-4700EQ, 4 GB DRAM (non-ECC), 32 GB SSD-SLC, WES 7 (32-bit), PCIe slot, RS-232, 15.4" display with capacitive touchscreen |
| | 12.1 in | Intel® Core™ i7 | 4700EQ (2.4 GHz) | Active cooling (fan) | 4 GB RAM (non ECC) | 32 GB SSD | WES 7 (32 bits) | 1 x PCIe slot (X4 lanes) | DVI-D | DVI-I | 16:10 | 1280 | 800 | Industrial Panel PC with Intel® Core™ i7-4700EQ, 4 GB DRAM (non-ECC), 32 GB SSD-SLC, WES 7 (32-bit), PCIe slot, extra DVI-D, 12.1" display with capacitive touchscreen |
| | 15.4 in | Intel® Core™ i7 | 4700EQ (2.4 GHz) | Active cooling (fan) | 4 GB RAM (non ECC) | 32 GB SSD | WES 7 (32 bits) | 1 x PCIe slot (X4 lanes) | DVI-D | DVI-I | 16:10 | 1280 | 800 | Industrial Panel PC with Intel® Core™ i7-4700EQ, 4 GB DRAM (non-ECC), 32 GB SSD-SLC, WES 7 (32-bit), PCIe slot, extra DVI-D, 15.4" display with capacitive touchscreen |
| | 12.1 in | Intel® Core™ i7 | 4700EQ (2.4 GHz) | Active cooling (fan) | 4 GB RAM (non ECC) | 64 GB SSD | WES 7 (32 bits) | 1 x PCIe slot (X4 lanes) | RS-232 | DVI-I | 16:10 | 1280 | 800 | Industrial Panel PC with Intel® Core™ i7-4700EQ, 4 GB DRAM (non-ECC), 64 GB SSD-SLC, WES 7 (32-bit), PCIe slot, RS-232, 12.1" display with capacitive touchscreen |
| | 15.4 in | Intel® Core™ i7 | 4700EQ (2.4 GHz) | Active cooling (fan) | 4 GB RAM (non ECC) | 64 GB SSD | WES 7 (32 bits) | 1 x PCIe slot (X4 lanes) | RS-232 | DVI-I | 16:10 | 1280 | 800 | Industrial Panel PC with Intel® Core™ i7-4700EQ, 4 GB DRAM (non-ECC), 64 GB SSD-SLC, WES 7 (32-bit), PCIe slot, RS-232, 15.4" display with capacitive touchscreen |
| | 12.1 in | Intel® Core™ i7 | 4700EQ (2.4 GHz) | Active cooling (fan) | 4 GB RAM (non ECC) | 64 GB SSD | WES 7 (32 bits) | 1 x PCIe slot (X4 lanes) | DVI-D | DVI-I | 16:10 | 1280 | 800 | Industrial Panel PC with Intel® Core™ i7-4700EQ, 4 GB DRAM (non-ECC), 64 GB SSD-SLC, WES 7 (32-bit), PCIe slot, extra DVI-D, 12.1" display with capacitive touchscreen |
| | 15.4 in | Intel® Core™ i7 | 4700EQ (2.4 GHz) | Active cooling (fan) | 4 GB RAM (non ECC) | 64 GB SSD | WES 7 (32 bits) | 1 x PCIe slot (X4 lanes) | DVI-D | DVI-I | 16:10 | 1280 | 800 | Industrial Panel PC with Intel® Core™ i7-4700EQ, 4 GB DRAM (non-ECC), 64 GB SSD-SLC, WES 7 (32-bit), PCIe slot, extra DVI-D, 15.4" display with capacitive touchscreen |
| | 12.1 in | Intel® Core™ i7 | 4700EQ (2.4 GHz) | Active cooling (fan) | 4 GB RAM (non ECC) | 320 GB HDD | WES 7 (32 bits) | 1 x PCIe slot (X4 lanes) | RS-232 | DVI-I | 16:10 | 1280 | 800 | Industrial Panel PC with Intel® Core™ i7-4700EQ, 4 GB DRAM (non-ECC), 320 GB HDD, WES 7 (32-bit), PCIe slot, RS-232, 12.1" display with capacitive touchscreen |
| | 15.4 in | Intel® Core™ i7 | 4700EQ (2.4 GHz) | Active cooling (fan) | 4 GB RAM (non ECC) | 320 GB HDD | WES 7 (32 bits) | 1 x PCIe slot (X4 lanes) | RS-232 | DVI-I | 16:10 | 1280 | 800 | Industrial Panel PC with Intel® Core™ i7-4700EQ, 4 GB DRAM (non-ECC), 320 GB HDD, WES 7 (32-bit), PCIe slot, RS-232, 15.4" display with capacitive touchscreen |
| | 12.1 in | Intel® Core™ i7 | 4700EQ (2.4 GHz) | Active cooling (fan) | 4 GB RAM (non ECC) | 320 GB HDD | WES 7 (32 bits) | 1 x PCIe slot (X4 lanes) | DVI-D | DVI-I | 16:10 | 1280 | 800 | Industrial Panel PC with Intel® Core™ i7-4700EQ, 4 GB DRAM (non-ECC), 320 GB HDD, WES 7 (32-bit), PCIe slot, extra DVI-D, 12.1" display with capacitive touchscreen |
| | 15.4 in | Intel® Core™ i7 | 4700EQ (2.4 GHz) | Active cooling (fan) | 4 GB RAM (non ECC) | 320 GB HDD | WES 7 (32 bits) | 1 x PCIe slot (X4 lanes) | DVI-D | DVI-I | 16:10 | 1280 | 800 | Industrial Panel PC with Intel® Core™ i7-4700EQ, 4 GB DRAM (non-ECC), 320 GB HDD, WES 7 (32-bit), PCIe slot, extra DVI-D, 15.4" display with capacitive touchscreen |
| | 12.1 in | Intel® Core™ i7 | 4700EQ (2.4 GHz) | Active cooling (fan) | 4 GB RAM (non ECC) | 128 GB SSD | WES 7 (32 bits) | 1 x PCIe slot (X4 lanes) | RS-232 | DVI-I | 16:10 | 1280 | 800 | Industrial Panel PC with Intel® Core™ i7-4700EQ, 4 GB DRAM (non-ECC), 128 GB SSD-iMLC, WES 7 (32-bit), PCIe slot, RS-232, 12.1" display with capacitive touchscreen |
| | 15.4 in | Intel® Core™ i7 | 4700EQ (2.4 GHz) | Active cooling (fan) | 4 GB RAM (non ECC) | 128 GB SSD | WES 7 (32 bits) | 1 x PCIe slot (X4 lanes) | RS-232 | DVI-I | 16:10 | 1280 | 800 | Industrial Panel PC with Intel® Core™ i7-4700EQ, 4 GB DRAM (non-ECC), 128 GB SSD-iMLC, WES 7 (32-bit), PCIe slot, RS-232, 15.4" display with capacitive touchscreen |
| | 12.1 in | Intel® Core™ i7 | 4700EQ (2.4 GHz) | Active cooling (fan) | 4 GB RAM (non ECC) | 128 GB SSD | WES 7 (32 bits) | 1 x PCIe slot (X4 lanes) | DVI-D | DVI-I | 16:10 | 1280 | 800 | Industrial Panel PC with Intel® Core™ i7-4700EQ, 4 GB DRAM (non-ECC), 128 GB SSD-iMLC, WES 7 (32-bit), PCIe slot, extra DVI-D, 12.1" display with capacitive touchscreen |
| | 15.4 in | Intel® Core™ i7 | 4700EQ (2.4 GHz) | Active cooling (fan) | 4 GB RAM (non ECC) | 128 GB SSD | WES 7 (32 bits) | 1 x PCIe slot (X4 lanes) | DVI-D | DVI-I | 16:10 | 1280 | 800 | Industrial Panel PC with Intel® Core™ i7-4700EQ, 4 GB DRAM (non-ECC), 128 GB SSD-iMLC, WES 7 (32-bit), PCIe slot, extra DVI-D, 15.4" display with capacitive touchscreen |
| | 12.1 in | Intel® Core™ i7 | 4700EQ (2.4 GHz) | Active cooling (fan) | 4 GB RAM (non ECC) | 32 GB SSD | WES 7 (64 bits) | 1 x PCIe slot (X4 lanes) | RS-232 | DVI-I | 16:10 | 1280 | 800 | Industrial Panel PC with Intel® Core™ i7-4700EQ, 4 GB DRAM (non-ECC), 32 GB SSD-SLC, WES 7 (64-bit), PCIe slot, RS-232, 12.1" display with capacitive touchscreen |
| | 15.4 in | Intel® Core™ i7 | 4700EQ (2.4 GHz) | Active cooling (fan) | 4 GB RAM (non ECC) | 32 GB SSD | WES 7 (64 bits) | 1 x PCIe slot (X4 lanes) | RS-232 | DVI-I | 16:10 | 1280 | 800 | Industrial Panel PC with Intel® Core™ i7-4700EQ, 4 GB DRAM (non-ECC), 32 GB SSD-SLC, WES 7 (64-bit), PCIe slot, RS-232, 15.4" display with capacitive touchscreen |
| | 12.1 in | Intel® Core™ i7 | 4700EQ (2.4 GHz) | Active cooling (fan) | 4 GB RAM (non ECC) | 32 GB SSD | WES 7 (64 bits) | 1 x PCIe slot (X4 lanes) | DVI-D | DVI-I | 16:10 | 1280 | 800 | Industrial Panel PC with Intel® Core™ i7-4700EQ, 4 GB DRAM (non-ECC), 32 GB SSD-SLC, WES 7 (64-bit), PCIe slot, extra DVI-D, 12.1" display with capacitive touchscreen |
| | 15.4 in | Intel® Core™ i7 | 4700EQ (2.4 GHz) | Active cooling (fan) | 4 GB RAM (non ECC) | 32 GB SSD | WES 7 (64 bits) | 1 x PCIe slot (X4 lanes) | DVI-D | DVI-I | 16:10 | 1280 | 800 | Industrial Panel PC with Intel® Core™ i7-4700EQ, 4 GB DRAM (non-ECC), 32 GB SSD-SLC, WES 7 (64-bit), PCIe slot, extra DVI-D, 15.4" display with capacitive touchscreen |
| | 12.1 in | Intel® Core™ i7 | 4700EQ (2.4 GHz) | Active cooling (fan) | 4 GB RAM (non ECC) | 64 GB SSD | WES 7 (64 bits) | 1 x PCIe slot (X4 lanes) | RS-232 | DVI-I | 16:10 | 1280 | 800 | Industrial Panel PC with Intel® Core™ i7-4700EQ, 4 GB DRAM (non-ECC), 64 GB SSD-SLC, WES 7 (64-bit), PCIe slot, RS-232, 12.1" display with capacitive touchscreen |
| | 15.4 in | Intel® Core™ i7 | 4700EQ (2.4 GHz) | Active cooling (fan) | 4 GB RAM (non ECC) | 64 GB SSD | WES 7 (64 bits) | 1 x PCIe slot (X4 lanes) | RS-232 | DVI-I | 16:10 | 1280 | 800 | Industrial Panel PC with Intel® Core™ i7-4700EQ, 4 GB DRAM (non-ECC), 64 GB SSD-SLC, WES 7 (64-bit), PCIe slot, RS-232, 15.4" display with capacitive touchscreen |
| | 12.1 in | Intel® Core™ i7 | 4700EQ (2.4 GHz) | Active cooling (fan) | 4 GB RAM (non ECC) | 64 GB SSD | WES 7 (64 bits) | 1 x PCIe slot (X4 lanes) | DVI-D | DVI-I | 16:10 | 1280 | 800 | Industrial Panel PC with Intel® Core™ i7-4700EQ, 4 GB DRAM (non-ECC), 64 GB SSD-SLC, WES 7 (64-bit), PCIe slot, extra DVI-D, 12.1" display with capacitive touchscreen |
| | 15.4 in | Intel® Core™ i7 | 4700EQ (2.4 GHz) | Active cooling (fan) | 4 GB RAM (non ECC) | 64 GB SSD | WES 7 (64 bits) | 1 x PCIe slot (X4 lanes) | DVI-D | DVI-I | 16:10 | 1280 | 800 | Industrial Panel PC with Intel® Core™ i7-4700EQ, 4 GB DRAM (non-ECC), 64 GB SSD-SLC, WES 7 (64-bit), PCIe slot, extra DVI-D, 15.4" display with capacitive touchscreen |
| | 12.1 in | Intel® Core™ i7 | 4700EQ (2.4 GHz) | Active cooling (fan) | 4 GB RAM (non ECC) | 320 GB HDD | WES 7 (64 bits) | 1 x PCIe slot (X4 lanes) | RS-232 | DVI-I | 16:10 | 1280 | 800 | Industrial Panel PC with Intel® Core™ i7-4700EQ, 4 GB DRAM (non-ECC), 320 GB HDD, WES 7 (64-bit), PCIe slot, RS-232, 12.1" display with capacitive touchscreen |
| | 15.4 in | Intel® Core™ i7 | 4700EQ (2.4 GHz) | Active cooling (fan) | 4 GB RAM (non ECC) | 320 GB HDD | WES 7 (64 bits) | 1 x PCIe slot (X4 lanes) | RS-232 | DVI-I | 16:10 | 1280 | 800 | Industrial Panel PC with Intel® Core™ i7-4700EQ, 4 GB DRAM (non-ECC), 320 GB HDD, WES 7 (64-bit), PCIe slot, RS-232, 15.4" display with capacitive touchscreen |
| | 12.1 in | Intel® Core™ i7 | 4700EQ (2.4 GHz) | Active cooling (fan) | 4 GB RAM (non ECC) | 320 GB HDD | WES 7 (64 bits) | 1 x PCIe slot (X4 lanes) | DVI-D | DVI-I | 16:10 | 1280 | 800 | Industrial Panel PC with Intel® Core™ i7-4700EQ, 4 GB DRAM (non-ECC), 320 GB HDD, WES 7 (64-bit), PCIe slot, extra DVI-D, 12.1" display with capacitive touchscreen |
| | 15.4 in | Intel® Core™ i7 | 4700EQ (2.4 GHz) | Active cooling (fan) | 4 GB RAM (non ECC) | 320 GB HDD | WES 7 (64 bits) | 1 x PCIe slot (X4 lanes) | DVI-D | DVI-I | 16:10 | 1280 | 800 | Industrial Panel PC with Intel® Core™ i7-4700EQ, 4 GB DRAM (non-ECC), 320 GB HDD, WES 7 (64-bit), PCIe slot, extra DVI-D, 15.4" display with capacitive touchscreen |
| | 12.1 in | Intel® Core™ i7 | 4700EQ (2.4 GHz) | Active cooling (fan) | 4 GB RAM (non ECC) | 128 GB SSD | WES 7 (64 bits) | 1 x PCIe slot (X4 lanes) | RS-232 | DVI-I | 16:10 | 1280 | 800 | Industrial Panel PC with Intel® Core™ i7-4700EQ, 4 GB DRAM (non-ECC), 128 GB SSD-iMLC, WES 7 (64-bit), PCIe slot, RS-232, 12.1" display with capacitive touchscreen |
| | 15.4 in | Intel® Core™ i7 | 4700EQ (2.4 GHz) | Active cooling (fan) | 4 GB RAM (non ECC) | 128 GB SSD | WES 7 (64 bits) | 1 x PCIe slot (X4 lanes) | RS-232 | DVI-I | 16:10 | 1280 | 800 | Industrial Panel PC with Intel® Core™ i7-4700EQ, 4 GB DRAM (non-ECC), 128 GB SSD-iMLC, WES 7 (64-bit), PCIe slot, RS-232, 15.4" display with capacitive touchscreen |
| | 12.1 in | Intel® Core™ i7 | 4700EQ (2.4 GHz) | Active cooling (fan) | 4 GB RAM (non ECC) | 128 GB SSD | WES 7 (64 bits) | 1 x PCIe slot (X4 lanes) | DVI-D | DVI-I | 16:10 | 1280 | 800 | Industrial Panel PC with Intel® Core™ i7-4700EQ, 4 GB DRAM (non-ECC), 128 GB SSD-iMLC, WES 7 (64-bit), PCIe slot, extra DVI-D, 12.1" display with capacitive touchscreen |
| | 15.4 in | Intel® Core™ i7 | 4700EQ (2.4 GHz) | Active cooling (fan) | 4 GB RAM (non ECC) | 128 GB SSD | WES 7 (64 bits) | 1 x PCIe slot (X4 lanes) | DVI-D | DVI-I | 16:10 | 1280 | 800 | Industrial Panel PC with Intel® Core™ i7-4700EQ, 4 GB DRAM (non-ECC), 128 GB SSD-iMLC, WES 7 (64-bit), PCIe slot, extra DVI-D, 15.4" display with capacitive touchscreen |
| | 12.1 in | Intel® Core™ i7 | 4700EQ (2.4 GHz) | Active cooling (fan) | 4 GB RAM (non ECC) | 64 GB SSD | Windows 10 (64 bits) | 1 x PCIe slot (X4 lanes) | RS-232 | DVI-I | 16:10 | 1280 | 800 | Industrial Panel PC with Intel® Core™ i7-4700EQ, 4 GB DRAM (non-ECC), 64 GB SSD-SLC, WIN 10 IoT Ent. (64-bit), PCIe slot, RS-232, 12.1" display with capacitive touchscreen |
| | 15.4 in | Intel® Core™ i7 | 4700EQ (2.4 GHz) | Active cooling (fan) | 4 GB RAM (non ECC) | 64 GB SSD | Windows 10 (64 bits) | 1 x PCIe slot (X4 lanes) | RS-232 | DVI-I | 16:10 | 1280 | 800 | Industrial Panel PC with Intel® Core™ i7-4700EQ, 4 GB DRAM (non-ECC), 64 GB SSD-SLC, WIN 10 IoT Ent. (64-bit), PCIe slot, RS-232, 15.4" display with capacitive touchscreen |
| | 12.1 in | Intel® Core™ i7 | 4700EQ (2.4 GHz) | Active cooling (fan) | 4 GB RAM (non ECC) | 64 GB SSD | Windows 10 (64 bits) | 1 x PCIe slot (X4 lanes) | DVI-D | DVI-I | 16:10 | 1280 | 800 | Industrial Panel PC with Intel® Core™ i7-4700EQ, 4 GB DRAM (non-ECC), 64 GB SSD-SLC, WIN 10 IoT Ent. (64-bit), PCIe slot, extra DVI-D, 12.1" display with capacitive touchscreen |
| | 15.4 in | Intel® Core™ i7 | 4700EQ (2.4 GHz) | Active cooling (fan) | 4 GB RAM (non ECC) | 64 GB SSD | Windows 10 (64 bits) | 1 x PCIe slot (X4 lanes) | DVI-D | DVI-I | 16:10 | 1280 | 800 | Industrial Panel PC with Intel® Core™ i7-4700EQ, 4 GB DRAM (non-ECC), 64 GB SSD-SLC, WIN 10 IoT Ent. (64-bit), PCIe slot, extra DVI-D, 15.4" display with capacitive touchscreen |
| | 12.1 in | Intel® Core™ i7 | 4700EQ (2.4 GHz) | Active cooling (fan) | 4 GB RAM (non ECC) | 64 GB SSD | Windows 10 (64 bits) | 1 x PCIe slot (X4 lanes) | NYML | DVI-I | 16:10 | 1280 | 800 | Industrial Panel PC with Intel® Core™ i7-4700EQ, 4 GB DRAM (non-ECC), 64 GB SSD-SLC, WIN 10 IoT Ent. (64-bit), PCIe slot, NYML port, 12.1" display with capacitive touchscreen |
| | 15.4 in | Intel® Core™ i7 | 4700EQ (2.4 GHz) | Active cooling (fan) | 4 GB RAM (non ECC) | 64 GB SSD | Windows 10 (64 bits) | 1 x PCIe slot (X4 lanes) | NYML | DVI-I | 16:10 | 1280 | 800 | Industrial Panel PC with Intel® Core™ i7-4700EQ, 4 GB DRAM (non-ECC), 64 GB SSD-SLC, WIN 10 IoT Ent. (64-bit), PCIe slot, NYML port, 15.4" display with capacitive touchscreen |
| | 12.1 in | Intel® Core™ i7 | 4700EQ (2.4 GHz) | Active cooling (fan) | 4 GB RAM (non ECC) | 320 GB HDD | Windows 10 (64 bits) | 1 x PCIe slot (X4 lanes) | RS-232 | DVI-I | 16:10 | 1280 | 800 | Industrial Panel PC with Intel® Core™ i7-4700EQ, 4 GB DRAM (non-ECC), 320 GB HDD, WIN 10 IoT Ent. (64-bit), PCIe slot, RS-232, 12.1" display with capacitive touchscreen |
| | 15.4 in | Intel® Core™ i7 | 4700EQ (2.4 GHz) | Active cooling (fan) | 4 GB RAM (non ECC) | 320 GB HDD | Windows 10 (64 bits) | 1 x PCIe slot (X4 lanes) | RS-232 | DVI-I | 16:10 | 1280 | 800 | Industrial Panel PC with Intel® Core™ i7-4700EQ, 4 GB DRAM (non-ECC), 320 GB HDD, WIN 10 IoT Ent. (64-bit), PCIe slot, RS-232, 15.4" display with capacitive touchscreen |
| | 12.1 in | Intel® Core™ i7 | 4700EQ (2.4 GHz) | Active cooling (fan) | 4 GB RAM (non ECC) | 320 GB HDD | Windows 10 (64 bits) | 1 x PCIe slot (X4 lanes) | DVI-D | DVI-I | 16:10 | 1280 | 800 | Industrial Panel PC with Intel® Core™ i7-4700EQ, 4 GB DRAM (non-ECC), 320 GB HDD, WIN 10 IoT Ent. (64-bit), PCIe slot, extra DVI-D, 12.1" display with capacitive touchscreen |
| | 15.4 in | Intel® Core™ i7 | 4700EQ (2.4 GHz) | Active cooling (fan) | 4 GB RAM (non ECC) | 320 GB HDD | Windows 10 (64 bits) | 1 x PCIe slot (X4 lanes) | DVI-D | DVI-I | 16:10 | 1280 | 800 | Industrial Panel PC with Intel® Core™ i7-4700EQ, 4 GB DRAM (non-ECC), 320 GB HDD, WIN 10 IoT Ent. (64-bit), PCIe slot, extra DVI-D, 15.4" display with capacitive touchscreen |
| | 12.1 in | Intel® Core™ i7 | 4700EQ (2.4 GHz) | Active cooling (fan) | 4 GB RAM (non ECC) | 320 GB HDD | Windows 10 (64 bits) | 1 x PCIe slot (X4 lanes) | NYML | DVI-I | 16:10 | 1280 | 800 | Industrial Panel PC with Intel® Core™ i7-4700EQ, 4 GB DRAM (non-ECC), 320 GB HDD, WIN 10 IoT Ent. (64-bit), PCIe slot, NYML port, 12.1" display with capacitive touchscreen |
| | 15.4 in | Intel® Core™ i7 | 4700EQ (2.4 GHz) | Active cooling (fan) | 4 GB RAM (non ECC) | 320 GB HDD | Windows 10 (64 bits) | 1 x PCIe slot (X4 lanes) | NYML | DVI-I | 16:10 | 1280 | 800 | Industrial Panel PC with Intel® Core™ i7-4700EQ, 4 GB DRAM (non-ECC), 320 GB HDD, WIN 10 IoT Ent. (64-bit), PCIe slot, NYML port, 15.4" display with capacitive touchscreen |
| | 12.1 in | Intel® Core™ i7 | 4700EQ (2.4 GHz) | Active cooling (fan) | 4 GB RAM (non ECC) | 128 GB SSD | Windows 10 (64 bits) | 1 x PCIe slot (X4 lanes) | RS-232 | DVI-I | 16:10 | 1280 | 800 | Industrial Panel PC with Intel® Core™ i7-4700EQ, 4 GB DRAM (non-ECC), 128 GB SSD-iMLC, WIN 10 IoT Ent. (64-bit), PCIe slot, RS-232, 12.1" display with capacitive touchscreen |
| | 15.4 in | Intel® Core™ i7 | 4700EQ (2.4 GHz) | Active cooling (fan) | 4 GB RAM (non ECC) | 128 GB SSD | Windows 10 (64 bits) | 1 x PCIe slot (X4 lanes) | RS-232 | DVI-I | 16:10 | 1280 | 800 | Industrial Panel PC with Intel® Core™ i7-4700EQ, 4 GB DRAM (non-ECC), 128 GB SSD-iMLC, WIN 10 IoT Ent. (64-bit), PCIe slot, RS-232, 15.4" display with capacitive touchscreen |
| | 12.1 in | Intel® Core™ i7 | 4700EQ (2.4 GHz) | Active cooling (fan) | 4 GB RAM (non ECC) | 128 GB SSD | Windows 10 (64 bits) | 1 x PCIe slot (X4 lanes) | DVI-D | DVI-I | 16:10 | 1280 | 800 | Industrial Panel PC with Intel® Core™ i7-4700EQ, 4 GB DRAM (non-ECC), 128 GB SSD-iMLC, WIN 10 IoT Ent. (64-bit), PCIe slot, extra DVI-D, 12.1" display with capacitive touchscreen |
| | 15.4 in | Intel® Core™ i7 | 4700EQ (2.4 GHz) | Active cooling (fan) | 4 GB RAM (non ECC) | 128 GB SSD | Windows 10 (64 bits) | 1 x PCIe slot (X4 lanes) | DVI-D | DVI-I | 16:10 | 1280 | 800 | Industrial Panel PC with Intel® Core™ i7-4700EQ, 4 GB DRAM (non-ECC), 128 GB SSD-iMLC, WIN 10 IoT Ent. (64-bit), PCIe slot, extra DVI-D, 15.4" display with capacitive touchscreen |
| | 12.1 in | Intel® Core™ i7 | 4700EQ (2.4 GHz) | Active cooling (fan) | 4 GB RAM (non ECC) | 128 GB SSD | Windows 10 (64 bits) | 1 x PCIe slot (X4 lanes) | NYML | DVI-I | 16:10 | 1280 | 800 | Industrial Panel PC with Intel® Core™ i7-4700EQ, 4 GB DRAM (non-ECC), 128 GB SSD-iMLC, WIN 10 IoT Ent. (64-bit), PCIe slot, NYML port, 12.1" display with capacitive touchscreen |
| | 15.4 in | Intel® Core™ i7 | 4700EQ (2.4 GHz) | Active cooling (fan) | 4 GB RAM (non ECC) | 128 GB SSD | Windows 10 (64 bits) | 1 x PCIe slot (X4 lanes) | NYML | DVI-I | 16:10 | 1280 | 800 | Industrial Panel PC with Intel® Core™ i7-4700EQ, 4 GB DRAM (non-ECC), 128 GB SSD-iMLC, WIN 10 IoT Ent. (64-bit), PCIe slot, NYML port, 15.4" display with capacitive touchscreen |
| | 12.1 in | Intel® Core™ i7 | 4700EQ (2.4 GHz) | Active cooling (fan) | 8 GB RAM (non ECC) | No Storage | No OS | 1 x PCIe slot (X4 lanes) | RS-232 | DVI-I | 16:10 | 1280 | 800 | Industrial Panel PC with Intel® Core™ i7-4700EQ, 8 GB DRAM (non-ECC), No storage, No OS, PCIe slot, RS-232, 12.1" display with capacitive touchscreen |
| | 15.4 in | Intel® Core™ i7 | 4700EQ (2.4 GHz) | Active cooling (fan) | 8 GB RAM (non ECC) | No Storage | No OS | 1 x PCIe slot (X4 lanes) | RS-232 | DVI-I | 16:10 | 1280 | 800 | Industrial Panel PC with Intel® Core™ i7-4700EQ, 8 GB DRAM (non-ECC), No storage, No OS, PCIe slot, RS-232, 15.4" display with capacitive touchscreen |
| | 12.1 in | Intel® Core™ i7 | 4700EQ (2.4 GHz) | Active cooling (fan) | 8 GB RAM (non ECC) | No Storage | No OS | 1 x PCIe slot (X4 lanes) | DVI-D | DVI-I | 16:10 | 1280 | 800 | Industrial Panel PC with Intel® Core™ i7-4700EQ, 8 GB DRAM (non-ECC), No storage, No OS, PCIe slot, extra DVI-D, 12.1" display with capacitive touchscreen |
| | 15.4 in | Intel® Core™ i7 | 4700EQ (2.4 GHz) | Active cooling (fan) | 8 GB RAM (non ECC) | No Storage | No OS | 1 x PCIe slot (X4 lanes) | DVI-D | DVI-I | 16:10 | 1280 | 800 | Industrial Panel PC with Intel® Core™ i7-4700EQ, 8 GB DRAM (non-ECC), No storage, No OS, PCIe slot, extra DVI-D, 15.4" display with capacitive touchscreen |
| | 12.1 in | Intel® Core™ i7 | 4700EQ (2.4 GHz) | Active cooling (fan) | 8 GB RAM (non ECC) | No Storage | No OS | 1 x PCIe slot (X4 lanes) | NYML | DVI-I | 16:10 | 1280 | 800 | Industrial Panel PC with Intel® Core™ i7-4700EQ, 8 GB DRAM (non-ECC), No storage, No OS, PCIe slot, NYML port, 12.1" display with capacitive touchscreen |
| | 15.4 in | Intel® Core™ i7 | 4700EQ (2.4 GHz) | Active cooling (fan) | 8 GB RAM (non ECC) | No Storage | No OS | 1 x PCIe slot (X4 lanes) | NYML | DVI-I | 16:10 | 1280 | 800 | Industrial Panel PC with Intel® Core™ i7-4700EQ, 8 GB DRAM (non-ECC), No storage, No OS, PCIe slot, NYML port, 15.4" display with capacitive touchscreen |
| | 12.1 in | Intel® Core™ i7 | 4700EQ (2.4 GHz) | Active cooling (fan) | 8 GB RAM (non ECC) | 32 GB SSD | WES 7 (64 bits) | 1 x PCIe slot (X4 lanes) | RS-232 | DVI-I | 16:10 | 1280 | 800 | Industrial Panel PC with Intel® Core™ i7-4700EQ, 8 GB DRAM (non-ECC), 32 GB SSD-SLC, WES 7 (64-bit), PCIe slot, RS-232, 12.1" display with capacitive touchscreen |
| | 15.4 in | Intel® Core™ i7 | 4700EQ (2.4 GHz) | Active cooling (fan) | 8 GB RAM (non ECC) | 32 GB SSD | WES 7 (64 bits) | 1 x PCIe slot (X4 lanes) | RS-232 | DVI-I | 16:10 | 1280 | 800 | Industrial Panel PC with Intel® Core™ i7-4700EQ, 8 GB DRAM (non-ECC), 32 GB SSD-SLC, WES 7 (64-bit), PCIe slot, RS-232, 15.4" display with capacitive touchscreen |
| | 12.1 in | Intel® Core™ i7 | 4700EQ (2.4 GHz) | Active cooling (fan) | 8 GB RAM (non ECC) | 32 GB SSD | WES 7 (64 bits) | 1 x PCIe slot (X4 lanes) | DVI-D | DVI-I | 16:10 | 1280 | 800 | Industrial Panel PC with Intel® Core™ i7-4700EQ, 8 GB DRAM (non-ECC), 32 GB SSD-SLC, WES 7 (64-bit), PCIe slot, extra DVI-D, 12.1" display with capacitive touchscreen |
| | 15.4 in | Intel® Core™ i7 | 4700EQ (2.4 GHz) | Active cooling (fan) | 8 GB RAM (non ECC) | 32 GB SSD | WES 7 (64 bits) | 1 x PCIe slot (X4 lanes) | DVI-D | DVI-I | 16:10 | 1280 | 800 | Industrial Panel PC with Intel® Core™ i7-4700EQ, 8 GB DRAM (non-ECC), 32 GB SSD-SLC, WES 7 (64-bit), PCIe slot, extra DVI-D, 15.4" display with capacitive touchscreen |
| | 12.1 in | Intel® Core™ i7 | 4700EQ (2.4 GHz) | Active cooling (fan) | 8 GB RAM (non ECC) | 64 GB SSD | WES 7 (64 bits) | 1 x PCIe slot (X4 lanes) | RS-232 | DVI-I | 16:10 | 1280 | 800 | Industrial Panel PC with Intel® Core™ i7-4700EQ, 8 GB DRAM (non-ECC), 64 GB SSD-SLC, WES 7 (64-bit), PCIe slot, RS-232, 12.1" display with capacitive touchscreen |
| | 15.4 in | Intel® Core™ i7 | 4700EQ (2.4 GHz) | Active cooling (fan) | 8 GB RAM (non ECC) | 64 GB SSD | WES 7 (64 bits) | 1 x PCIe slot (X4 lanes) | RS-232 | DVI-I | 16:10 | 1280 | 800 | Industrial Panel PC with Intel® Core™ i7-4700EQ, 8 GB DRAM (non-ECC), 64 GB SSD-SLC, WES 7 (64-bit), PCIe slot, RS-232, 15.4" display with capacitive touchscreen |
| | 12.1 in | Intel® Core™ i7 | 4700EQ (2.4 GHz) | Active cooling (fan) | 8 GB RAM (non ECC) | 64 GB SSD | WES 7 (64 bits) | 1 x PCIe slot (X4 lanes) | DVI-D | DVI-I | 16:10 | 1280 | 800 | Industrial Panel PC with Intel® Core™ i7-4700EQ, 8 GB DRAM (non-ECC), 64 GB SSD-SLC, WES 7 (64-bit), PCIe slot, extra DVI-D, 12.1" display with capacitive touchscreen |
| | 15.4 in | Intel® Core™ i7 | 4700EQ (2.4 GHz) | Active cooling (fan) | 8 GB RAM (non ECC) | 64 GB SSD | WES 7 (64 bits) | 1 x PCIe slot (X4 lanes) | DVI-D | DVI-I | 16:10 | 1280 | 800 | Industrial Panel PC with Intel® Core™ i7-4700EQ, 8 GB DRAM (non-ECC), 64 GB SSD-SLC, WES 7 (64-bit), PCIe slot, extra DVI-D, 15.4" display with capacitive touchscreen |
| | 12.1 in | Intel® Core™ i7 | 4700EQ (2.4 GHz) | Active cooling (fan) | 8 GB RAM (non ECC) | 320 GB HDD | WES 7 (64 bits) | 1 x PCIe slot (X4 lanes) | RS-232 | DVI-I | 16:10 | 1280 | 800 | Industrial Panel PC with Intel® Core™ i7-4700EQ, 8 GB DRAM (non-ECC), 320 GB HDD, WES 7 (64-bit), PCIe slot, RS-232, 12.1" display with capacitive touchscreen |
| | 15.4 in | Intel® Core™ i7 | 4700EQ (2.4 GHz) | Active cooling (fan) | 8 GB RAM (non ECC) | 320 GB HDD | WES 7 (64 bits) | 1 x PCIe slot (X4 lanes) | RS-232 | DVI-I | 16:10 | 1280 | 800 | Industrial Panel PC with Intel® Core™ i7-4700EQ, 8 GB DRAM (non-ECC), 320 GB HDD, WES 7 (64-bit), PCIe slot, RS-232, 15.4" display with capacitive touchscreen |
| | 12.1 in | Intel® Core™ i7 | 4700EQ (2.4 GHz) | Active cooling (fan) | 8 GB RAM (non ECC) | 320 GB HDD | WES 7 (64 bits) | 1 x PCIe slot (X4 lanes) | DVI-D | DVI-I | 16:10 | 1280 | 800 | Industrial Panel PC with Intel® Core™ i7-4700EQ, 8 GB DRAM (non-ECC), 320 GB HDD, WES 7 (64-bit), PCIe slot, extra DVI-D, 12.1" display with capacitive touchscreen |
| | 15.4 in | Intel® Core™ i7 | 4700EQ (2.4 GHz) | Active cooling (fan) | 8 GB RAM (non ECC) | 320 GB HDD | WES 7 (64 bits) | 1 x PCIe slot (X4 lanes) | DVI-D | DVI-I | 16:10 | 1280 | 800 | Industrial Panel PC with Intel® Core™ i7-4700EQ, 8 GB DRAM (non-ECC), 320 GB HDD, WES 7 (64-bit), PCIe slot, extra DVI-D, 15.4" display with capacitive touchscreen |
| | 12.1 in | Intel® Core™ i7 | 4700EQ (2.4 GHz) | Active cooling (fan) | 8 GB RAM (non ECC) | 128 GB SSD | WES 7 (64 bits) | 1 x PCIe slot (X4 lanes) | RS-232 | DVI-I | 16:10 | 1280 | 800 | Industrial Panel PC with Intel® Core™ i7-4700EQ, 8 GB DRAM (non-ECC), 128 GB SSD-iMLC, WES 7 (64-bit), PCIe slot, RS-232, 12.1" display with capacitive touchscreen |
| | 15.4 in | Intel® Core™ i7 | 4700EQ (2.4 GHz) | Active cooling (fan) | 8 GB RAM (non ECC) | 128 GB SSD | WES 7 (64 bits) | 1 x PCIe slot (X4 lanes) | RS-232 | DVI-I | 16:10 | 1280 | 800 | Industrial Panel PC with Intel® Core™ i7-4700EQ, 8 GB DRAM (non-ECC), 128 GB SSD-iMLC, WES 7 (64-bit), PCIe slot, RS-232, 15.4" display with capacitive touchscreen |
| | 12.1 in | Intel® Core™ i7 | 4700EQ (2.4 GHz) | Active cooling (fan) | 8 GB RAM (non ECC) | 128 GB SSD | WES 7 (64 bits) | 1 x PCIe slot (X4 lanes) | DVI-D | DVI-I | 16:10 | 1280 | 800 | Industrial Panel PC with Intel® Core™ i7-4700EQ, 8 GB DRAM (non-ECC), 128 GB SSD-iMLC, WES 7 (64-bit), PCIe slot, extra DVI-D, 12.1" display with capacitive touchscreen |
| | 15.4 in | Intel® Core™ i7 | 4700EQ (2.4 GHz) | Active cooling (fan) | 8 GB RAM (non ECC) | 128 GB SSD | WES 7 (64 bits) | 1 x PCIe slot (X4 lanes) | DVI-D | DVI-I | 16:10 | 1280 | 800 | Industrial Panel PC with Intel® Core™ i7-4700EQ, 8 GB DRAM (non-ECC), 128 GB SSD-iMLC, WES 7 (64-bit), PCIe slot, extra DVI-D, 15.4" display with capacitive touchscreen |
| | 12.1 in | Intel® Core™ i7 | 4700EQ (2.4 GHz) | Active cooling (fan) | 8 GB RAM (non ECC) | 64 GB SSD | Windows 10 (64 bits) | 1 x PCIe slot (X4 lanes) | RS-232 | DVI-I | 16:10 | 1280 | 800 | Industrial Panel PC with Intel® Core™ i7-4700EQ, 8 GB DRAM (non-ECC), 64 GB SSD-SLC, WIN 10 IoT Ent. (64-bit), PCIe slot, RS-232, 12.1" display with capacitive touchscreen |
| | 15.4 in | Intel® Core™ i7 | 4700EQ (2.4 GHz) | Active cooling (fan) | 8 GB RAM (non ECC) | 64 GB SSD | Windows 10 (64 bits) | 1 x PCIe slot (X4 lanes) | RS-232 | DVI-I | 16:10 | 1280 | 800 | Industrial Panel PC with Intel® Core™ i7-4700EQ, 8 GB DRAM (non-ECC), 64 GB SSD-SLC, WIN 10 IoT Ent. (64-bit), PCIe slot, RS-232, 15.4" display with capacitive touchscreen |
| | 12.1 in | Intel® Core™ i7 | 4700EQ (2.4 GHz) | Active cooling (fan) | 8 GB RAM (non ECC) | 64 GB SSD | Windows 10 (64 bits) | 1 x PCIe slot (X4 lanes) | DVI-D | DVI-I | 16:10 | 1280 | 800 | Industrial Panel PC with Intel® Core™ i7-4700EQ, 8 GB DRAM (non-ECC), 64 GB SSD-SLC, WIN 10 IoT Ent. (64-bit), PCIe slot, extra DVI-D, 12.1" display with capacitive touchscreen |
| | 15.4 in | Intel® Core™ i7 | 4700EQ (2.4 GHz) | Active cooling (fan) | 8 GB RAM (non ECC) | 64 GB SSD | Windows 10 (64 bits) | 1 x PCIe slot (X4 lanes) | DVI-D | DVI-I | 16:10 | 1280 | 800 | Industrial Panel PC with Intel® Core™ i7-4700EQ, 8 GB DRAM (non-ECC), 64 GB SSD-SLC, WIN 10 IoT Ent. (64-bit), PCIe slot, extra DVI-D, 15.4" display with capacitive touchscreen |
| | 12.1 in | Intel® Core™ i7 | 4700EQ (2.4 GHz) | Active cooling (fan) | 8 GB RAM (non ECC) | 64 GB SSD | Windows 10 (64 bits) | 1 x PCIe slot (X4 lanes) | NYML | DVI-I | 16:10 | 1280 | 800 | Industrial Panel PC with Intel® Core™ i7-4700EQ, 8 GB DRAM (non-ECC), 64 GB SSD-SLC, WIN 10 IoT Ent. (64-bit), PCIe slot, NYML port, 12.1" display with capacitive touchscreen |
| | 15.4 in | Intel® Core™ i7 | 4700EQ (2.4 GHz) | Active cooling (fan) | 8 GB RAM (non ECC) | 64 GB SSD | Windows 10 (64 bits) | 1 x PCIe slot (X4 lanes) | NYML | DVI-I | 16:10 | 1280 | 800 | Industrial Panel PC with Intel® Core™ i7-4700EQ, 8 GB DRAM (non-ECC), 64 GB SSD-SLC, WIN 10 IoT Ent. (64-bit), PCIe slot, NYML port, 15.4" display with capacitive touchscreen |
| | 12.1 in | Intel® Core™ i7 | 4700EQ (2.4 GHz) | Active cooling (fan) | 8 GB RAM (non ECC) | 320 GB HDD | Windows 10 (64 bits) | 1 x PCIe slot (X4 lanes) | RS-232 | DVI-I | 16:10 | 1280 | 800 | Industrial Panel PC with Intel® Core™ i7-4700EQ, 8 GB DRAM (non-ECC), 320 GB HDD, WIN 10 IoT Ent. (64-bit), PCIe slot, RS-232, 12.1" display with capacitive touchscreen |
| | 15.4 in | Intel® Core™ i7 | 4700EQ (2.4 GHz) | Active cooling (fan) | 8 GB RAM (non ECC) | 320 GB HDD | Windows 10 (64 bits) | 1 x PCIe slot (X4 lanes) | RS-232 | DVI-I | 16:10 | 1280 | 800 | Industrial Panel PC with Intel® Core™ i7-4700EQ, 8 GB DRAM (non-ECC), 320 GB HDD, WIN 10 IoT Ent. (64-bit), PCIe slot, RS-232, 15.4" display with capacitive touchscreen |
| | 12.1 in | Intel® Core™ i7 | 4700EQ (2.4 GHz) | Active cooling (fan) | 8 GB RAM (non ECC) | 320 GB HDD | Windows 10 (64 bits) | 1 x PCIe slot (X4 lanes) | DVI-D | DVI-I | 16:10 | 1280 | 800 | Industrial Panel PC with Intel® Core™ i7-4700EQ, 8 GB DRAM (non-ECC), 320 GB HDD, WIN 10 IoT Ent. (64-bit), PCIe slot, extra DVI-D, 12.1" display with capacitive touchscreen |
| | 15.4 in | Intel® Core™ i7 | 4700EQ (2.4 GHz) | Active cooling (fan) | 8 GB RAM (non ECC) | 320 GB HDD | Windows 10 (64 bits) | 1 x PCIe slot (X4 lanes) | DVI-D | DVI-I | 16:10 | 1280 | 800 | Industrial Panel PC with Intel® Core™ i7-4700EQ, 8 GB DRAM (non-ECC), 320 GB HDD, WIN 10 IoT Ent. (64-bit), PCIe slot, extra DVI-D, 15.4" display with capacitive touchscreen |
| | 12.1 in | Intel® Core™ i7 | 4700EQ (2.4 GHz) | Active cooling (fan) | 8 GB RAM (non ECC) | 320 GB HDD | Windows 10 (64 bits) | 1 x PCIe slot (X4 lanes) | NYML | DVI-I | 16:10 | 1280 | 800 | Industrial Panel PC with Intel® Core™ i7-4700EQ, 8 GB DRAM (non-ECC), 320 GB HDD, WIN 10 IoT Ent. (64-bit), PCIe slot, NYML port, 12.1" display with capacitive touchscreen |
| | 15.4 in | Intel® Core™ i7 | 4700EQ (2.4 GHz) | Active cooling (fan) | 8 GB RAM (non ECC) | 320 GB HDD | Windows 10 (64 bits) | 1 x PCIe slot (X4 lanes) | NYML | DVI-I | 16:10 | 1280 | 800 | Industrial Panel PC with Intel® Core™ i7-4700EQ, 8 GB DRAM (non-ECC), 320 GB HDD, WIN 10 IoT Ent. (64-bit), PCIe slot, NYML port, 15.4" display with capacitive touchscreen |
| | 12.1 in | Intel® Core™ i7 | 4700EQ (2.4 GHz) | Active cooling (fan) | 8 GB RAM (non ECC) | 128 GB SSD | Windows 10 (64 bits) | 1 x PCIe slot (X4 lanes) | RS-232 | DVI-I | 16:10 | 1280 | 800 | Industrial Panel PC with Intel® Core™ i7-4700EQ, 8 GB DRAM (non-ECC), 128 GB SSD-iMLC, WIN 10 IoT Ent. (64-bit), PCIe slot, RS-232, 12.1" display with capacitive touchscreen |
| | 15.4 in | Intel® Core™ i7 | 4700EQ (2.4 GHz) | Active cooling (fan) | 8 GB RAM (non ECC) | 128 GB SSD | Windows 10 (64 bits) | 1 x PCIe slot (X4 lanes) | RS-232 | DVI-I | 16:10 | 1280 | 800 | Industrial Panel PC with Intel® Core™ i7-4700EQ, 8 GB DRAM (non-ECC), 128 GB SSD-iMLC, WIN 10 IoT Ent. (64-bit), PCIe slot, RS-232, 15.4" display with capacitive touchscreen |
| | 12.1 in | Intel® Core™ i7 | 4700EQ (2.4 GHz) | Active cooling (fan) | 8 GB RAM (non ECC) | 128 GB SSD | Windows 10 (64 bits) | 1 x PCIe slot (X4 lanes) | DVI-D | DVI-I | 16:10 | 1280 | 800 | Industrial Panel PC with Intel® Core™ i7-4700EQ, 8 GB DRAM (non-ECC), 128 GB SSD-iMLC, WIN 10 IoT Ent. (64-bit), PCIe slot, extra DVI-D, 12.1" display with capacitive touchscreen |
| | 15.4 in | Intel® Core™ i7 | 4700EQ (2.4 GHz) | Active cooling (fan) | 8 GB RAM (non ECC) | 128 GB SSD | Windows 10 (64 bits) | 1 x PCIe slot (X4 lanes) | DVI-D | DVI-I | 16:10 | 1280 | 800 | Industrial Panel PC with Intel® Core™ i7-4700EQ, 8 GB DRAM (non-ECC), 128 GB SSD-iMLC, WIN 10 IoT Ent. (64-bit), PCIe slot, extra DVI-D, 15.4" display with capacitive touchscreen |
| | 12.1 in | Intel® Core™ i7 | 4700EQ (2.4 GHz) | Active cooling (fan) | 8 GB RAM (non ECC) | 128 GB SSD | Windows 10 (64 bits) | 1 x PCIe slot (X4 lanes) | NYML | DVI-I | 16:10 | 1280 | 800 | Industrial Panel PC with Intel® Core™ i7-4700EQ, 8 GB DRAM (non-ECC), 128 GB SSD-iMLC, WIN 10 IoT Ent. (64-bit), PCIe slot, NYML port, 12.1" display with capacitive touchscreen |
| | 15.4 in | Intel® Core™ i7 | 4700EQ (2.4 GHz) | Active cooling (fan) | 8 GB RAM (non ECC) | 128 GB SSD | Windows 10 (64 bits) | 1 x PCIe slot (X4 lanes) | NYML | DVI-I | 16:10 | 1280 | 800 | Industrial Panel PC with Intel® Core™ i7-4700EQ, 8 GB DRAM (non-ECC), 128 GB SSD-iMLC, WIN 10 IoT Ent. (64-bit), PCIe slot, NYML port, 15.4" display with capacitive touchscreen |
| | 12.1 in | Intel® Core™ i7 | 4700EQ (2.4 GHz) | Active cooling (fan) | 16 GB RAM (non ECC) | 128 GB SSD | Windows 10 (64 bits) | 1 x PCIe slot (X4 lanes) | RS-232 | DVI-I | 16:10 | 1280 | 800 | Industrial Panel PC with Intel® Core™ i7-4700EQ, 16 GB DRAM (non-ECC), 128 GB SSD-iMLC, WIN 10 IoT Ent. (64-bit), PCIe slot, RS-232, 12.1" display with capacitive touchscreen |
| | 15.4 in | Intel® Core™ i7 | 4700EQ (2.4 GHz) | Active cooling (fan) | 16 GB RAM (non ECC) | 128 GB SSD | Windows 10 (64 bits) | 1 x PCIe slot (X4 lanes) | RS-232 | DVI-I | 16:10 | 1280 | 800 | Industrial Panel PC with Intel® Core™ i7-4700EQ, 16 GB DRAM (non-ECC), 128 GB SSD-iMLC, WIN 10 IoT Ent. (64-bit), PCIe slot, RS-232, 15.4" display with capacitive touchscreen |
| | 12.1 in | Intel® Atom™ | E3940 (1.6 GHz) | Passive cooling (fanless) | 2 GB RAM (non ECC) | No Storage | No OS | No Expansion | No Port | DVI-D | 16:10 | 1280 | 800 | Industrial Panel PC with Intel® Atom™ E3940, 2 GB DRAM (non-ECC), No Storage, No OS, No exp. slots, No I/F option, 12.1" (1280x800) display with capacitive touchscreen, build-in type |
| | 15.4 in | Intel® Atom™ | E3940 (1.6 GHz) | Passive cooling (fanless) | 2 GB RAM (non ECC) | No Storage | No OS | No Expansion | No Port | DVI-D | 16:10 | 1280 | 800 | Industrial Panel PC with Intel® Atom™ E3940, 2 GB DRAM (non-ECC), No Storage, No OS, No exp. slots, No I/F option, 15.4" (1280x800) display with capacitive touchscreen, build-in type |
| | 18.5 in | Intel® Atom™ | E3940 (1.6 GHz) | Passive cooling (fanless) | 2 GB RAM (non ECC) | No Storage | No OS | No Expansion | No Port | DVI-D | 16:9 | 1920 | 1080 | Industrial Panel PC with Intel® Atom™ E3940, 2 GB DRAM (non-ECC), No Storage, No OS, No exp. slots, No I/F option, 18.5" (1920x1080) display with capacitive touchscreen, build-in type |
| | 12.1 in | Intel® Atom™ | E3940 (1.6 GHz) | Passive cooling (fanless) | 4 GB RAM (non ECC) | No Storage | No OS | No Expansion | No Port | DVI-D | 16:10 | 1280 | 800 | Industrial Panel PC with Intel® Atom™ E3940, 4 GB DRAM (non-ECC), No Storage, No OS, No exp. slots, No I/F option, 12.1" (1280x800) display with capacitive touchscreen, build-in type |
| | 15.4 in | Intel® Atom™ | E3940 (1.6 GHz) | Passive cooling (fanless) | 4 GB RAM (non ECC) | No Storage | No OS | No Expansion | No Port | DVI-D | 16:10 | 1280 | 800 | Industrial Panel PC with Intel® Atom™ E3940, 4 GB DRAM (non-ECC), No Storage, No OS, No exp. slots, No I/F option, 15.4" (1280x800) display with capacitive touchscreen, build-in type |
| | 18.5 in | Intel® Atom™ | E3940 (1.6 GHz) | Passive cooling (fanless) | 4 GB RAM (non ECC) | No Storage | No OS | No Expansion | No Port | DVI-D | 16:9 | 1920 | 1080 | Industrial Panel PC with Intel® Atom™ E3940, 4 GB DRAM (non-ECC), No Storage, No OS, No exp. slots, No I/F option, 18.5" (1920x1080) display with capacitive touchscreen, build-in type |
| | 12.1 in | Intel® Atom™ | E3940 (1.6 GHz) | Passive cooling (fanless) | 4 GB RAM (non ECC) | 64 GB CFast | Windows 10 (64 bits) | No Expansion | No Port | DVI-D | 16:10 | 1280 | 800 | Industrial Panel PC with Intel® Atom™ E3940, 4 GB DRAM (non-ECC), 64 GB CFast iMLC, WIN 10 IoT 2019 (64-bit), No exp. slots, No I/F option, 12.1" (1280x800) display with capacitive touchscreen, build-in type |
| | 15.4 in | Intel® Atom™ | E3940 (1.6 GHz) | Passive cooling (fanless) | 4 GB RAM (non ECC) | 64 GB CFast | Windows 10 (64 bits) | No Expansion | No Port | DVI-D | 16:10 | 1280 | 800 | Industrial Panel PC with Intel® Atom™ E3940, 4 GB DRAM (non-ECC), 64 GB CFast iMLC, WIN 10 IoT 2019 (64-bit), No exp. slots, No I/F option, 15.4" (1280x800) display with capacitive touchscreen, build-in type |
| | 18.5 in | Intel® Atom™ | E3940 (1.6 GHz) | Passive cooling (fanless) | 4 GB RAM (non ECC) | 64 GB CFast | Windows 10 (64 bits) | No Expansion | No Port | DVI-D | 16:9 | 1920 | 1080 | Industrial Panel PC with Intel® Atom™ E3940, 4 GB DRAM (non-ECC), 64 GB CFast iMLC, WIN 10 IoT 2019 (64-bit), No exp. slots, No I/F option, 18.5" (1920x1080) display with capacitive touchscreen, build-in type |
| | 12.1 in | Intel® Atom™ | E3940 (1.6 GHz) | Passive cooling (fanless) | 4 GB RAM (non ECC) | 128 GB CFast | Windows 10 (64 bits) | No Expansion | No Port | DVI-D | 16:10 | 1280 | 800 | Industrial Panel PC with Intel® Atom™ E3940, 4 GB DRAM (non-ECC), 128 GB CFast iMLC, WIN 10 IoT 2019 (64-bit), No exp. slots, No I/F option, 12.1" (1280x800) display with capacitive touchscreen, build-in type |
| | 15.4 in | Intel® Atom™ | E3940 (1.6 GHz) | Passive cooling (fanless) | 4 GB RAM (non ECC) | 128 GB CFast | Windows 10 (64 bits) | No Expansion | No Port | DVI-D | 16:10 | 1280 | 800 | Industrial Panel PC with Intel® Atom™ E3940, 4 GB DRAM (non-ECC), 128 GB CFast iMLC, WIN 10 IoT 2019 (64-bit), No exp. slots, No I/F option, 15.4" (1280x800) display with capacitive touchscreen, build-in type |
| | 18.5 in | Intel® Atom™ | E3940 (1.6 GHz) | Passive cooling (fanless) | 4 GB RAM (non ECC) | 128 GB CFast | Windows 10 (64 bits) | No Expansion | No Port | DVI-D | 16:9 | 1920 | 1080 | Industrial Panel PC with Intel® Atom™ E3940, 4 GB DRAM (non-ECC), 128 GB CFast iMLC, WIN 10 IoT 2019 (64-bit), No exp. slots, No I/F option, 18.5" (1920x1080) display with capacitive touchscreen, build-in type |
| | 12.1 in | Intel® Atom™ | E3940 (1.6 GHz) | Passive cooling (fanless) | 4 GB RAM (non ECC) | 256 GB CFast | Windows 10 (64 bits) | No Expansion | No Port | DVI-D | 16:10 | 1280 | 800 | Industrial Panel PC with Intel® Atom™ E3940, 4 GB DRAM (non-ECC), 256 GB CFast iMLC, WIN 10 IoT 2019 (64-bit), No exp. slots, No I/F option, 12.1" (1280x800) display with capacitive touchscreen, build-in type |
| | 15.4 in | Intel® Atom™ | E3940 (1.6 GHz) | Passive cooling (fanless) | 4 GB RAM (non ECC) | 256 GB CFast | Windows 10 (64 bits) | No Expansion | No Port | DVI-D | 16:10 | 1280 | 800 | Industrial Panel PC with Intel® Atom™ E3940, 4 GB DRAM (non-ECC), 256 GB CFast iMLC, WIN 10 IoT 2019 (64-bit), No exp. slots, No I/F option, 15.4" (1280x800) display with capacitive touchscreen, build-in type |
| | 18.5 in | Intel® Atom™ | E3940 (1.6 GHz) | Passive cooling (fanless) | 4 GB RAM (non ECC) | 256 GB CFast | Windows 10 (64 bits) | No Expansion | No Port | DVI-D | 16:9 | 1920 | 1080 | Industrial Panel PC with Intel® Atom™ E3940, 4 GB DRAM (non-ECC), 256 GB CFast iMLC, WIN 10 IoT 2019 (64-bit), No exp. slots, No I/F option, 18.5" (1920x1080) display with capacitive touchscreen, build-in type |
| | 12.1 in | Intel® Atom™ | E3940 (1.6 GHz) | Passive cooling (fanless) | 8 GB RAM (non ECC) | No Storage | No OS | No Expansion | No Port | DVI-D | 16:10 | 1280 | 800 | Industrial Panel PC with Intel® Atom™ E3940, 8 GB DRAM (non-ECC), No Storage, No OS, No exp. slots, No I/F option, 12.1" (1280x800) display with capacitive touchscreen, build-in type |
| | 15.4 in | Intel® Atom™ | E3940 (1.6 GHz) | Passive cooling (fanless) | 8 GB RAM (non ECC) | No Storage | No OS | No Expansion | No Port | DVI-D | 16:10 | 1280 | 800 | Industrial Panel PC with Intel® Atom™ E3940, 8 GB DRAM (non-ECC), No Storage, No OS, No exp. slots, No I/F option, 15.4" (1280x800) display with capacitive touchscreen, build-in type |
| | 18.5 in | Intel® Atom™ | E3940 (1.6 GHz) | Passive cooling (fanless) | 8 GB RAM (non ECC) | No Storage | No OS | No Expansion | No Port | DVI-D | 16:9 | 1920 | 1080 | Industrial Panel PC with Intel® Atom™ E3940, 8 GB DRAM (non-ECC), No Storage, No OS, No exp. slots, No I/F option, 18.5" (1920x1080) display with capacitive touchscreen, build-in type |
| | 12.1 in | Intel® Atom™ | E3940 (1.6 GHz) | Passive cooling (fanless) | 8 GB RAM (non ECC) | 64 GB CFast | Windows 10 (64 bits) | No Expansion | No Port | DVI-D | 16:10 | 1280 | 800 | Industrial Panel PC with Intel® Atom™ E3940, 8 GB DRAM (non-ECC), 64 GB CFast iMLC, WIN 10 IoT 2019 (64-bit), No exp. slots, No I/F option, 12.1" (1280x800) display with capacitive touchscreen, build-in type |
| | 15.4 in | Intel® Atom™ | E3940 (1.6 GHz) | Passive cooling (fanless) | 8 GB RAM (non ECC) | 64 GB CFast | Windows 10 (64 bits) | No Expansion | No Port | DVI-D | 16:10 | 1280 | 800 | Industrial Panel PC with Intel® Atom™ E3940, 8 GB DRAM (non-ECC), 64 GB CFast iMLC, WIN 10 IoT 2019 (64-bit), No exp. slots, No I/F option, 15.4" (1280x800) display with capacitive touchscreen, build-in type |
| | 18.5 in | Intel® Atom™ | E3940 (1.6 GHz) | Passive cooling (fanless) | 8 GB RAM (non ECC) | 64 GB CFast | Windows 10 (64 bits) | No Expansion | No Port | DVI-D | 16:9 | 1920 | 1080 | Industrial Panel PC with Intel® Atom™ E3940, 8 GB DRAM (non-ECC), 64 GB CFast iMLC, WIN 10 IoT 2019 (64-bit), No exp. slots, No I/F option, 18.5" (1920x1080) display with capacitive touchscreen, build-in type |
| | 12.1 in | Intel® Atom™ | E3940 (1.6 GHz) | Passive cooling (fanless) | 8 GB RAM (non ECC) | 128 GB CFast | Windows 10 (64 bits) | No Expansion | No Port | DVI-D | 16:10 | 1280 | 800 | Industrial Panel PC with Intel® Atom™ E3940, 8 GB DRAM (non-ECC), 128 GB CFast iMLC, WIN 10 IoT 2019 (64-bit), No exp. slots, No I/F option, 12.1" (1280x800) display with capacitive touchscreen, build-in type |
| | 15.4 in | Intel® Atom™ | E3940 (1.6 GHz) | Passive cooling (fanless) | 8 GB RAM (non ECC) | 128 GB CFast | Windows 10 (64 bits) | No Expansion | No Port | DVI-D | 16:10 | 1280 | 800 | Industrial Panel PC with Intel® Atom™ E3940, 8 GB DRAM (non-ECC), 128 GB CFast iMLC, WIN 10 IoT 2019 (64-bit), No exp. slots, No I/F option, 15.4" (1280x800) display with capacitive touchscreen, build-in type |
| | 18.5 in | Intel® Atom™ | E3940 (1.6 GHz) | Passive cooling (fanless) | 8 GB RAM (non ECC) | 128 GB CFast | Windows 10 (64 bits) | No Expansion | No Port | DVI-D | 16:9 | 1920 | 1080 | Industrial Panel PC with Intel® Atom™ E3940, 8 GB DRAM (non-ECC), 128 GB CFast iMLC, WIN 10 IoT 2019 (64-bit), No exp. slots, No I/F option, 18.5" (1920x1080) display with capacitive touchscreen, build-in type |
| | 12.1 in | Intel® Atom™ | E3940 (1.6 GHz) | Passive cooling (fanless) | 8 GB RAM (non ECC) | 256 GB CFast | Windows 10 (64 bits) | No Expansion | No Port | DVI-D | 16:10 | 1280 | 800 | Industrial Panel PC with Intel® Atom™ E3940, 8 GB DRAM (non-ECC), 256 GB CFast iMLC, WIN 10 IoT 2019 (64-bit), No exp. slots, No I/F option, 12.1" (1280x800) display with capacitive touchscreen, build-in type |
| | 15.4 in | Intel® Atom™ | E3940 (1.6 GHz) | Passive cooling (fanless) | 8 GB RAM (non ECC) | 256 GB CFast | Windows 10 (64 bits) | No Expansion | No Port | DVI-D | 16:10 | 1280 | 800 | Industrial Panel PC with Intel® Atom™ E3940, 8 GB DRAM (non-ECC), 256 GB CFast iMLC, WIN 10 IoT 2019 (64-bit), No exp. slots, No I/F option, 15.4" (1280x800) display with capacitive touchscreen, build-in type |
| | 18.5 in | Intel® Atom™ | E3940 (1.6 GHz) | Passive cooling (fanless) | 8 GB RAM (non ECC) | 256 GB CFast | Windows 10 (64 bits) | No Expansion | No Port | DVI-D | 16:9 | 1920 | 1080 | Industrial Panel PC with Intel® Atom™ E3940, 8 GB DRAM (non-ECC), 256 GB CFast iMLC, WIN 10 IoT 2019 (64-bit), No exp. slots, No I/F option, 18.5" (1920x1080) display with capacitive touchscreen, build-in type |
| | 12.1 in | Intel® Celeron® | 3965U (2.2 GHz) | Passive cooling (fanless) | 4 GB RAM (non ECC) | No Storage | No OS | No Expansion | No Port | DVI-D | 16:10 | 1280 | 800 | Industrial Panel PC with Intel® Celeron® 3965U, 4 GB DDR4 RAM (non-ECC), No storage, No OS, no PCIe slot, no option port, 12.1" display with capacitive touchscreen |
| | 15.4 in | Intel® Celeron® | 3965U (2.2 GHz) | Passive cooling (fanless) | 4 GB RAM (non ECC) | No Storage | No OS | No Expansion | No Port | DVI-D | 16:10 | 1280 | 800 | Industrial Panel PC with Intel® Celeron® 3965U, 4 GB DDR4 RAM (non-ECC), No storage, No OS, no PCIe slot, no option port, 15.4" display with capacitive touchscreen |
| | 18.5 in | Intel® Celeron® | 3965U (2.2 GHz) | Passive cooling (fanless) | 4 GB RAM (non ECC) | No Storage | No OS | No Expansion | No Port | DVI-D | 16:9 | 1920 | 1080 | Industrial Panel PC with Intel® Celeron® 3965U, 4 GB DRAM (non-ECC), No Storage, No OS, No exp. slots, No I/F option, 18.5" (1920x1080) display with capacitive touchscreen, build-in type |
| | 12.1 in | Intel® Celeron® | 3965U (2.2 GHz) | Passive cooling (fanless) | 4 GB RAM (non ECC) | 64 GB CFast | Windows 10 (64 bits) | No Expansion | No Port | DVI-D | 16:10 | 1280 | 800 | Industrial Panel PC with Intel® Celeron® 3965U, 4 GB DDR4 RAM (non-ECC), 64 GB CFast iMLC, WIN 10 IoT Ent. (64-bit), no PCIe slot, no option port, 12.1" display with capacitive touchscreen |
| | 15.4 in | Intel® Celeron® | 3965U (2.2 GHz) | Passive cooling (fanless) | 4 GB RAM (non ECC) | 64 GB CFast | Windows 10 (64 bits) | No Expansion | No Port | DVI-D | 16:10 | 1280 | 800 | Industrial Panel PC with Intel® Celeron® 3965U, 4 GB DDR4 RAM (non-ECC), 64 GB CFast iMLC, WIN 10 IoT Ent. (64-bit), no PCIe slot, no option port, 15.4" display with capacitive touchscreen |
| | 18.5 in | Intel® Celeron® | 3965U (2.2 GHz) | Passive cooling (fanless) | 4 GB RAM (non ECC) | 64 GB CFast | Windows 10 (64 bits) | No Expansion | No Port | DVI-D | 16:9 | 1920 | 1080 | Industrial Panel PC with Intel® Celeron® 3965U, 4 GB DRAM (non-ECC), 64 GB CFast iMLC, WIN 10 IoT Ent. (64-bit), No exp. slots, No I/F option, 18.5" (1920x1080) display with capacitive touchscreen, build-in type |
| | 12.1 in | Intel® Celeron® | 3965U (2.2 GHz) | Passive cooling (fanless) | 4 GB RAM (non ECC) | 64 GB CFast | Windows 10 (64 bits) | No Expansion | NYML | DVI-D | 16:10 | 1280 | 800 | Industrial Panel PC with Intel® Celeron® 3965U, 4 GB DRAM (non-ECC), 64 GB CFast iMLC, WIN 10 IoT Ent. (64-bit), No expansion slots, NY Monitor Link, 12.1" (1280x800) display with capacitive touchscreen, build-in type |
| | 12.1 in | Intel® Celeron® | 3965U (2.2 GHz) | Passive cooling (fanless) | 4 GB RAM (non ECC) | 128 GB CFast | Windows 10 (64 bits) | No Expansion | No Port | DVI-D | 16:10 | 1280 | 800 | Industrial Panel PC with Intel® Celeron® 3965U, 4 GB DDR4 RAM (non-ECC), 128 GB CFast iMLC, WIN 10 IoT Ent. (64-bit), no PCIe slot, no option port, 12.1" display with capacitive touchscreen |
| | 15.4 in | Intel® Celeron® | 3965U (2.2 GHz) | Passive cooling (fanless) | 4 GB RAM (non ECC) | 128 GB CFast | Windows 10 (64 bits) | No Expansion | No Port | DVI-D | 16:10 | 1280 | 800 | Industrial Panel PC with Intel® Celeron® 3965U, 4 GB DDR4 RAM (non-ECC), 128 GB CFast iMLC, WIN 10 IoT Ent. (64-bit), no PCIe slot, no option port, 15.4" display with capacitive touchscreen |
| | 18.5 in | Intel® Celeron® | 3965U (2.2 GHz) | Passive cooling (fanless) | 4 GB RAM (non ECC) | 128 GB CFast | Windows 10 (64 bits) | No Expansion | No Port | DVI-D | 16:9 | 1920 | 1080 | Industrial Panel PC with Intel® Celeron® 3965U, 4 GB DRAM (non-ECC), 128 GB CFast iMLC, WIN 10 IoT Ent. (64-bit), No exp. slots, No I/F option, 18.5" (1920x1080) display with capacitive touchscreen, build-in type |
| | 12.1 in | Intel® Celeron® | 3965U (2.2 GHz) | Passive cooling (fanless) | 4 GB RAM (non ECC) | 256 GB CFast | Windows 10 (64 bits) | No Expansion | No Port | DVI-D | 16:10 | 1280 | 800 | Industrial Panel PC with Intel® Celeron® 3965U, 4 GB DDR4 RAM (non-ECC), 256 GB CFast iMLC, WIN 10 IoT Ent. (64-bit), no PCIe slot, no option port, 12.1" display with capacitive touchscreen |
| | 15.4 in | Intel® Celeron® | 3965U (2.2 GHz) | Passive cooling (fanless) | 4 GB RAM (non ECC) | 256 GB CFast | Windows 10 (64 bits) | No Expansion | No Port | DVI-D | 16:10 | 1280 | 800 | Industrial Panel PC with Intel® Celeron® 3965U, 4 GB DDR4 RAM (non-ECC), 256 GB CFast iMLC, WIN 10 IoT Ent. (64-bit), no PCIe slot, no option port, 15.4" display with capacitive touchscreen |
| | 18.5 in | Intel® Celeron® | 3965U (2.2 GHz) | Passive cooling (fanless) | 4 GB RAM (non ECC) | 256 GB CFast | Windows 10 (64 bits) | No Expansion | No Port | DVI-D | 16:9 | 1920 | 1080 | Industrial Panel PC with Intel® Celeron® 3965U, 4 GB DRAM (non-ECC), 256 GB CFast iMLC, WIN 10 IoT Ent. (64-bit), No exp. slots, No I/F option, 18.5" (1920x1080) display with capacitive touchscreen, build-in type |
| | 12.1 in | Intel® Celeron® | 3965U (2.2 GHz) | Passive cooling (fanless) | 4 GB RAM (non ECC) | No Storage | No OS | 1 x PCIe slot (X2 lanes) | RS-232 | DVI-D | 16:10 | 1280 | 800 | Industrial Panel PC with Intel® Celeron® 3965U, 4 GB DDR4 RAM (non-ECC), No storage, No OS, PCIe slot, RS-232, 12.1" display with capacitive touchscreen |
| | 15.4 in | Intel® Celeron® | 3965U (2.2 GHz) | Passive cooling (fanless) | 4 GB RAM (non ECC) | No Storage | No OS | 1 x PCIe slot (X2 lanes) | RS-232 | DVI-D | 16:10 | 1280 | 800 | Industrial Panel PC with Intel® Celeron® 3965U, 4 GB DDR4 RAM (non-ECC), No storage, No OS, PCIe slot, RS-232, 15.4" display with capacitive touchscreen |
| | 12.1 in | Intel® Celeron® | 3965U (2.2 GHz) | Passive cooling (fanless) | 4 GB RAM (non ECC) | No Storage | No OS | 1 x PCIe slot (X2 lanes) | DVI-D | DVI-D | 16:10 | 1280 | 800 | Industrial Panel PC with Intel® Celeron® 3965U, 4 GB DDR4 RAM (non-ECC), No storage, No OS, PCIe slot, extra DVI-D, 12.1" display with capacitive touchscreen |
| | 15.4 in | Intel® Celeron® | 3965U (2.2 GHz) | Passive cooling (fanless) | 4 GB RAM (non ECC) | No Storage | No OS | 1 x PCIe slot (X2 lanes) | DVI-D | DVI-D | 16:10 | 1280 | 800 | Industrial Panel PC with Intel® Celeron® 3965U, 4 GB DDR4 RAM (non-ECC), No storage, No OS, PCIe slot, extra DVI-D, 15.4" display with capacitive touchscreen |
| | 12.1 in | Intel® Celeron® | 3965U (2.2 GHz) | Passive cooling (fanless) | 4 GB RAM (non ECC) | No Storage | No OS | 1 x PCIe slot (X2 lanes) | NYML | DVI-D | 16:10 | 1280 | 800 | Industrial Panel PC with Intel® Celeron® 3965U, 4 GB DDR4 RAM (non-ECC), No storage, No OS, PCIe slot, NYML port, 12.1" display with capacitive touchscreen |
| | 15.4 in | Intel® Celeron® | 3965U (2.2 GHz) | Passive cooling (fanless) | 4 GB RAM (non ECC) | No Storage | No OS | 1 x PCIe slot (X2 lanes) | NYML | DVI-D | 16:10 | 1280 | 800 | Industrial Panel PC with Intel® Celeron® 3965U, 4 GB DDR4 RAM (non-ECC), No storage, No OS, PCIe slot, NYML port, 15.4" display with capacitive touchscreen |
| | 12.1 in | Intel® Celeron® | 3965U (2.2 GHz) | Passive cooling (fanless) | 4 GB RAM (non ECC) | 64 GB SSD | Windows 10 (64 bits) | 1 x PCIe slot (X2 lanes) | RS-232 | DVI-D | 16:10 | 1280 | 800 | Industrial Panel PC with Intel® Celeron® 3965U, 4 GB DDR4 RAM (non-ECC), 64 GB SSD-SLC, WIN 10 IoT Ent. (64-bit), PCIe slot, RS-232, 12.1" display with capacitive touchscreen |
| | 15.4 in | Intel® Celeron® | 3965U (2.2 GHz) | Passive cooling (fanless) | 4 GB RAM (non ECC) | 64 GB SSD | Windows 10 (64 bits) | 1 x PCIe slot (X2 lanes) | RS-232 | DVI-D | 16:10 | 1280 | 800 | Industrial Panel PC with Intel® Celeron® 3965U, 4 GB DDR4 RAM (non-ECC), 64 GB SSD-SLC, WIN 10 IoT Ent. (64-bit), PCIe slot, RS-232, 15.4" display with capacitive touchscreen |
| | 12.1 in | Intel® Celeron® | 3965U (2.2 GHz) | Passive cooling (fanless) | 4 GB RAM (non ECC) | 64 GB SSD | Windows 10 (64 bits) | 1 x PCIe slot (X2 lanes) | DVI-D | DVI-D | 16:10 | 1280 | 800 | Industrial Panel PC with Intel® Celeron® 3965U, 4 GB DDR4 RAM (non-ECC), 64 GB SSD-SLC, WIN 10 IoT Ent. (64-bit), PCIe slot, extra DVI-D, 12.1" display with capacitive touchscreen |
| | 15.4 in | Intel® Celeron® | 3965U (2.2 GHz) | Passive cooling (fanless) | 4 GB RAM (non ECC) | 64 GB SSD | Windows 10 (64 bits) | 1 x PCIe slot (X2 lanes) | DVI-D | DVI-D | 16:10 | 1280 | 800 | Industrial Panel PC with Intel® Celeron® 3965U, 4 GB DDR4 RAM (non-ECC), 64 GB SSD-SLC, WIN 10 IoT Ent. (64-bit), PCIe slot, extra DVI-D, 15.4" display with capacitive touchscreen |
| | 12.1 in | Intel® Celeron® | 3965U (2.2 GHz) | Passive cooling (fanless) | 4 GB RAM (non ECC) | 64 GB SSD | Windows 10 (64 bits) | 1 x PCIe slot (X2 lanes) | NYML | DVI-D | 16:10 | 1280 | 800 | Industrial Panel PC with Intel® Celeron® 3965U, 4 GB DDR4 RAM (non-ECC), 64 GB SSD-SLC, WIN 10 IoT Ent. (64-bit), PCIe slot, NYML port, 12.1" display with capacitive touchscreen |
| | 15.4 in | Intel® Celeron® | 3965U (2.2 GHz) | Passive cooling (fanless) | 4 GB RAM (non ECC) | 64 GB SSD | Windows 10 (64 bits) | 1 x PCIe slot (X2 lanes) | NYML | DVI-D | 16:10 | 1280 | 800 | Industrial Panel PC with Intel® Celeron® 3965U, 4 GB DDR4 RAM (non-ECC), 64 GB SSD-SLC, WIN 10 IoT Ent. (64-bit), PCIe slot, NYML port, 15.4" display with capacitive touchscreen |
| | 12.1 in | Intel® Celeron® | 3965U (2.2 GHz) | Passive cooling (fanless) | 4 GB RAM (non ECC) | 320 GB HDD | Windows 10 (64 bits) | 1 x PCIe slot (X2 lanes) | RS-232 | DVI-D | 16:10 | 1280 | 800 | Industrial Panel PC with Intel® Celeron® 3965U, 4 GB DDR4 RAM (non-ECC), 320 GB HDD, WIN 10 IoT Ent. (64-bit), PCIe slot, RS-232, 12.1" display with capacitive touchscreen |
| | 15.4 in | Intel® Celeron® | 3965U (2.2 GHz) | Passive cooling (fanless) | 4 GB RAM (non ECC) | 320 GB HDD | Windows 10 (64 bits) | 1 x PCIe slot (X2 lanes) | RS-232 | DVI-D | 16:10 | 1280 | 800 | Industrial Panel PC with Intel® Celeron® 3965U, 4 GB DDR4 RAM (non-ECC), 320 GB HDD, WIN 10 IoT Ent. (64-bit), PCIe slot, RS-232, 15.4" display with capacitive touchscreen |
| | 12.1 in | Intel® Celeron® | 3965U (2.2 GHz) | Passive cooling (fanless) | 4 GB RAM (non ECC) | 320 GB HDD | Windows 10 (64 bits) | 1 x PCIe slot (X2 lanes) | DVI-D | DVI-D | 16:10 | 1280 | 800 | Industrial Panel PC with Intel® Celeron® 3965U, 4 GB DDR4 RAM (non-ECC), 320 GB HDD, WIN 10 IoT Ent. (64-bit), PCIe slot, extra DVI-D, 12.1" display with capacitive touchscreen |
| | 15.4 in | Intel® Celeron® | 3965U (2.2 GHz) | Passive cooling (fanless) | 4 GB RAM (non ECC) | 320 GB HDD | Windows 10 (64 bits) | 1 x PCIe slot (X2 lanes) | DVI-D | DVI-D | 16:10 | 1280 | 800 | Industrial Panel PC with Intel® Celeron® 3965U, 4 GB DDR4 RAM (non-ECC), 320 GB HDD, WIN 10 IoT Ent. (64-bit), PCIe slot, extra DVI-D, 15.4" display with capacitive touchscreen |
| | 12.1 in | Intel® Celeron® | 3965U (2.2 GHz) | Passive cooling (fanless) | 4 GB RAM (non ECC) | 320 GB HDD | Windows 10 (64 bits) | 1 x PCIe slot (X2 lanes) | NYML | DVI-D | 16:10 | 1280 | 800 | Industrial Panel PC with Intel® Celeron® 3965U, 4 GB DDR4 RAM (non-ECC), 320 GB HDD, WIN 10 IoT Ent. (64-bit), PCIe slot, NYML port, 12.1" display with capacitive touchscreen |
| | 15.4 in | Intel® Celeron® | 3965U (2.2 GHz) | Passive cooling (fanless) | 4 GB RAM (non ECC) | 320 GB HDD | Windows 10 (64 bits) | 1 x PCIe slot (X2 lanes) | NYML | DVI-D | 16:10 | 1280 | 800 | Industrial Panel PC with Intel® Celeron® 3965U, 4 GB DDR4 RAM (non-ECC), 320 GB HDD, WIN 10 IoT Ent. (64-bit), PCIe slot, NYML port, 15.4" display with capacitive touchscreen |
| | 12.1 in | Intel® Celeron® | 3965U (2.2 GHz) | Passive cooling (fanless) | 4 GB RAM (non ECC) | 128 GB SSD | Windows 10 (64 bits) | 1 x PCIe slot (X2 lanes) | RS-232 | DVI-D | 16:10 | 1280 | 800 | Industrial Panel PC with Intel® Celeron® 3965U, 4 GB DDR4 RAM (non-ECC), 128 GB SSD-iMLC, WIN 10 IoT Ent. (64-bit), PCIe slot, RS-232, 12.1" display with capacitive touchscreen |
| | 15.4 in | Intel® Celeron® | 3965U (2.2 GHz) | Passive cooling (fanless) | 4 GB RAM (non ECC) | 128 GB SSD | Windows 10 (64 bits) | 1 x PCIe slot (X2 lanes) | RS-232 | DVI-D | 16:10 | 1280 | 800 | Industrial Panel PC with Intel® Celeron® 3965U, 4 GB DDR4 RAM (non-ECC), 128 GB SSD-iMLC, WIN 10 IoT Ent. (64-bit), PCIe slot, RS-232, 15.4" display with capacitive touchscreen |
| | 12.1 in | Intel® Celeron® | 3965U (2.2 GHz) | Passive cooling (fanless) | 4 GB RAM (non ECC) | 128 GB SSD | Windows 10 (64 bits) | 1 x PCIe slot (X2 lanes) | DVI-D | DVI-D | 16:10 | 1280 | 800 | Industrial Panel PC with Intel® Celeron® 3965U, 4 GB DDR4 RAM (non-ECC), 128 GB SSD-iMLC, WIN 10 IoT Ent. (64-bit), PCIe slot, extra DVI-D, 12.1" display with capacitive touchscreen |
| | 15.4 in | Intel® Celeron® | 3965U (2.2 GHz) | Passive cooling (fanless) | 4 GB RAM (non ECC) | 128 GB SSD | Windows 10 (64 bits) | 1 x PCIe slot (X2 lanes) | DVI-D | DVI-D | 16:10 | 1280 | 800 | Industrial Panel PC with Intel® Celeron® 3965U, 4 GB DDR4 RAM (non-ECC), 128 GB SSD-iMLC, WIN 10 IoT Ent. (64-bit), PCIe slot, extra DVI-D, 15.4" display with capacitive touchscreen |
| | 12.1 in | Intel® Celeron® | 3965U (2.2 GHz) | Passive cooling (fanless) | 4 GB RAM (non ECC) | 128 GB SSD | Windows 10 (64 bits) | 1 x PCIe slot (X2 lanes) | NYML | DVI-D | 16:10 | 1280 | 800 | Industrial Panel PC with Intel® Celeron® 3965U, 4 GB DDR4 RAM (non-ECC), 128 GB SSD-iMLC, WIN 10 IoT Ent. (64-bit), PCIe slot, NYML port, 12.1" display with capacitive touchscreen |
| | 15.4 in | Intel® Celeron® | 3965U (2.2 GHz) | Passive cooling (fanless) | 4 GB RAM (non ECC) | 128 GB SSD | Windows 10 (64 bits) | 1 x PCIe slot (X2 lanes) | NYML | DVI-D | 16:10 | 1280 | 800 | Industrial Panel PC with Intel® Celeron® 3965U, 4 GB DDR4 RAM (non-ECC), 128 GB SSD-iMLC, WIN 10 IoT Ent. (64-bit), PCIe slot, NYML port, 15.4" display with capacitive touchscreen |
| | 12.1 in | Intel® Celeron® | 3965U (2.2 GHz) | Passive cooling (fanless) | 8 GB RAM (non ECC) | No Storage | No OS | No Expansion | No Port | DVI-D | 16:10 | 1280 | 800 | Industrial Panel PC with Intel® Celeron® 3965U, 8 GB DDR4 RAM (non-ECC), No storage, No OS, no PCIe slot, no option port, 12.1" display with capacitive touchscreen |
| | 15.4 in | Intel® Celeron® | 3965U (2.2 GHz) | Passive cooling (fanless) | 8 GB RAM (non ECC) | No Storage | No OS | No Expansion | No Port | DVI-D | 16:10 | 1280 | 800 | Industrial Panel PC with Intel® Celeron® 3965U, 8 GB DDR4 RAM (non-ECC), No storage, No OS, no PCIe slot, no option port, 15.4" display with capacitive touchscreen |
| | 18.5 in | Intel® Celeron® | 3965U (2.2 GHz) | Passive cooling (fanless) | 8 GB RAM (non ECC) | No Storage | No OS | No Expansion | No Port | DVI-D | 16:9 | 1920 | 1080 | Industrial Panel PC with Intel® Celeron® 3965U, 8 GB DRAM (non-ECC), No Storage, No OS, No exp. slots, No I/F option, 18.5" (1920x1080) display with capacitive touchscreen, build-in type |
| | 12.1 in | Intel® Celeron® | 3965U (2.2 GHz) | Passive cooling (fanless) | 8 GB RAM (non ECC) | 128 GB CFast | No OS | No Expansion | No Port | DVI-D | 16:10 | 1280 | 800 | Industrial Panel PC with Intel® Celeron® 3965U, 8 GB DRAM (non-ECC), 128 GB CFast iMLC, No OS, No expansion slots, No I/F option, 12.1" (1280x800) display with capacitive touchscreen, build-in type |
| | 12.1 in | Intel® Celeron® | 3965U (2.2 GHz) | Passive cooling (fanless) | 8 GB RAM (non ECC) | 64 GB CFast | Windows 10 (64 bits) | No Expansion | No Port | DVI-D | 16:10 | 1280 | 800 | Industrial Panel PC with Intel® Celeron® 3965U, 8 GB DDR4 RAM (non-ECC), 64 GB CFast iMLC, WIN 10 IoT Ent. (64-bit), no PCIe slot, no option port, 12.1" display with capacitive touchscreen |
| | 15.4 in | Intel® Celeron® | 3965U (2.2 GHz) | Passive cooling (fanless) | 8 GB RAM (non ECC) | 64 GB CFast | Windows 10 (64 bits) | No Expansion | No Port | DVI-D | 16:10 | 1280 | 800 | Industrial Panel PC with Intel® Celeron® 3965U, 8 GB DDR4 RAM (non-ECC), 64 GB CFast iMLC, WIN 10 IoT Ent. (64-bit), no PCIe slot, no option port, 15.4" display with capacitive touchscreen |
| | 18.5 in | Intel® Celeron® | 3965U (2.2 GHz) | Passive cooling (fanless) | 8 GB RAM (non ECC) | 64 GB CFast | Windows 10 (64 bits) | No Expansion | No Port | DVI-D | 16:9 | 1920 | 1080 | Industrial Panel PC with Intel® Celeron® 3965U, 8 GB DRAM (non-ECC), 64 GB CFast iMLC, WIN 10 IoT Ent. (64-bit), No exp. slots, No I/F option, 18.5" (1920x1080) display with capacitive touchscreen, build-in type |
| | 12.1 in | Intel® Celeron® | 3965U (2.2 GHz) | Passive cooling (fanless) | 8 GB RAM (non ECC) | 128 GB CFast | Windows 10 (64 bits) | No Expansion | No Port | DVI-D | 16:10 | 1280 | 800 | Industrial Panel PC with Intel® Celeron® 3965U, 8 GB DDR4 RAM (non-ECC), 128 GB CFast iMLC, WIN 10 IoT Ent. (64-bit), no PCIe slot, no option port, 12.1" display with capacitive touchscreen |
| | 15.4 in | Intel® Celeron® | 3965U (2.2 GHz) | Passive cooling (fanless) | 8 GB RAM (non ECC) | 128 GB CFast | Windows 10 (64 bits) | No Expansion | No Port | DVI-D | 16:10 | 1280 | 800 | Industrial Panel PC with Intel® Celeron® 3965U, 8 GB DDR4 RAM (non-ECC), 128 GB CFast iMLC, WIN 10 IoT Ent. (64-bit), no PCIe slot, no option port, 15.4" display with capacitive touchscreen |
| | 18.5 in | Intel® Celeron® | 3965U (2.2 GHz) | Passive cooling (fanless) | 8 GB RAM (non ECC) | 128 GB CFast | Windows 10 (64 bits) | No Expansion | No Port | DVI-D | 16:9 | 1920 | 1080 | Industrial Panel PC with Intel® Celeron® 3965U, 8 GB DRAM (non-ECC), 128 GB CFast iMLC, WIN 10 IoT Ent. (64-bit), No exp. slots, No I/F option, 18.5" (1920x1080) display with capacitive touchscreen, build-in type |
| | 12.1 in | Intel® Celeron® | 3965U (2.2 GHz) | Passive cooling (fanless) | 8 GB RAM (non ECC) | 256 GB CFast | Windows 10 (64 bits) | No Expansion | No Port | DVI-D | 16:10 | 1280 | 800 | Industrial Panel PC with Intel® Celeron® 3965U, 8 GB DDR4 RAM (non-ECC), 256 GB CFast iMLC, WIN 10 IoT Ent. (64-bit), no PCIe slot, no option port, 12.1" display with capacitive touchscreen |
| | 15.4 in | Intel® Celeron® | 3965U (2.2 GHz) | Passive cooling (fanless) | 8 GB RAM (non ECC) | 256 GB CFast | Windows 10 (64 bits) | No Expansion | No Port | DVI-D | 16:10 | 1280 | 800 | Industrial Panel PC with Intel® Celeron® 3965U, 8 GB DDR4 RAM (non-ECC), 256 GB CFast iMLC, WIN 10 IoT Ent. (64-bit), no PCIe slot, no option port, 15.4" display with capacitive touchscreen |
| | 18.5 in | Intel® Celeron® | 3965U (2.2 GHz) | Passive cooling (fanless) | 8 GB RAM (non ECC) | 256 GB CFast | Windows 10 (64 bits) | No Expansion | No Port | DVI-D | 16:9 | 1920 | 1080 | Industrial Panel PC with Intel® Celeron® 3965U, 8 GB DRAM (non-ECC), 256 GB CFast iMLC, WIN 10 IoT Ent. (64-bit), No exp. slots, No I/F option, 18.5" (1920x1080) display with capacitive touchscreen, build-in type |
| | 12.1 in | Intel® Celeron® | 3965U (2.2 GHz) | Passive cooling (fanless) | 8 GB RAM (non ECC) | No Storage | No OS | 1 x PCIe slot (X2 lanes) | RS-232 | DVI-D | 16:10 | 1280 | 800 | Industrial Panel PC with Intel® Celeron® 3965U, 8 GB DDR4 RAM (non-ECC), No storage, No OS, PCIe slot, RS-232, 12.1" display with capacitive touchscreen |
| | 15.4 in | Intel® Celeron® | 3965U (2.2 GHz) | Passive cooling (fanless) | 8 GB RAM (non ECC) | No Storage | No OS | 1 x PCIe slot (X2 lanes) | RS-232 | DVI-D | 16:10 | 1280 | 800 | Industrial Panel PC with Intel® Celeron® 3965U, 8 GB DDR4 RAM (non-ECC), No storage, No OS, PCIe slot, RS-232, 15.4" display with capacitive touchscreen |
| | 12.1 in | Intel® Celeron® | 3965U (2.2 GHz) | Passive cooling (fanless) | 8 GB RAM (non ECC) | No Storage | No OS | 1 x PCIe slot (X2 lanes) | DVI-D | DVI-D | 16:10 | 1280 | 800 | Industrial Panel PC with Intel® Celeron® 3965U, 8 GB DDR4 RAM (non-ECC), No storage, No OS, PCIe slot, extra DVI-D, 12.1" display with capacitive touchscreen |
| | 15.4 in | Intel® Celeron® | 3965U (2.2 GHz) | Passive cooling (fanless) | 8 GB RAM (non ECC) | No Storage | No OS | 1 x PCIe slot (X2 lanes) | DVI-D | DVI-D | 16:10 | 1280 | 800 | Industrial Panel PC with Intel® Celeron® 3965U, 8 GB DDR4 RAM (non-ECC), No storage, No OS, PCIe slot, extra DVI-D, 15.4" display with capacitive touchscreen |
| | 12.1 in | Intel® Celeron® | 3965U (2.2 GHz) | Passive cooling (fanless) | 8 GB RAM (non ECC) | No Storage | No OS | 1 x PCIe slot (X2 lanes) | NYML | DVI-D | 16:10 | 1280 | 800 | Industrial Panel PC with Intel® Celeron® 3965U, 8 GB DDR4 RAM (non-ECC), No storage, No OS, PCIe slot, NYML port, 12.1" display with capacitive touchscreen |
| | 15.4 in | Intel® Celeron® | 3965U (2.2 GHz) | Passive cooling (fanless) | 8 GB RAM (non ECC) | No Storage | No OS | 1 x PCIe slot (X2 lanes) | NYML | DVI-D | 16:10 | 1280 | 800 | Industrial Panel PC with Intel® Celeron® 3965U, 8 GB DDR4 RAM (non-ECC), No storage, No OS, PCIe slot, NYML port, 15.4" display with capacitive touchscreen |
| | 12.1 in | Intel® Celeron® | 3965U (2.2 GHz) | Passive cooling (fanless) | 8 GB RAM (non ECC) | 64 GB SSD | Windows 10 (64 bits) | 1 x PCIe slot (X2 lanes) | RS-232 | DVI-D | 16:10 | 1280 | 800 | Industrial Panel PC with Intel® Celeron® 3965U, 8 GB DDR4 RAM (non-ECC), 64 GB SSD-SLC, WIN 10 IoT Ent. (64-bit), PCIe slot, RS-232, 12.1" display with capacitive touchscreen |
| | 15.4 in | Intel® Celeron® | 3965U (2.2 GHz) | Passive cooling (fanless) | 8 GB RAM (non ECC) | 64 GB SSD | Windows 10 (64 bits) | 1 x PCIe slot (X2 lanes) | RS-232 | DVI-D | 16:10 | 1280 | 800 | Industrial Panel PC with Intel® Celeron® 3965U, 8 GB DDR4 RAM (non-ECC), 64 GB SSD-SLC, WIN 10 IoT Ent. (64-bit), PCIe slot, RS-232, 15.4" display with capacitive touchscreen |
| | 12.1 in | Intel® Celeron® | 3965U (2.2 GHz) | Passive cooling (fanless) | 8 GB RAM (non ECC) | 64 GB SSD | Windows 10 (64 bits) | 1 x PCIe slot (X2 lanes) | DVI-D | DVI-D | 16:10 | 1280 | 800 | Industrial Panel PC with Intel® Celeron® 3965U, 8 GB DDR4 RAM (non-ECC), 64 GB SSD-SLC, WIN 10 IoT Ent. (64-bit), PCIe slot, extra DVI-D, 12.1" display with capacitive touchscreen |
| | 15.4 in | Intel® Celeron® | 3965U (2.2 GHz) | Passive cooling (fanless) | 8 GB RAM (non ECC) | 64 GB SSD | Windows 10 (64 bits) | 1 x PCIe slot (X2 lanes) | DVI-D | DVI-D | 16:10 | 1280 | 800 | Industrial Panel PC with Intel® Celeron® 3965U, 8 GB DDR4 RAM (non-ECC), 64 GB SSD-SLC, WIN 10 IoT Ent. (64-bit), PCIe slot, extra DVI-D, 15.4" display with capacitive touchscreen |
| | 12.1 in | Intel® Celeron® | 3965U (2.2 GHz) | Passive cooling (fanless) | 8 GB RAM (non ECC) | 64 GB SSD | Windows 10 (64 bits) | 1 x PCIe slot (X2 lanes) | NYML | DVI-D | 16:10 | 1280 | 800 | Industrial Panel PC with Intel® Celeron® 3965U, 8 GB DDR4 RAM (non-ECC), 64 GB SSD-SLC, WIN 10 IoT Ent. (64-bit), PCIe slot, NYML port, 12.1" display with capacitive touchscreen |
| | 15.4 in | Intel® Celeron® | 3965U (2.2 GHz) | Passive cooling (fanless) | 8 GB RAM (non ECC) | 64 GB SSD | Windows 10 (64 bits) | 1 x PCIe slot (X2 lanes) | NYML | DVI-D | 16:10 | 1280 | 800 | Industrial Panel PC with Intel® Celeron® 3965U, 8 GB DDR4 RAM (non-ECC), 64 GB SSD-SLC, WIN 10 IoT Ent. (64-bit), PCIe slot, NYML port, 15.4" display with capacitive touchscreen |
| | 12.1 in | Intel® Celeron® | 3965U (2.2 GHz) | Passive cooling (fanless) | 8 GB RAM (non ECC) | 320 GB HDD | Windows 10 (64 bits) | 1 x PCIe slot (X2 lanes) | RS-232 | DVI-D | 16:10 | 1280 | 800 | Industrial Panel PC with Intel® Celeron® 3965U, 8 GB DDR4 RAM (non-ECC), 320 GB HDD, WIN 10 IoT Ent. (64-bit), PCIe slot, RS-232, 12.1" display with capacitive touchscreen |
| | 15.4 in | Intel® Celeron® | 3965U (2.2 GHz) | Passive cooling (fanless) | 8 GB RAM (non ECC) | 320 GB HDD | Windows 10 (64 bits) | 1 x PCIe slot (X2 lanes) | RS-232 | DVI-D | 16:10 | 1280 | 800 | Industrial Panel PC with Intel® Celeron® 3965U, 8 GB DDR4 RAM (non-ECC), 320 GB HDD, WIN 10 IoT Ent. (64-bit), PCIe slot, RS-232, 15.4" display with capacitive touchscreen |
| | 12.1 in | Intel® Celeron® | 3965U (2.2 GHz) | Passive cooling (fanless) | 8 GB RAM (non ECC) | 320 GB HDD | Windows 10 (64 bits) | 1 x PCIe slot (X2 lanes) | DVI-D | DVI-D | 16:10 | 1280 | 800 | Industrial Panel PC with Intel® Celeron® 3965U, 8 GB DDR4 RAM (non-ECC), 320 GB HDD, WIN 10 IoT Ent. (64-bit), PCIe slot, extra DVI-D, 12.1" display with capacitive touchscreen |
| | 15.4 in | Intel® Celeron® | 3965U (2.2 GHz) | Passive cooling (fanless) | 8 GB RAM (non ECC) | 320 GB HDD | Windows 10 (64 bits) | 1 x PCIe slot (X2 lanes) | DVI-D | DVI-D | 16:10 | 1280 | 800 | Industrial Panel PC with Intel® Celeron® 3965U, 8 GB DDR4 RAM (non-ECC), 320 GB HDD, WIN 10 IoT Ent. (64-bit), PCIe slot, extra DVI-D, 15.4" display with capacitive touchscreen |
| | 12.1 in | Intel® Celeron® | 3965U (2.2 GHz) | Passive cooling (fanless) | 8 GB RAM (non ECC) | 320 GB HDD | Windows 10 (64 bits) | 1 x PCIe slot (X2 lanes) | NYML | DVI-D | 16:10 | 1280 | 800 | Industrial Panel PC with Intel® Celeron® 3965U, 8 GB DDR4 RAM (non-ECC), 320 GB HDD, WIN 10 IoT Ent. (64-bit), PCIe slot, NYML port, 12.1" display with capacitive touchscreen |
| | 15.4 in | Intel® Celeron® | 3965U (2.2 GHz) | Passive cooling (fanless) | 8 GB RAM (non ECC) | 320 GB HDD | Windows 10 (64 bits) | 1 x PCIe slot (X2 lanes) | NYML | DVI-D | 16:10 | 1280 | 800 | Industrial Panel PC with Intel® Celeron® 3965U, 8 GB DDR4 RAM (non-ECC), 320 GB HDD, WIN 10 IoT Ent. (64-bit), PCIe slot, NYML port, 15.4" display with capacitive touchscreen |
| | 12.1 in | Intel® Celeron® | 3965U (2.2 GHz) | Passive cooling (fanless) | 8 GB RAM (non ECC) | 128 GB SSD | Windows 10 (64 bits) | 1 x PCIe slot (X2 lanes) | RS-232 | DVI-D | 16:10 | 1280 | 800 | Industrial Panel PC with Intel® Celeron® 3965U, 8 GB DDR4 RAM (non-ECC), 128 GB SSD-iMLC, WIN 10 IoT Ent. (64-bit), PCIe slot, RS-232, 12.1" display with capacitive touchscreen |
| | 15.4 in | Intel® Celeron® | 3965U (2.2 GHz) | Passive cooling (fanless) | 8 GB RAM (non ECC) | 128 GB SSD | Windows 10 (64 bits) | 1 x PCIe slot (X2 lanes) | RS-232 | DVI-D | 16:10 | 1280 | 800 | Industrial Panel PC with Intel® Celeron® 3965U, 8 GB DDR4 RAM (non-ECC), 128 GB SSD-iMLC, WIN 10 IoT Ent. (64-bit), PCIe slot, RS-232, 15.4" display with capacitive touchscreen |
| | 12.1 in | Intel® Celeron® | 3965U (2.2 GHz) | Passive cooling (fanless) | 8 GB RAM (non ECC) | 128 GB SSD | Windows 10 (64 bits) | 1 x PCIe slot (X2 lanes) | DVI-D | DVI-D | 16:10 | 1280 | 800 | Industrial Panel PC with Intel® Celeron® 3965U, 8 GB DDR4 RAM (non-ECC), 128 GB SSD-iMLC, WIN 10 IoT Ent. (64-bit), PCIe slot, extra DVI-D, 12.1" display with capacitive touchscreen |
| | 15.4 in | Intel® Celeron® | 3965U (2.2 GHz) | Passive cooling (fanless) | 8 GB RAM (non ECC) | 128 GB SSD | Windows 10 (64 bits) | 1 x PCIe slot (X2 lanes) | DVI-D | DVI-D | 16:10 | 1280 | 800 | Industrial Panel PC with Intel® Celeron® 3965U, 8 GB DDR4 RAM (non-ECC), 128 GB SSD-iMLC, WIN 10 IoT Ent. (64-bit), PCIe slot, extra DVI-D, 15.4" display with capacitive touchscreen |
| | 12.1 in | Intel® Celeron® | 3965U (2.2 GHz) | Passive cooling (fanless) | 8 GB RAM (non ECC) | 128 GB SSD | Windows 10 (64 bits) | 1 x PCIe slot (X2 lanes) | NYML | DVI-D | 16:10 | 1280 | 800 | Industrial Panel PC with Intel® Celeron® 3965U, 8 GB DDR4 RAM (non-ECC), 128 GB SSD-iMLC, WIN 10 IoT Ent. (64-bit), PCIe slot, NYML port, 12.1" display with capacitive touchscreen |
| | 15.4 in | Intel® Celeron® | 3965U (2.2 GHz) | Passive cooling (fanless) | 8 GB RAM (non ECC) | 128 GB SSD | Windows 10 (64 bits) | 1 x PCIe slot (X2 lanes) | NYML | DVI-D | 16:10 | 1280 | 800 | Industrial Panel PC with Intel® Celeron® 3965U, 8 GB DDR4 RAM (non-ECC), 128 GB SSD-iMLC, WIN 10 IoT Ent. (64-bit), PCIe slot, NYML port, 15.4" display with capacitive touchscreen |
| | 12.1 in | Intel® Core™ i5 | 7300U (2.6 GHz) | Passive cooling (fanless) | 4 GB RAM (non ECC) | No Storage | No OS | 1 x PCIe slot (X2 lanes) | RS-232 | DVI-D | 16:10 | 1280 | 800 | Industrial Panel PC with Intel® Core™ i5-7300U, 4 GB DDR4 RAM (non-ECC), No storage, No OS, PCIe slot, RS-232, 12.1" display with capacitive touchscreen |
| | 15.4 in | Intel® Core™ i5 | 7300U (2.6 GHz) | Passive cooling (fanless) | 4 GB RAM (non ECC) | No Storage | No OS | 1 x PCIe slot (X2 lanes) | RS-232 | DVI-D | 16:10 | 1280 | 800 | Industrial Panel PC with Intel® Core™ i5-7300U, 4 GB DDR4 RAM (non-ECC), No storage, No OS, PCIe slot, RS-232, 15.4" display with capacitive touchscreen |
| | 12.1 in | Intel® Core™ i5 | 7300U (2.6 GHz) | Passive cooling (fanless) | 4 GB RAM (non ECC) | No Storage | No OS | 1 x PCIe slot (X2 lanes) | NYML | DVI-D | 16:10 | 1280 | 800 | Industrial Panel PC with Intel® Core™ i5-7300U, 4 GB DDR4 RAM (non-ECC), No storage, No OS, PCIe slot, NYML port, 12.1" display with capacitive touchscreen |
| | 15.4 in | Intel® Core™ i5 | 7300U (2.6 GHz) | Passive cooling (fanless) | 4 GB RAM (non ECC) | No Storage | No OS | 1 x PCIe slot (X2 lanes) | NYML | DVI-D | 16:10 | 1280 | 800 | Industrial Panel PC with Intel® Core™ i5-7300U, 4 GB DDR4 RAM (non-ECC), No storage, No OS, PCIe slot, NYML port, 15.4" display with capacitive touchscreen |
| | 12.1 in | Intel® Core™ i5 | 7300U (2.6 GHz) | Passive cooling (fanless) | 4 GB RAM (non ECC) | 64 GB SSD | Windows 10 (64 bits) | 1 x PCIe slot (X2 lanes) | RS-232 | DVI-D | 16:10 | 1280 | 800 | Industrial Panel PC with Intel® Core™ i5-7300U, 4 GB DDR4 RAM (non-ECC), 64 GB SSD-SLC, WIN 10 IoT Ent. (64-bit), PCIe slot, RS-232, 12.1" display with capacitive touchscreen |
| | 15.4 in | Intel® Core™ i5 | 7300U (2.6 GHz) | Passive cooling (fanless) | 4 GB RAM (non ECC) | 64 GB SSD | Windows 10 (64 bits) | 1 x PCIe slot (X2 lanes) | RS-232 | DVI-D | 16:10 | 1280 | 800 | Industrial Panel PC with Intel® Core™ i5-7300U, 4 GB DDR4 RAM (non-ECC), 64 GB SSD-SLC, WIN 10 IoT Ent. (64-bit), PCIe slot, RS-232, 15.4" display with capacitive touchscreen |
| | 12.1 in | Intel® Core™ i5 | 7300U (2.6 GHz) | Passive cooling (fanless) | 4 GB RAM (non ECC) | 64 GB SSD | Windows 10 (64 bits) | 1 x PCIe slot (X2 lanes) | DVI-D | DVI-D | 16:10 | 1280 | 800 | Industrial Panel PC with Intel® Core™ i5-7300U, 4 GB DDR4 RAM (non-ECC), 64 GB SSD-SLC, WIN 10 IoT Ent. (64-bit), PCIe slot, extra DVI-D, 12.1" display with capacitive touchscreen |
| | 15.4 in | Intel® Core™ i5 | 7300U (2.6 GHz) | Passive cooling (fanless) | 4 GB RAM (non ECC) | 64 GB SSD | Windows 10 (64 bits) | 1 x PCIe slot (X2 lanes) | DVI-D | DVI-D | 16:10 | 1280 | 800 | Industrial Panel PC with Intel® Core™ i5-7300U, 4 GB DDR4 RAM (non-ECC), 64 GB SSD-SLC, WIN 10 IoT Ent. (64-bit), PCIe slot, extra DVI-D, 15.4" display with capacitive touchscreen |
| | 12.1 in | Intel® Core™ i5 | 7300U (2.6 GHz) | Passive cooling (fanless) | 4 GB RAM (non ECC) | 64 GB SSD | Windows 10 (64 bits) | 1 x PCIe slot (X2 lanes) | NYML | DVI-D | 16:10 | 1280 | 800 | Industrial Panel PC with Intel® Core™ i5-7300U, 4 GB DDR4 RAM (non-ECC), 64 GB SSD-SLC, WIN 10 IoT Ent. (64-bit), PCIe slot, NYML port, 12.1" display with capacitive touchscreen |
| | 15.4 in | Intel® Core™ i5 | 7300U (2.6 GHz) | Passive cooling (fanless) | 4 GB RAM (non ECC) | 64 GB SSD | Windows 10 (64 bits) | 1 x PCIe slot (X2 lanes) | NYML | DVI-D | 16:10 | 1280 | 800 | Industrial Panel PC with Intel® Core™ i5-7300U, 4 GB DDR4 RAM (non-ECC), 64 GB SSD-SLC, WIN 10 IoT Ent. (64-bit), PCIe slot, NYML port, 15.4" display with capacitive touchscreen |
| | 12.1 in | Intel® Core™ i5 | 7300U (2.6 GHz) | Passive cooling (fanless) | 4 GB RAM (non ECC) | 320 GB HDD | Windows 10 (64 bits) | 1 x PCIe slot (X2 lanes) | RS-232 | DVI-D | 16:10 | 1280 | 800 | Industrial Panel PC with Intel® Core™ i5-7300U, 4 GB DDR4 RAM (non-ECC), 320 GB HDD, WIN 10 IoT Ent. (64-bit), PCIe slot, RS-232, 12.1" display with capacitive touchscreen |
| | 15.4 in | Intel® Core™ i5 | 7300U (2.6 GHz) | Passive cooling (fanless) | 4 GB RAM (non ECC) | 320 GB HDD | Windows 10 (64 bits) | 1 x PCIe slot (X2 lanes) | RS-232 | DVI-D | 16:10 | 1280 | 800 | Industrial Panel PC with Intel® Core™ i5-7300U, 4 GB DDR4 RAM (non-ECC), 320 GB HDD, WIN 10 IoT Ent. (64-bit), PCIe slot, RS-232, 15.4" display with capacitive touchscreen |
| | 12.1 in | Intel® Core™ i5 | 7300U (2.6 GHz) | Passive cooling (fanless) | 4 GB RAM (non ECC) | 320 GB HDD | Windows 10 (64 bits) | 1 x PCIe slot (X2 lanes) | DVI-D | DVI-D | 16:10 | 1280 | 800 | Industrial Panel PC with Intel® Core™ i5-7300U, 4 GB DDR4 RAM (non-ECC), 320 GB HDD, WIN 10 IoT Ent. (64-bit), PCIe slot, extra DVI-D, 12.1" display with capacitive touchscreen |
| | 15.4 in | Intel® Core™ i5 | 7300U (2.6 GHz) | Passive cooling (fanless) | 4 GB RAM (non ECC) | 320 GB HDD | Windows 10 (64 bits) | 1 x PCIe slot (X2 lanes) | DVI-D | DVI-D | 16:10 | 1280 | 800 | Industrial Panel PC with Intel® Core™ i5-7300U, 4 GB DDR4 RAM (non-ECC), 320 GB HDD, WIN 10 IoT Ent. (64-bit), PCIe slot, extra DVI-D, 15.4" display with capacitive touchscreen |
| | 12.1 in | Intel® Core™ i5 | 7300U (2.6 GHz) | Passive cooling (fanless) | 4 GB RAM (non ECC) | 320 GB HDD | Windows 10 (64 bits) | 1 x PCIe slot (X2 lanes) | NYML | DVI-D | 16:10 | 1280 | 800 | Industrial Panel PC with Intel® Core™ i5-7300U, 4 GB DDR4 RAM (non-ECC), 320 GB HDD, WIN 10 IoT Ent. (64-bit), PCIe slot, NYML port, 12.1" display with capacitive touchscreen |
| | 15.4 in | Intel® Core™ i5 | 7300U (2.6 GHz) | Passive cooling (fanless) | 4 GB RAM (non ECC) | 320 GB HDD | Windows 10 (64 bits) | 1 x PCIe slot (X2 lanes) | NYML | DVI-D | 16:10 | 1280 | 800 | Industrial Panel PC with Intel® Core™ i5-7300U, 4 GB DDR4 RAM (non-ECC), 320 GB HDD, WIN 10 IoT Ent. (64-bit), PCIe slot, NYML port, 15.4" display with capacitive touchscreen |
| | 12.1 in | Intel® Core™ i5 | 7300U (2.6 GHz) | Passive cooling (fanless) | 4 GB RAM (non ECC) | 128 GB SSD | Windows 10 (64 bits) | 1 x PCIe slot (X2 lanes) | RS-232 | DVI-D | 16:10 | 1280 | 800 | Industrial Panel PC with Intel® Core™ i5-7300U, 4 GB DDR4 RAM (non-ECC), 128 GB SSD-iMLC, WIN 10 IoT Ent. (64-bit), PCIe slot, RS-232, 12.1" display with capacitive touchscreen |
| | 15.4 in | Intel® Core™ i5 | 7300U (2.6 GHz) | Passive cooling (fanless) | 4 GB RAM (non ECC) | 128 GB SSD | Windows 10 (64 bits) | 1 x PCIe slot (X2 lanes) | RS-232 | DVI-D | 16:10 | 1280 | 800 | Industrial Panel PC with Intel® Core™ i5-7300U, 4 GB DDR4 RAM (non-ECC), 128 GB SSD-iMLC, WIN 10 IoT Ent. (64-bit), PCIe slot, RS-232, 15.4" display with capacitive touchscreen |
| | 12.1 in | Intel® Core™ i5 | 7300U (2.6 GHz) | Passive cooling (fanless) | 4 GB RAM (non ECC) | 128 GB SSD | Windows 10 (64 bits) | 1 x PCIe slot (X2 lanes) | DVI-D | DVI-D | 16:10 | 1280 | 800 | Industrial Panel PC with Intel® Core™ i5-7300U, 4 GB DDR4 RAM (non-ECC), 128 GB SSD-iMLC, WIN 10 IoT Ent. (64-bit), PCIe slot, extra DVI-D, 12.1" display with capacitive touchscreen |
| | 15.4 in | Intel® Core™ i5 | 7300U (2.6 GHz) | Passive cooling (fanless) | 4 GB RAM (non ECC) | 128 GB SSD | Windows 10 (64 bits) | 1 x PCIe slot (X2 lanes) | DVI-D | DVI-D | 16:10 | 1280 | 800 | Industrial Panel PC with Intel® Core™ i5-7300U, 4 GB DDR4 RAM (non-ECC), 128 GB SSD-iMLC, WIN 10 IoT Ent. (64-bit), PCIe slot, extra DVI-D, 15.4" display with capacitive touchscreen |
| | 12.1 in | Intel® Core™ i5 | 7300U (2.6 GHz) | Passive cooling (fanless) | 4 GB RAM (non ECC) | 128 GB SSD | Windows 10 (64 bits) | 1 x PCIe slot (X2 lanes) | NYML | DVI-D | 16:10 | 1280 | 800 | Industrial Panel PC with Intel® Core™ i5-7300U, 4 GB DDR4 RAM (non-ECC), 128 GB SSD-iMLC, WIN 10 IoT Ent. (64-bit), PCIe slot, NYML port, 12.1" display with capacitive touchscreen |
| | 15.4 in | Intel® Core™ i5 | 7300U (2.6 GHz) | Passive cooling (fanless) | 4 GB RAM (non ECC) | 128 GB SSD | Windows 10 (64 bits) | 1 x PCIe slot (X2 lanes) | NYML | DVI-D | 16:10 | 1280 | 800 | Industrial Panel PC with Intel® Core™ i5-7300U, 4 GB DDR4 RAM (non-ECC), 128 GB SSD-iMLC, WIN 10 IoT Ent. (64-bit), PCIe slot, NYML port, 15.4" display with capacitive touchscreen |
| | 12.1 in | Intel® Core™ i5 | 7300U (2.6 GHz) | Passive cooling (fanless) | 8 GB RAM (non ECC) | No Storage | No OS | No Expansion | No Port | DVI-D | 16:10 | 1280 | 800 | Industrial Panel PC with Intel® Core™ i5-7300U, 8 GB DDR4 RAM (non-ECC), No storage, No OS, no PCIe slot, no option port, 12.1" display with capacitive touchscreen |
| | 15.4 in | Intel® Core™ i5 | 7300U (2.6 GHz) | Passive cooling (fanless) | 8 GB RAM (non ECC) | No Storage | No OS | No Expansion | No Port | DVI-D | 16:10 | 1280 | 800 | Industrial Panel PC with Intel® Core™ i5-7300U, 8 GB DDR4 RAM (non-ECC), No storage, No OS, no PCIe slot, no option port, 15.4" display with capacitive touchscreen |
| | 18.5 in | Intel® Core™ i5 | 7300U (2.6 GHz) | Passive cooling (fanless) | 8 GB RAM (non ECC) | No Storage | No OS | No Expansion | No Port | DVI-D | 16:9 | 1920 | 1080 | Industrial Panel PC with Intel® Core™ i5-7300U, 8 GB DRAM (non-ECC), No Storage, No OS, No exp. slots, No I/F option, 18.5" (1920x1080) display with capacitive touchscreen, build-in type |
| | 12.1 in | Intel® Core™ i5 | 7300U (2.6 GHz) | Passive cooling (fanless) | 8 GB RAM (non ECC) | 64 GB CFast | Windows 10 (64 bits) | No Expansion | No Port | DVI-D | 16:10 | 1280 | 800 | Industrial Panel PC with Intel® Core™ i5-7300U, 8 GB DDR4 RAM (non-ECC), 64 GB CFast iMLC, WIN 10 IoT Ent. (64-bit), no PCIe slot, no option port, 12.1" display with capacitive touchscreen |
| | 15.4 in | Intel® Core™ i5 | 7300U (2.6 GHz) | Passive cooling (fanless) | 8 GB RAM (non ECC) | 64 GB CFast | Windows 10 (64 bits) | No Expansion | No Port | DVI-D | 16:10 | 1280 | 800 | Industrial Panel PC with Intel® Core™ i5-7300U, 8 GB DDR4 RAM (non-ECC), 64 GB CFast iMLC, WIN 10 IoT Ent. (64-bit), no PCIe slot, no option port, 15.4" display with capacitive touchscreen |
| | 18.5 in | Intel® Core™ i5 | 7300U (2.6 GHz) | Passive cooling (fanless) | 8 GB RAM (non ECC) | 64 GB CFast | Windows 10 (64 bits) | No Expansion | No Port | DVI-D | 16:9 | 1920 | 1080 | Industrial Panel PC with Intel® Core™ i5-7300U, 8 GB DRAM (non-ECC), 64 GB CFast iMLC, WIN 10 IoT Ent. (64-bit), No exp. slots, No I/F option, 18.5" (1920x1080) display with capacitive touchscreen, build-in type |
| | 12.1 in | Intel® Core™ i5 | 7300U (2.6 GHz) | Passive cooling (fanless) | 8 GB RAM (non ECC) | 128 GB CFast | Windows 10 (64 bits) | No Expansion | No Port | DVI-D | 16:10 | 1280 | 800 | Industrial Panel PC with Intel® Core™ i5-7300U, 8 GB DDR4 RAM (non-ECC), 128 GB CFast iMLC, WIN 10 IoT Ent. (64-bit), no PCIe slot, no option port, 12.1" display with capacitive touchscreen |
| | 15.4 in | Intel® Core™ i5 | 7300U (2.6 GHz) | Passive cooling (fanless) | 8 GB RAM (non ECC) | 128 GB CFast | Windows 10 (64 bits) | No Expansion | No Port | DVI-D | 16:10 | 1280 | 800 | Industrial Panel PC with Intel® Core™ i5-7300U, 8 GB DDR4 RAM (non-ECC), 128 GB CFast iMLC, WIN 10 IoT Ent. (64-bit), no PCIe slot, no option port, 15.4" display with capacitive touchscreen |
| | 18.5 in | Intel® Core™ i5 | 7300U (2.6 GHz) | Passive cooling (fanless) | 8 GB RAM (non ECC) | 128 GB CFast | Windows 10 (64 bits) | No Expansion | No Port | DVI-D | 16:9 | 1920 | 1080 | Industrial Panel PC with Intel® Core™ i5-7300U, 8 GB DRAM (non-ECC), 128 GB CFast iMLC, WIN 10 IoT Ent. (64-bit), No exp. slots, No I/F option, 18.5" (1920x1080) display with capacitive touchscreen, build-in type |
| | 12.1 in | Intel® Core™ i5 | 7300U (2.6 GHz) | Passive cooling (fanless) | 8 GB RAM (non ECC) | 256 GB CFast | Windows 10 (64 bits) | No Expansion | No Port | DVI-D | 16:10 | 1280 | 800 | Industrial Panel PC with Intel® Core™ i5-7300U, 8 GB DDR4 RAM (non-ECC), 256 GB CFast iMLC, WIN 10 IoT Ent. (64-bit), no PCIe slot, no option port, 12.1" display with capacitive touchscreen |
| | 15.4 in | Intel® Core™ i5 | 7300U (2.6 GHz) | Passive cooling (fanless) | 8 GB RAM (non ECC) | 256 GB CFast | Windows 10 (64 bits) | No Expansion | No Port | DVI-D | 16:10 | 1280 | 800 | Industrial Panel PC with Intel® Core™ i5-7300U, 8 GB DDR4 RAM (non-ECC), 256 GB CFast iMLC, WIN 10 IoT Ent. (64-bit), no PCIe slot, no option port, 15.4" display with capacitive touchscreen |
| | 15.4 in | Intel® Core™ i5 | 7300U (2.6 GHz) | Passive cooling (fanless) | 8 GB RAM (non ECC) | 256 GB CFast | Windows 10 (64 bits) | No Expansion | No Port | DVI-D | 16:10 | 1280 | 800 | Industrial Panel PC with Intel® Core™ i5-7300U, 8 GB DRAM (non-ECC), 256 GB CFast iMLC, WIN 10 IoT Ent. (64-bit), No exp. slots, No I/F option, 15.4" (1280x800) display with capacitive touchscreen, build-in type, Ni plating |
| | 18.5 in | Intel® Core™ i5 | 7300U (2.6 GHz) | Passive cooling (fanless) | 8 GB RAM (non ECC) | 256 GB CFast | Windows 10 (64 bits) | No Expansion | No Port | DVI-D | 16:9 | 1920 | 1080 | Industrial Panel PC with Intel® Core™ i5-7300U, 8 GB DRAM (non-ECC), 256 GB CFast iMLC, WIN 10 IoT Ent. (64-bit), No exp. slots, No I/F option, 18.5" (1920x1080) display with capacitive touchscreen, build-in type |
| | 18.5 in | Intel® Core™ i5 | 7300U (2.6 GHz) | Passive cooling (fanless) | 8 GB RAM (non ECC) | 256 GB CFast | Windows 10 (64 bits) | No Expansion | No Port | DVI-D | 16:9 | 1920 | 1080 | Industrial Panel PC with Intel® Core™ i5-7300U, 8 GB DRAM (non-ECC), 256 GB CFast iMLC, WIN 10 IoT Ent. (64-bit), No exp. slots, No I/F option, 18.5" (1920x1080) display with capacitive touchscreen, build-in type, Ni plating |
| | 12.1 in | Intel® Core™ i5 | 7300U (2.6 GHz) | Passive cooling (fanless) | 8 GB RAM (non ECC) | No Storage | No OS | 1 x PCIe slot (X2 lanes) | RS-232 | DVI-D | 16:10 | 1280 | 800 | Industrial Panel PC with Intel® Core™ i5-7300U, 8 GB DDR4 RAM (non-ECC), No storage, No OS, PCIe slot, RS-232, 12.1" display with capacitive touchscreen |
| | 15.4 in | Intel® Core™ i5 | 7300U (2.6 GHz) | Passive cooling (fanless) | 8 GB RAM (non ECC) | No Storage | No OS | 1 x PCIe slot (X2 lanes) | RS-232 | DVI-D | 16:10 | 1280 | 800 | Industrial Panel PC with Intel® Core™ i5-7300U, 8 GB DDR4 RAM (non-ECC), No storage, No OS, PCIe slot, RS-232, 15.4" display with capacitive touchscreen |
| | 12.1 in | Intel® Core™ i5 | 7300U (2.6 GHz) | Passive cooling (fanless) | 8 GB RAM (non ECC) | No Storage | No OS | 1 x PCIe slot (X2 lanes) | DVI-D | DVI-D | 16:10 | 1280 | 800 | Industrial Panel PC with Intel® Core™ i5-7300U, 8 GB DDR4 RAM (non-ECC), No storage, No OS, PCIe slot, extra DVI-D, 12.1" display with capacitive touchscreen |
| | 15.4 in | Intel® Core™ i5 | 7300U (2.6 GHz) | Passive cooling (fanless) | 8 GB RAM (non ECC) | No Storage | No OS | 1 x PCIe slot (X2 lanes) | DVI-D | DVI-D | 16:10 | 1280 | 800 | Industrial Panel PC with Intel® Core™ i5-7300U, 8 GB DDR4 RAM (non-ECC), No storage, No OS, PCIe slot, extra DVI-D, 15.4" display with capacitive touchscreen |
| | 12.1 in | Intel® Core™ i5 | 7300U (2.6 GHz) | Passive cooling (fanless) | 8 GB RAM (non ECC) | No Storage | No OS | 1 x PCIe slot (X2 lanes) | NYML | DVI-D | 16:10 | 1280 | 800 | Industrial Panel PC with Intel® Core™ i5-7300U, 8 GB DDR4 RAM (non-ECC), No storage, No OS, PCIe slot, NYML port, 12.1" display with capacitive touchscreen |
| | 15.4 in | Intel® Core™ i5 | 7300U (2.6 GHz) | Passive cooling (fanless) | 8 GB RAM (non ECC) | No Storage | No OS | 1 x PCIe slot (X2 lanes) | NYML | DVI-D | 16:10 | 1280 | 800 | Industrial Panel PC with Intel® Core™ i5-7300U, 8 GB DDR4 RAM (non-ECC), No storage, No OS, PCIe slot, NYML port, 15.4" display with capacitive touchscreen |
| | 12.1 in | Intel® Core™ i5 | 7300U (2.6 GHz) | Passive cooling (fanless) | 8 GB RAM (non ECC) | 64 GB SSD | Windows 10 (64 bits) | 1 x PCIe slot (X2 lanes) | RS-232 | DVI-D | 16:10 | 1280 | 800 | Industrial Panel PC with Intel® Core™ i5-7300U, 8 GB DDR4 RAM (non-ECC), 64 GB SSD-SLC, WIN 10 IoT Ent. (64-bit), PCIe slot, RS-232, 12.1" display with capacitive touchscreen |
| | 15.4 in | Intel® Core™ i5 | 7300U (2.6 GHz) | Passive cooling (fanless) | 8 GB RAM (non ECC) | 64 GB SSD | Windows 10 (64 bits) | 1 x PCIe slot (X2 lanes) | RS-232 | DVI-D | 16:10 | 1280 | 800 | Industrial Panel PC with Intel® Core™ i5-7300U, 8 GB DDR4 RAM (non-ECC), 64 GB SSD-SLC, WIN 10 IoT Ent. (64-bit), PCIe slot, RS-232, 15.4" display with capacitive touchscreen |
| | 12.1 in | Intel® Core™ i5 | 7300U (2.6 GHz) | Passive cooling (fanless) | 8 GB RAM (non ECC) | 64 GB SSD | Windows 10 (64 bits) | 1 x PCIe slot (X2 lanes) | DVI-D | DVI-D | 16:10 | 1280 | 800 | Industrial Panel PC with Intel® Core™ i5-7300U, 8 GB DDR4 RAM (non-ECC), 64 GB SSD-SLC, WIN 10 IoT Ent. (64-bit), PCIe slot, extra DVI-D, 12.1" display with capacitive touchscreen |
| | 15.4 in | Intel® Core™ i5 | 7300U (2.6 GHz) | Passive cooling (fanless) | 8 GB RAM (non ECC) | 64 GB SSD | Windows 10 (64 bits) | 1 x PCIe slot (X2 lanes) | DVI-D | DVI-D | 16:10 | 1280 | 800 | Industrial Panel PC with Intel® Core™ i5-7300U, 8 GB DDR4 RAM (non-ECC), 64 GB SSD-SLC, WIN 10 IoT Ent. (64-bit), PCIe slot, extra DVI-D, 15.4" display with capacitive touchscreen |
| | 12.1 in | Intel® Core™ i5 | 7300U (2.6 GHz) | Passive cooling (fanless) | 8 GB RAM (non ECC) | 64 GB SSD | Windows 10 (64 bits) | 1 x PCIe slot (X2 lanes) | NYML | DVI-D | 16:10 | 1280 | 800 | Industrial Panel PC with Intel® Core™ i5-7300U, 8 GB DDR4 RAM (non-ECC), 64 GB SSD-SLC, WIN 10 IoT Ent. (64-bit), PCIe slot, NYML port, 12.1" display with capacitive touchscreen |
| | 15.4 in | Intel® Core™ i5 | 7300U (2.6 GHz) | Passive cooling (fanless) | 8 GB RAM (non ECC) | 64 GB SSD | Windows 10 (64 bits) | 1 x PCIe slot (X2 lanes) | NYML | DVI-D | 16:10 | 1280 | 800 | Industrial Panel PC with Intel® Core™ i5-7300U, 8 GB DDR4 RAM (non-ECC), 64 GB SSD-SLC, WIN 10 IoT Ent. (64-bit), PCIe slot, NYML port, 15.4" display with capacitive touchscreen |
| | 12.1 in | Intel® Core™ i5 | 7300U (2.6 GHz) | Passive cooling (fanless) | 8 GB RAM (non ECC) | 320 GB HDD | Windows 10 (64 bits) | 1 x PCIe slot (X2 lanes) | RS-232 | DVI-D | 16:10 | 1280 | 800 | Industrial Panel PC with Intel® Core™ i5-7300U, 8 GB DDR4 RAM (non-ECC), 320 GB HDD, WIN 10 IoT Ent. (64-bit), PCIe slot, RS-232, 12.1" display with capacitive touchscreen |
| | 15.4 in | Intel® Core™ i5 | 7300U (2.6 GHz) | Passive cooling (fanless) | 8 GB RAM (non ECC) | 320 GB HDD | Windows 10 (64 bits) | 1 x PCIe slot (X2 lanes) | RS-232 | DVI-D | 16:10 | 1280 | 800 | Industrial Panel PC with Intel® Core™ i5-7300U, 8 GB DDR4 RAM (non-ECC), 320 GB HDD, WIN 10 IoT Ent. (64-bit), PCIe slot, RS-232, 15.4" display with capacitive touchscreen |
| | 12.1 in | Intel® Core™ i5 | 7300U (2.6 GHz) | Passive cooling (fanless) | 8 GB RAM (non ECC) | 320 GB HDD | Windows 10 (64 bits) | 1 x PCIe slot (X2 lanes) | DVI-D | DVI-D | 16:10 | 1280 | 800 | Industrial Panel PC with Intel® Core™ i5-7300U, 8 GB DDR4 RAM (non-ECC), 320 GB HDD, WIN 10 IoT Ent. (64-bit), PCIe slot, extra DVI-D, 12.1" display with capacitive touchscreen |
| | 15.4 in | Intel® Core™ i5 | 7300U (2.6 GHz) | Passive cooling (fanless) | 8 GB RAM (non ECC) | 320 GB HDD | Windows 10 (64 bits) | 1 x PCIe slot (X2 lanes) | DVI-D | DVI-D | 16:10 | 1280 | 800 | Industrial Panel PC with Intel® Core™ i5-7300U, 8 GB DDR4 RAM (non-ECC), 320 GB HDD, WIN 10 IoT Ent. (64-bit), PCIe slot, extra DVI-D, 15.4" display with capacitive touchscreen |
| | 12.1 in | Intel® Core™ i5 | 7300U (2.6 GHz) | Passive cooling (fanless) | 8 GB RAM (non ECC) | 320 GB HDD | Windows 10 (64 bits) | 1 x PCIe slot (X2 lanes) | NYML | DVI-D | 16:10 | 1280 | 800 | Industrial Panel PC with Intel® Core™ i5-7300U, 8 GB DDR4 RAM (non-ECC), 320 GB HDD, WIN 10 IoT Ent. (64-bit), PCIe slot, NYML port, 12.1" display with capacitive touchscreen |
| | 15.4 in | Intel® Core™ i5 | 7300U (2.6 GHz) | Passive cooling (fanless) | 8 GB RAM (non ECC) | 320 GB HDD | Windows 10 (64 bits) | 1 x PCIe slot (X2 lanes) | NYML | DVI-D | 16:10 | 1280 | 800 | Industrial Panel PC with Intel® Core™ i5-7300U, 8 GB DDR4 RAM (non-ECC), 320 GB HDD, WIN 10 IoT Ent. (64-bit), PCIe slot, NYML port, 15.4" display with capacitive touchscreen |
| | 12.1 in | Intel® Core™ i5 | 7300U (2.6 GHz) | Passive cooling (fanless) | 8 GB RAM (non ECC) | 128 GB SSD | Windows 10 (64 bits) | 1 x PCIe slot (X2 lanes) | RS-232 | DVI-D | 16:10 | 1280 | 800 | Industrial Panel PC with Intel® Core™ i5-7300U, 8 GB DDR4 RAM (non-ECC), 128 GB SSD-iMLC, WIN 10 IoT Ent. (64-bit), PCIe slot, RS-232, 12.1" display with capacitive touchscreen |
| | 15.4 in | Intel® Core™ i5 | 7300U (2.6 GHz) | Passive cooling (fanless) | 8 GB RAM (non ECC) | 128 GB SSD | Windows 10 (64 bits) | 1 x PCIe slot (X2 lanes) | RS-232 | DVI-D | 16:10 | 1280 | 800 | Industrial Panel PC with Intel® Core™ i5-7300U, 8 GB DDR4 RAM (non-ECC), 128 GB SSD-iMLC, WIN 10 IoT Ent. (64-bit), PCIe slot, RS-232, 15.4" display with capacitive touchscreen |
| | 12.1 in | Intel® Core™ i5 | 7300U (2.6 GHz) | Passive cooling (fanless) | 8 GB RAM (non ECC) | 128 GB SSD | Windows 10 (64 bits) | 1 x PCIe slot (X2 lanes) | DVI-D | DVI-D | 16:10 | 1280 | 800 | Industrial Panel PC with Intel® Core™ i5-7300U, 8 GB DDR4 RAM (non-ECC), 128 GB SSD-iMLC, WIN 10 IoT Ent. (64-bit), PCIe slot, extra DVI-D, 12.1" display with capacitive touchscreen |
| | 15.4 in | Intel® Core™ i5 | 7300U (2.6 GHz) | Passive cooling (fanless) | 8 GB RAM (non ECC) | 128 GB SSD | Windows 10 (64 bits) | 1 x PCIe slot (X2 lanes) | DVI-D | DVI-D | 16:10 | 1280 | 800 | Industrial Panel PC with Intel® Core™ i5-7300U, 8 GB DDR4 RAM (non-ECC), 128 GB SSD-iMLC, WIN 10 IoT Ent. (64-bit), PCIe slot, extra DVI-D, 15.4" display with capacitive touchscreen |
| | 12.1 in | Intel® Core™ i5 | 7300U (2.6 GHz) | Passive cooling (fanless) | 8 GB RAM (non ECC) | 128 GB SSD | Windows 10 (64 bits) | 1 x PCIe slot (X2 lanes) | NYML | DVI-D | 16:10 | 1280 | 800 | Industrial Panel PC with Intel® Core™ i5-7300U, 8 GB DDR4 RAM (non-ECC), 128 GB SSD-iMLC, WIN 10 IoT Ent. (64-bit), PCIe slot, NYML port, 12.1" display with capacitive touchscreen |
| | 15.4 in | Intel® Core™ i5 | 7300U (2.6 GHz) | Passive cooling (fanless) | 8 GB RAM (non ECC) | 128 GB SSD | Windows 10 (64 bits) | 1 x PCIe slot (X2 lanes) | NYML | DVI-D | 16:10 | 1280 | 800 | Industrial Panel PC with Intel® Core™ i5-7300U, 8 GB DDR4 RAM (non-ECC), 128 GB SSD-iMLC, WIN 10 IoT Ent. (64-bit), PCIe slot, NYML port, 15.4" display with capacitive touchscreen |
| | 12.1 in | Intel® Core™ i5 | 7300U (2.6 GHz) | Passive cooling (fanless) | 16 GB RAM (non ECC) | No Storage | No OS | No Expansion | No Port | DVI-D | 16:10 | 1280 | 800 | Industrial Panel PC with Intel® Core™ i5-7300U, 16 GB DDR4 RAM (non-ECC), No storage, No OS, no PCIe slot, no option port, 12.1" display with capacitive touchscreen |
| | 15.4 in | Intel® Core™ i5 | 7300U (2.6 GHz) | Passive cooling (fanless) | 16 GB RAM (non ECC) | No Storage | No OS | No Expansion | No Port | DVI-D | 16:10 | 1280 | 800 | Industrial Panel PC with Intel® Core™ i5-7300U, 16 GB DDR4 RAM (non-ECC), No storage, No OS, no PCIe slot, no option port, 15.4" display with capacitive touchscreen |
| | 18.5 in | Intel® Core™ i5 | 7300U (2.6 GHz) | Passive cooling (fanless) | 16 GB RAM (non ECC) | No Storage | No OS | No Expansion | No Port | DVI-D | 16:9 | 1920 | 1080 | Industrial Panel PC with Intel® Core™ i5-7300U, 16 GB DRAM (non-ECC), No Storage, No OS, No exp. slots, No I/F option, 18.5" (1920x1080) display with capacitive touchscreen, build-in type |
| | 12.1 in | Intel® Core™ i5 | 7300U (2.6 GHz) | Passive cooling (fanless) | 16 GB RAM (non ECC) | 64 GB CFast | Windows 10 (64 bits) | No Expansion | No Port | DVI-D | 16:10 | 1280 | 800 | Industrial Panel PC with Intel® Core™ i5-7300U, 16 GB DDR4 RAM (non-ECC), 64 GB CFast iMLC, WIN 10 IoT Ent. (64-bit), no PCIe slot, no option port, 12.1" display with capacitive touchscreen |
| | 15.4 in | Intel® Core™ i5 | 7300U (2.6 GHz) | Passive cooling (fanless) | 16 GB RAM (non ECC) | 64 GB CFast | Windows 10 (64 bits) | No Expansion | No Port | DVI-D | 16:10 | 1280 | 800 | Industrial Panel PC with Intel® Core™ i5-7300U, 16 GB DDR4 RAM (non-ECC), 64 GB CFast iMLC, WIN 10 IoT Ent. (64-bit), no PCIe slot, no option port, 15.4" display with capacitive touchscreen |
| | 18.5 in | Intel® Core™ i5 | 7300U (2.6 GHz) | Passive cooling (fanless) | 16 GB RAM (non ECC) | 64 GB CFast | Windows 10 (64 bits) | No Expansion | No Port | DVI-D | 16:9 | 1920 | 1080 | Industrial Panel PC with Intel® Core™ i5-7300U, 16 GB DRAM (non-ECC), 64 GB CFast iMLC, WIN 10 IoT Ent. (64-bit), No exp. slots, No I/F option, 18.5" (1920x1080) display with capacitive touchscreen, build-in type |
| | 12.1 in | Intel® Core™ i5 | 7300U (2.6 GHz) | Passive cooling (fanless) | 16 GB RAM (non ECC) | 128 GB CFast | Windows 10 (64 bits) | No Expansion | No Port | DVI-D | 16:10 | 1280 | 800 | Industrial Panel PC with Intel® Core™ i5-7300U, 16 GB DDR4 RAM (non-ECC), 128 GB CFast iMLC, WIN 10 IoT Ent. (64-bit), no PCIe slot, no option port, 12.1" display with capacitive touchscreen |
| | 15.4 in | Intel® Core™ i5 | 7300U (2.6 GHz) | Passive cooling (fanless) | 16 GB RAM (non ECC) | 128 GB CFast | Windows 10 (64 bits) | No Expansion | No Port | DVI-D | 16:10 | 1280 | 800 | Industrial Panel PC with Intel® Core™ i5-7300U, 16 GB DDR4 RAM (non-ECC), 128 GB CFast iMLC, WIN 10 IoT Ent. (64-bit), no PCIe slot, no option port, 15.4" display with capacitive touchscreen |
| | 18.5 in | Intel® Core™ i5 | 7300U (2.6 GHz) | Passive cooling (fanless) | 16 GB RAM (non ECC) | 128 GB CFast | Windows 10 (64 bits) | No Expansion | No Port | DVI-D | 16:9 | 1920 | 1080 | Industrial Panel PC with Intel® Core™ i5-7300U, 16 GB DRAM (non-ECC), 128 GB CFast iMLC, WIN 10 IoT Ent. (64-bit), No exp. slots, No I/F option, 18.5" (1920x1080) display with capacitive touchscreen, build-in type |
| | 12.1 in | Intel® Core™ i5 | 7300U (2.6 GHz) | Passive cooling (fanless) | 16 GB RAM (non ECC) | 256 GB CFast | Windows 10 (64 bits) | No Expansion | No Port | DVI-D | 16:10 | 1280 | 800 | Industrial Panel PC with Intel® Core™ i5-7300U, 16 GB DDR4 RAM (non-ECC), 256 GB CFast iMLC, WIN 10 IoT Ent. (64-bit), no PCIe slot, no option port, 12.1" display with capacitive touchscreen |
| | 15.4 in | Intel® Core™ i5 | 7300U (2.6 GHz) | Passive cooling (fanless) | 16 GB RAM (non ECC) | 256 GB CFast | Windows 10 (64 bits) | No Expansion | No Port | DVI-D | 16:10 | 1280 | 800 | Industrial Panel PC with Intel® Core™ i5-7300U, 16 GB DDR4 RAM (non-ECC), 256 GB CFast iMLC, WIN 10 IoT Ent. (64-bit), no PCIe slot, no option port, 15.4" display with capacitive touchscreen |
| | 18.5 in | Intel® Core™ i5 | 7300U (2.6 GHz) | Passive cooling (fanless) | 16 GB RAM (non ECC) | 256 GB CFast | Windows 10 (64 bits) | No Expansion | No Port | DVI-D | 16:9 | 1920 | 1080 | Industrial Panel PC with Intel® Core™ i5-7300U, 16 GB DRAM (non-ECC), 256 GB CFast iMLC, WIN 10 IoT Ent. (64-bit), No exp. slots, No I/F option, 18.5" (1920x1080) display with capacitive touchscreen, build-in type |
Comparar produtos
Mostrar mais produtos
Como o podemos ajudar?
Se tiver alguma questão ou pretender solicitar um orçamento, contacte-nos ou envie um pedido.
Características
NY Monitor Link
Ligação de até 100 m entre o IPC e o ecrã
Cabo Ethernet padrão
Tempo de resposta ideal do ecrã
Compatível com 4K
A few details...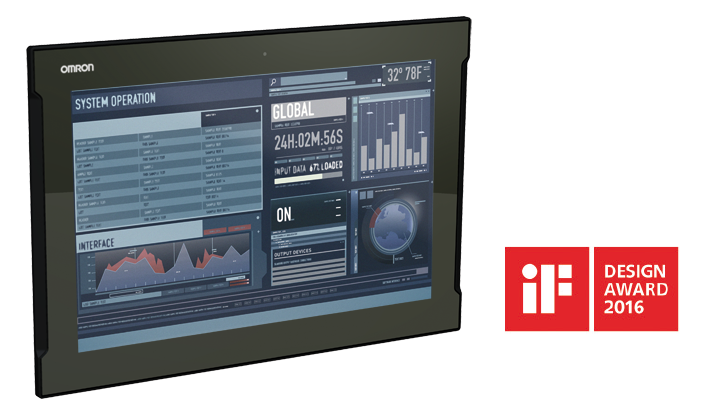 Ecrã industrial de 12,1, 15,4 e 18,5 polegadas
Multitoque, com a mais recente tecnologia capacitiva projectada
Detecção de toques falsos
Operação com luvas
Apoio de montagem fácil integrado
Connections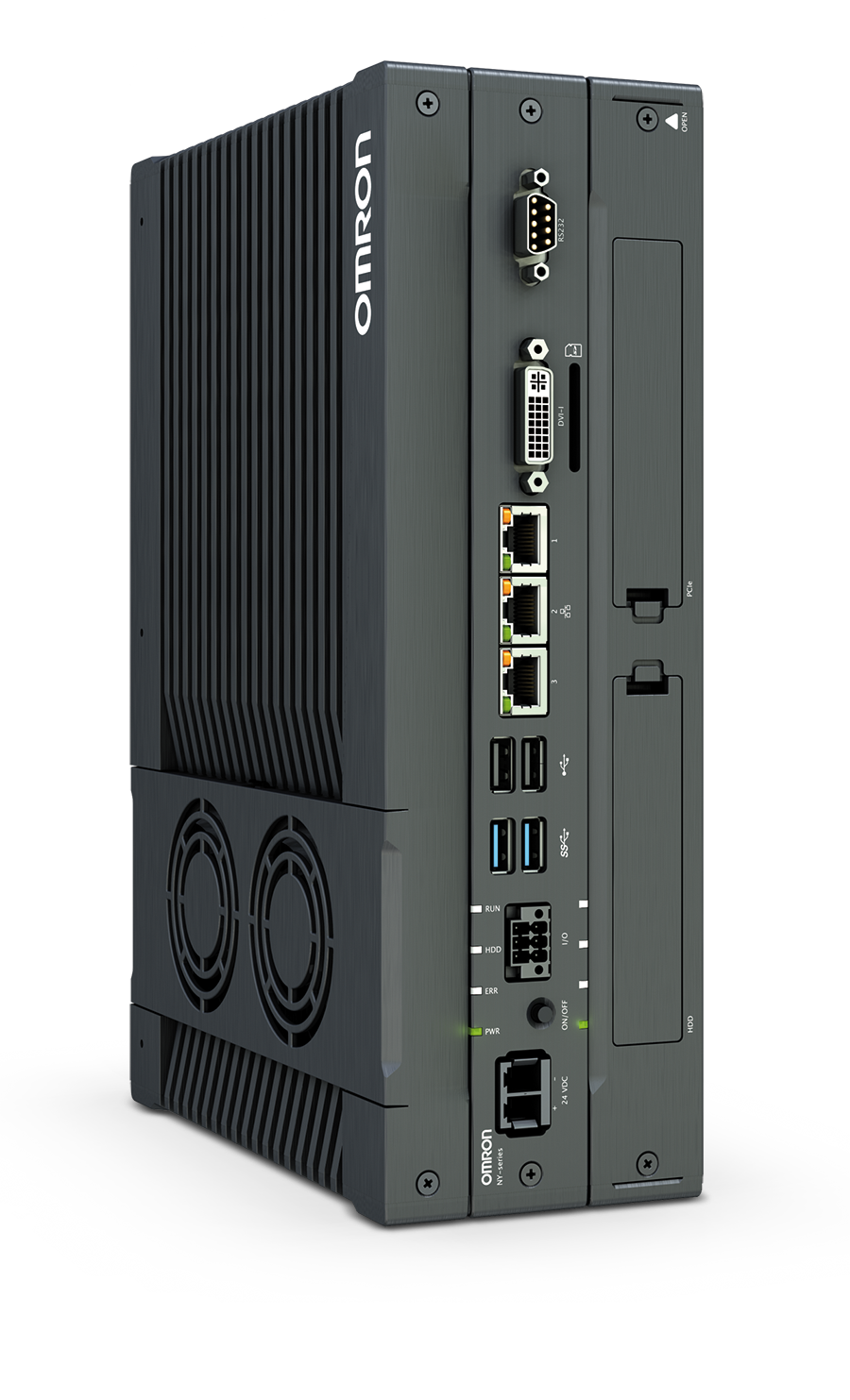 Opções: RS-232C ou DVI-D adicional para o segundo monitor
DVI, 3x portas Ethernet Gigabit RJ45, 2x USB 2.0, 2x USB 3.0
Variedade de dispositivos de armazenamento: HDD ou SSD (tipos MLC e SLC de longa vida útil) Opção de segunda unidade
Ligação de E/S preparada para ligação a UPS. Fonte de alimentação: 24 V CC não isolada
Tecnologia
Performance
Baseado em processadores Intel® Atom® a Intel® Xeon®
Até 32 GB ECC (SDRAM DDR4) suportado
Placa gráfica Intel® Iris™ Pro ou Intel® HD
Eficácia de dissipação exclusiva
Directiva RoHS (2002/95/CE), directivas da UE, registo KC, RCM, cULus, EAC
Simplicity improves reliability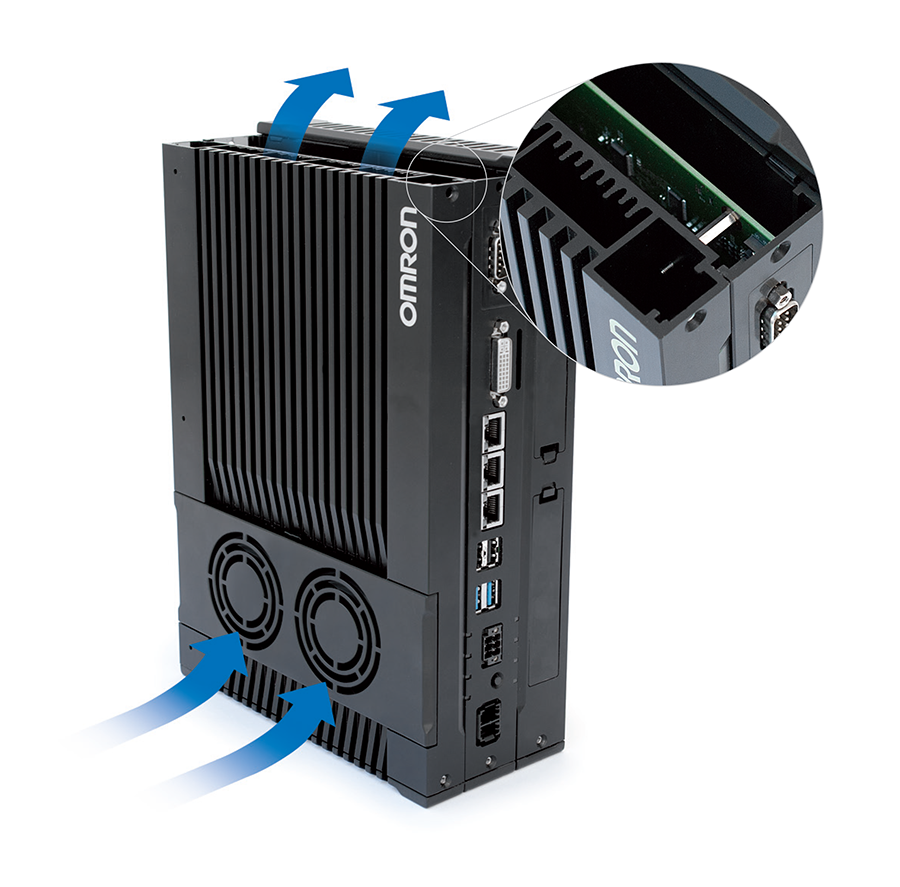 A complexidade em excesso provoca problemas, pelo que os eliminamos completamente a fim de melhorar a fiabilidade e maximizar o desempenho.
Sem cabos internos
Sem dissipadores complexos
Mecânica estruturalmente uniforme para permitir expansões futuras
Custos reduzidos de montagem, manutenção e mão-de-obra
Arquitectura robusta. Caixa em alumínio fundido
Arrefecimento activo e fluxo de ar isolado dos componentes electrónicos
Vídeos
Engineering video - How Omron keeps Industrial PC's cool
Omron engineers explain what choices they made during the development of the NY Industrial PC platform. In this episode R&D engineer Santiago Figueira talks about the challenge of making heat transfer more efficient. He describes how he worked with colleagues to create an entirely new concept, which was tested using simulations and prototypes until the ideal solution was developed.
Engineering video: "How Omron makes multi-touch industry-proof"
Is it possible to operate capacitive touchscreens with gloves or to detect abnormal touch behavior, like water? In this episode R&D engineer Tom Derks explains which choices they made during the development of the NY Industrial PC platform to make it industry proof.