E2E NEXT
Sensor de proximidade E2E NEXT de 3 fios
A detecção de longa distância evita paragens inesperadas das instalações
A maior distância de detecção do mundo
Com LED de alto brilho, o indicador é visível a 360° a partir de qualquer ponto.
Apenas 10 segundos para substituir um sensor de proximidade com "e-jig" (manga de montagem).
Os cabos com maior resistência ao óleo permitem uma resistência ao óleo de 2 anos
Em conformidade com a classificação IP69K para resistência à água e resistência de lavagem
Disponível numa ampla variedade para facilitar a selecção do sensor
Certificação UL e CSA
Especificações e info encomendas
| Produto | Size | Mounting type | Sensing distance | Output type | Operation mode | Connection method | Material housing | Cable specifications | Cable length | IO-Link baud rate | Overall length | Thread length | Features | Description |
| --- | --- | --- | --- | --- | --- | --- | --- | --- | --- | --- | --- | --- | --- | --- |
| | M12 | Non-flush | 10 mm | IO-Link, PNP | NO | Connector M12 | Brass, nickel plated | - | | COM2 (38.4 kbps) | | | | Proximity sensor, inductive, nickel-brass, long body, M12, unshielded, 10 mm, DC, 3-wire, PNP NO, IO-Link COM2, M12 connector |
| | M12 | Non-flush | 10 mm | IO-Link, PNP | NO | Cable | Brass, nickel plated | PVC (oil-resistant) | 2 m | COM3 (230.4 kbps) | 47 mm | 26 mm | | Proximity sensor, inductive, nickel-brass short body, M12, unshielded, 10 mm, DC, 3-wire, PNP NO, IO-Link COM3, 2 m prewired |
| | M12 | Non-flush | 10 mm | IO-Link, PNP | NO | Connector M12 | Brass, nickel plated | - | | COM3 (230.4 kbps) | 48 mm | 26 mm | | Proximity sensor, inductive, nickel-brass, short body, M12, unshielded, 10 mm, DC, 3-wire, PNP NO, IO-Link COM3, M12 connector |
| | M12 | Non-flush | 10 mm | IO-Link, PNP | NO | M12 Pre-wired Smartclick connector | Brass, nickel plated | PVC (oil-resistant) | 0.3 m | COM3 (230.4 kbps) | 47 mm | 26 mm | | Proximity sensor, inductive, nickel-brass short body, M12, unshielded, 10 mm, DC, 3-wire, PNP NO, IO-Link COM3, M12 Smartclick Pig-tail 0.3 m |
| | M12 | Non-flush | 10 mm | IO-Link, PNP | NO | Cable | Brass, nickel plated | PVC (oil-resistant) | 2 m | COM3 (230.4 kbps) | 47 mm | 26 mm | Flexible cable | Proximity sensor, inductive, nickel-brass short body, M12, unshielded, 10 mm, DC, 3-wire, PNP NO, IO-Link COM3, 2 m prewired robotic cable |
| | M12 | Non-flush | 10 mm | IO-Link, PNP | NO | Cable | Brass, nickel plated | PVC (oil-resistant) | 2 m | COM3 (230.4 kbps) | 69 mm | 48 mm | | Proximity sensor, inductive, nickel-brass long body, M12, unshielded, 10 mm, DC, 3-wire, PNP NO, IO-Link COM3, 2 m prewired |
| | M12 | Non-flush | 10 mm | IO-Link, PNP | NO | Connector M12 | Brass, nickel plated | - | | COM3 (230.4 kbps) | 70 mm | 48 mm | | Proximity sensor, inductive, nickel-brass, long body, M12, unshielded, 10 mm, DC, 3-wire, PNP NO, IO-Link COM3, M12 connector |
| | M12 | Non-flush | 10 mm | IO-Link, PNP | NO | M12 Pre-wired Smartclick connector | Brass, nickel plated | PVC (oil-resistant) | 0.3 m | COM3 (230.4 kbps) | 69 mm | 48 mm | | Proximity sensor, inductive, nickel-brass long body, M12, unshielded, 10 mm, DC, 3-wire, PNP NO, IO-Link COM3, M12 Smartclick Pig-tail 0.3 m |
| | M12 | Non-flush | 10 mm | IO-Link, PNP | NO + NC | Connector M12 | Brass, nickel plated | - | | COM2 (38.4 kbps) | 48 mm | 26 mm | | Proximity sensor, inductive, nickel-brass, short body, M12, unshielded, 10 mm, DC, 3-wire, PNP NO+NC, IO-Link COM2, M12 connector |
| | M12 | Non-flush | 10 mm | NPN | NO | Connector M12 | Brass, nickel plated | - | | | 48 mm | 26 mm | | Proximity sensor, inductive, nickel-brass, short body, M12, unshielded, 10 mm, DC, 3-wire, NPN NO, M12 connector |
| | M12 | Non-flush | 10 mm | 2-wire | NO | Cable | Brass, nickel plated | PVC (oil-resistant reinforced) | 2 m | | 47 mm | 26 mm | | Proximity sensor, inductive, brass-nickel, M12, non-shielded, 10 mm, NO, 2 m cable, DC 2-wire |
| | M12 | Non-flush | 10 mm | 2-wire | NO | Cable | Brass, nickel plated | PVC (oil-resistant reinforced) | 5 m | | 47 mm | 26 mm | | Proximity sensor, inductive, brass-nickel, M12, non-shielded, 10 mm, NO, 5 m cable, DC 2-wire |
| | M12 | Non-flush | 10 mm | 2-wire | NO | M12 Pre-wired Smartclick connector | Brass, nickel plated | PVC (oil-resistant reinforced) | 0.3 m | | 47 mm | 26 mm | | Proximity sensor, inductive, brass-nickel, M12, non-shielded, 10 mm, NO, 0.3 m pig-tail, DC 2-wire |
| | M12 | Non-flush | 10 mm | 2-wire | NO | M12 Pre-wired Smartclick connector | Brass, nickel plated | PVC (oil-resistant reinforced) | 0.3 m | | 47 mm | 26 mm | | Proximity sensor, inductive, brass-nickel, M12, non-shielded, 10 mm, NO, 0.3 m pig-tail, DC 2-wire, no polarity |
| | M12 | Non-flush | 10 mm | 2-wire | NO | Cable | Brass, nickel plated | PVC (oil-resistant reinforced) | 2 m | | 47 mm | 26 mm | Flexible cable | Proximity sensor, inductive, brass-nickel, M12, non-shielded, 10 mm, NO, 2 m cable robotic, DC 2-wire |
| | M12 | Non-flush | 10 mm | 2-wire | NO | Cable | Brass, nickel plated | PVC (oil-resistant reinforced) | 2 m | | 47 mm | 26 mm | | Proximity sensor, inductive, brass-nickel, M12, non-shielded, 10 mm, NO, 2 m cable, DC 2-wire, no polarity |
| | M12 | Non-flush | 10 mm | 2-wire | NO | Cable | Brass, nickel plated | PVC (oil-resistant reinforced) | 2 m | | 47 mm | 26 mm | Flexible cable | Proximity sensor, inductive, brass-nickel, M12, non-shielded, 10 mm, NO, 2 m cable robotic, DC 2-wire, no polarity |
| | M12 | Non-flush | 10 mm | 2-wire | NC | Cable | Brass, nickel plated | PVC (oil-resistant reinforced) | 2 m | | 47 mm | 26 mm | | Proximity sensor, inductive, brass-nickel, M12, non-shielded, 10 mm, NC, 2 m cable, DC 2-wire |
| | M12 | Non-flush | 10 mm | 2-wire | NC | M12 Pre-wired Smartclick connector | Brass, nickel plated | PVC (oil-resistant reinforced) | 0.3 m | | 47 mm | 26 mm | | Proximity sensor, inductive, brass-nickel, M12, non-shielded, 10 mm, NC, 0.3 m pig-tail, DC 2-wire |
| | M12 | Non-flush | 10 mm | 2-wire | NC | M12 Pre-wired Smartclick connector | Brass, nickel plated | PVC (oil-resistant reinforced) | 0.3 m | | 47 mm | 26 mm | | Proximity sensor, inductive, brass-nickel, M12, non-shielded, 10 mm, NC, 0.3 m pig-tail, DC 2-wire, no polarity |
| | M12 | Non-flush | 10 mm | 2-wire | NC | Cable | Brass, nickel plated | PVC (oil-resistant reinforced) | 2 m | | 47 mm | 26 mm | Flexible cable | Proximity sensor, inductive, brass-nickel, M12, non-shielded, 10 mm, NC, 2 m cable robotic, DC 2-wire |
| | M12 | Non-flush | 10 mm | 2-wire | NC | Cable | Brass, nickel plated | PVC (oil-resistant reinforced) | 2 m | | 47 mm | 26 mm | | Proximity sensor, inductive, brass-nickel, M12, non-shielded, 10 mm, NC, 2 m cable, DC 2-wire, no polarity |
| | M12 | Non-flush | 10 mm | 2-wire | NC | Cable | Brass, nickel plated | PVC (oil-resistant reinforced) | 2 m | | 47 mm | 26 mm | Flexible cable | Proximity sensor, inductive, brass-nickel, M12, non-shielded, 10 mm, NC, 2 m cable robotic, DC 2-wire, no polarity |
| | M18 | Flush | 11 mm | 2-wire | NO | Cable | Brass, nickel plated | PVC (oil-resistant reinforced) | 2 m | | 55 mm | 33 mm | | Proximity sensor, inductive, brass-nickel, M18, shielded, 11 mm, NO, 2 m cable, DC 2-wire |
| | M18 | Flush | 11 mm | 2-wire | NO | M12 Pre-wired Smartclick connector | Brass, nickel plated | PVC (oil-resistant reinforced) | 0.3 m | | 55 mm | 33 mm | | Proximity sensor, inductive, brass-nickel, M18, shielded, 11 mm, NO, 0.3 m pig-tail, DC 2-wire |
| | M18 | Flush | 11 mm | 2-wire | NO | M12 Pre-wired Smartclick connector | Brass, nickel plated | PVC (oil-resistant reinforced) | 0.3 m | | 55 mm | 33 mm | | Proximity sensor, inductive, brass-nickel, M18, shielded, 11 mm, NO, 0.3 m pig-tail, DC 2-wire, no polarity |
| | M18 | Flush | 11 mm | 2-wire | NO | Cable | Brass, nickel plated | PVC (oil-resistant reinforced) | 2 m | | 55 mm | 33 mm | Flexible cable | Proximity sensor, inductive, brass-nickel, M18, shielded, 11 mm, NO, 2 m cable robotic, DC 2-wire |
| | M18 | Flush | 11 mm | 2-wire | NO | Cable | Brass, nickel plated | PVC (oil-resistant reinforced) | 2 m | | 55 mm | 33 mm | | Proximity sensor, inductive, brass-nickel, M18, shielded, 11 mm, NO, 2 m cable, DC 2-wire, no polarity |
| | M18 | Flush | 11 mm | 2-wire | NO | Cable | Brass, nickel plated | PVC (oil-resistant reinforced) | 5 m | | 55 mm | 33 mm | | Proximity sensor, inductive, brass-nickel, M18, shielded, 11 mm, NO, 5 m cable, DC 2-wire, no polarity |
| | M18 | Flush | 11 mm | 2-wire | NO | Cable | Brass, nickel plated | PVC (oil-resistant reinforced) | 2 m | | 55 mm | 33 mm | Flexible cable | Proximity sensor, inductive, brass-nickel, M18, shielded, 11 mm, NO, 2 m cable robotic, DC 2-wire, no polarity |
| | M18 | Flush | 11 mm | 2-wire | NC | Cable | Brass, nickel plated | PVC (oil-resistant reinforced) | 2 m | | 55 mm | 33 mm | | Proximity sensor, inductive, brass-nickel, M18, shielded, 11 mm, NC, 2 m cable, DC 2-wire |
| | M18 | Flush | 11 mm | 2-wire | NC | Cable | Brass, nickel plated | PVC (oil-resistant reinforced) | 5 m | | 55 mm | 33 mm | | Proximity sensor, inductive, brass-nickel, M18, shielded, 11 mm, NC, 5 m cable, DC 2-wire |
| | M18 | Flush | 11 mm | 2-wire | NC | M12 Pre-wired Smartclick connector | Brass, nickel plated | PVC (oil-resistant reinforced) | 0.3 m | | 55 mm | 33 mm | | Proximity sensor, inductive, brass-nickel, M18, shielded, 11 mm, NC, 0.3 m pig-tail, DC 2-wire |
| | M18 | Flush | 11 mm | 2-wire | NC | M12 Pre-wired Smartclick connector | Brass, nickel plated | PVC (oil-resistant reinforced) | 0.3 m | | 55 mm | 33 mm | | Proximity sensor, inductive, brass-nickel, M18, shielded, 11 mm, NC, 0.3 m pig-tail, DC 2-wire, no polarity |
| | M18 | Flush | 11 mm | 2-wire | NC | Cable | Brass, nickel plated | PVC (oil-resistant reinforced) | 2 m | | 55 mm | 33 mm | Flexible cable | Proximity sensor, inductive, brass-nickel, M18, shielded, 11 mm, NC, 2 m cable robotic, DC 2-wire |
| | M18 | Flush | 11 mm | 2-wire | NC | Cable | Brass, nickel plated | PVC (oil-resistant reinforced) | 2 m | | 55 mm | 33 mm | | Proximity sensor, inductive, brass-nickel, M18, shielded, 11 mm, NC, 2 m cable, DC 2-wire, no polarity |
| | M18 | Flush | 11 mm | 2-wire | NC | Cable | Brass, nickel plated | PVC (oil-resistant reinforced) | 5 m | | 55 mm | 33 mm | | Proximity sensor, inductive, brass-nickel, M18, shielded, 11 mm, NC, 5 m cable, DC 2-wire, no polarity |
| | M18 | Flush | 11 mm | 2-wire | NC | Cable | Brass, nickel plated | PVC (oil-resistant reinforced) | 2 m | | 55 mm | 33 mm | Flexible cable | Proximity sensor, inductive, brass-nickel, M18, shielded, 11 mm, NC, 2 m cable robotic, DC 2-wire, no polarity |
| | M18 | Quasi-flush | 12 mm | IO-Link, PNP | NO | Cable | Brass, nickel plated | PVC (oil-resistant) | 2 m | COM3 (230.4 kbps) | 55 mm | 34 mm | | Proximity sensor, inductive, nickel-brass, short body, M18, shielded, 12 mm, DC, 3-wire, PNP NO, IO-Link COM3, 2 m prewired |
| | M18 | Quasi-flush | 12 mm | IO-Link, PNP | NO | Cable | Brass, nickel plated | PVC (oil-resistant) | 5 m | COM3 (230.4 kbps) | 55 mm | 33 mm | | Proximity sensor, inductive, nickel-brass, short body, M18, shielded, 12 mm, DC, 3-wire, PNP NO, IO-Link COM3, 5 m prewired |
| | M18 | Quasi-flush | 12 mm | IO-Link, PNP | NO | Connector M12 | Brass, nickel plated | - | | COM3 (230.4 kbps) | 53 mm | 34 mm | | Proximity sensor, inductive, nickel-brass, short body, M18, shielded, 12 mm, DC, 3-wire, PNP NO, IO-Link COM3, M12 connector |
| | M18 | Quasi-flush | 12 mm | IO-Link, PNP | NO | M12 Pre-wired Smartclick connector | Brass, nickel plated | PVC (oil-resistant) | 0.3 m | COM3 (230.4 kbps) | 55 mm | 34 mm | | Proximity sensor, inductive, nickel-brass, short body, M18, shielded, 12 mm, DC, 3-wire, PNP NO, IO-Link COM3, M12 Smartclick Pig-tail 0.3 m |
| | M18 | Quasi-flush | 12 mm | IO-Link, PNP | NO | Cable | Brass, nickel plated | PVC (oil-resistant) | 2 m | COM3 (230.4 kbps) | 55 mm | 34 mm | Flexible cable | Proximity sensor, inductive, nickel-brass short body, M18, shielded, 12 mm, DC, 3-wire, PNP NO, IO-Link COM3, 2 m prewired robotic cable |
| | M18 | Quasi-flush | 12 mm | IO-Link, PNP | NO | Cable | Brass, nickel plated | PVC (oil-resistant) | 2 m | COM3 (230.4 kbps) | 77 mm | 60 mm | | Proximity sensor, inductive, nickel-brass, long body, M18, shielded, 12 mm, DC, 3-wire, PNP NO, IO-Link COM3, 2 m prewired |
| | M18 | Quasi-flush | 12 mm | IO-Link, PNP | NO | Connector M12 | Brass, nickel plated | - | | COM3 (230.4 kbps) | 75 mm | 48 mm | | Proximity sensor, inductive, nickel-brass, long body, M18, shielded, 12 mm, DC, 3-wire, PNP NO, IO-Link COM3, M12 connector |
| | M18 | Quasi-flush | 12 mm | IO-Link, PNP | NO | M12 Pre-wired Smartclick connector | Brass, nickel plated | PVC (oil-resistant) | 0.3 m | COM3 (230.4 kbps) | 77 mm | 60 mm | | Proximity sensor, inductive, nickel-brass, long body, M18, shielded, 12 mm, DC, 3-wire, PNP NO, IO-Link COM3, M12 Smartclick Pig-tail 0.3 m |
| | M18 | Quasi-flush | 12 mm | PNP | NC | Cable | Brass, nickel plated | PVC (oil-resistant) | 2 m | | | | | Proximity sensor, inductive, nickel-brass, short body, M18, shielded, 12 mm, DC, 3-wire, PNP NC, 2 m prewired |
| | M18 | Quasi-flush | 12 mm | PNP | NC | Cable | Brass, nickel plated | PVC (oil-resistant) | 5 m | | 55 mm | 33 mm | | Proximity sensor, inductive, nickel-brass, short body, M18, shielded, 12 mm, DC, 3-wire, PNP NC, 5 m prewired |
| | M18 | Quasi-flush | 12 mm | PNP | NC | Connector M12 | Brass, nickel plated | | | | | | | Proximity sensor, inductive, nickel-brass, short body, M18, shielded, 12 mm, DC, 3-wire, PNP NC, M12 connector |
| | M18 | Quasi-flush | 12 mm | IO-Link, PNP | NO + NC | Connector M12 | Brass, nickel plated | - | | COM2 (38.4 kbps) | 53 mm | 34 mm | | Proximity sensor, inductive, nickel-brass, short body, M18, shielded, 12 mm, DC, 3-wire, PNP NO+NC, IO-Link COM2, M12 connector |
| | M18 | Quasi-flush | 12 mm | IO-Link, PNP | NO + NC | M12 Pre-wired Smartclick connector | Brass, nickel plated | PVC (oil-resistant) | 0.3 m | COM2 (38.4 kbps) | 55 mm | 34 mm | | Proximity sensor, inductive, nickel-brass, short body, M18, shielded, 12 mm, DC, 3-wire, PNP NO+NC, IO-Link COM2, M12 Smartclick Pig-tail 0.3 m |
| | M18 | Quasi-flush | 12 mm | IO-Link, PNP | NO + NC | Cable | Brass, nickel plated | PVC (oil-resistant) | 2 m | COM2 (38.4 kbps) | 77 mm | 60 mm | | Proximity sensor, inductive, nickel-brass, long body, M18, shielded, 12 mm, DC, 3-wire, PNP NO+NC, IO-Link COM2, 2 m prewired |
| | M18 | Quasi-flush | 12 mm | IO-Link, PNP | NO + NC | Connector M12 | Brass, nickel plated | - | | COM2 (38.4 kbps) | 75 mm | 48 mm | | Proximity sensor, inductive, nickel-brass, long body, M18, shielded, 12 mm, DC, 3-wire, PNP NO+NC, IO-Link COM2, M12 connector |
| | M18 | Quasi-flush | 12 mm | NPN | NO | Cable | Brass, nickel plated | PVC (oil-resistant) | 2 m | | 55 mm | 33 mm | | Proximity sensor, inductive, nickel-brass, short body, M18, shielded, 12 mm, DC, 3-wire, NPN NO, 2 m prewired |
| | M18 | Quasi-flush | 12 mm | NPN | NO | Connector M12 | Brass, nickel plated | - | | | 53 mm | 34 mm | | Proximity sensor, inductive, nickel-brass, short body, M18, shielded, 12 mm, DC, 3-wire, NPN NO, M12 connector |
| | M18 | Quasi-flush | 12 mm | NPN | NC | Cable | Brass, nickel plated | PVC (oil-resistant) | 2 m | | 55 mm | 34 mm | | Proximity sensor, inductive, nickel-brass, short body, M18, shielded, 12 mm, DC, 3-wire, NPN NC, 2 m prewired |
| | M18 | Quasi-flush | 12 mm | NPN | NC | Cable | Brass, nickel plated | PVC (oil-resistant) | 5 m | | 55 mm | 33 mm | | Proximity sensor, inductive, nickel-brass, short body, M18, shielded, 12 mm, DC, 3-wire, NPN NC, 5 m prewired |
| | M18 | Quasi-flush | 12 mm | NPN | NC | Connector M12 | Brass, nickel plated | - | | | 53 mm | 33 mm | | Proximity sensor, inductive, nickel-brass, short body, M18, shielded, 12 mm, DC, 3-wire, NPN NC, M12 connector |
| | M18 | Quasi-flush | 14 mm | IO-Link, PNP | NO | Cable | Brass, nickel plated | PVC (oil-resistant) | 2 m | COM3 (230.4 kbps) | 55 mm | 60 mm | | Proximity sensor, inductive, nickel-brass, short body, M18, shielded, 14 mm, DC, 3-wire, PNP NO, IO-Link COM3, 2 m prewired |
| | M18 | Quasi-flush | 14 mm | IO-Link, PNP | NO | Connector M12 | Brass, nickel plated | - | | COM3 (230.4 kbps) | 53 mm | 34 mm | | Proximity sensor, inductive, nickel-brass, short body, M18, shielded, 14 mm, DC, 3-wire, PNP NO, IO-Link COM3, M12 connector |
| | M18 | Quasi-flush | 14 mm | IO-Link, PNP | NO | M12 Pre-wired Smartclick connector | Brass, nickel plated | PVC (oil-resistant) | 0.3 m | COM3 (230.4 kbps) | 55 mm | 60 mm | | Proximity sensor, inductive, nickel-brass, short body, M18, shielded, 14 mm, DC, 3-wire, PNP NO, IO-Link COM3, M12 Smartclick Pig-tail 0.3 m |
| | M18 | Quasi-flush | 14 mm | IO-Link, PNP | NO | M12 Pre-wired Smartclick connector | Brass, nickel plated | PVC (oil-resistant) | 0.3 m | COM3 (230.4 kbps) | 55 mm | 60 mm | Flexible cable | Proximity sensor, inductive, nickel-brass, short body, M18, shielded, 14 mm, DC, 3-wire, PNP NO, IO-Link COM3, M12 Smartclick Pig-tail 0.3 m robotic cable |
| | M18 | Quasi-flush | 14 mm | IO-Link, PNP | NO | Cable | Brass, nickel plated | PVC (oil-resistant) | 2 m | COM3 (230.4 kbps) | 55 mm | 60 mm | Flexible cable | Proximity sensor, inductive, nickel-brass short body, M18, shielded, 14 mm, DC, 3-wire, PNP NO, IO-Link COM3, 2 m prewired robotic cable |
| | M18 | Quasi-flush | 14 mm | IO-Link, PNP | NO | Cable | Brass, nickel plated | PVC (oil-resistant) | 2 m | COM3 (230.4 kbps) | 77 mm | 47 mm | | Proximity sensor, inductive, nickel-brass, long body, M18, shielded, 14 mm, DC, 3-wire, PNP NO, IO-Link COM3, 2 m prewired |
| | M18 | Quasi-flush | 14 mm | IO-Link, PNP | NO | Connector M12 | Brass, nickel plated | - | | COM3 (230.4 kbps) | 75 mm | 48 mm | | Proximity sensor, inductive, nickel-brass, long body, M18, shielded, 14 mm, DC, 3-wire, PNP NO, IO-Link COM3, M12 connector |
| | M18 | Quasi-flush | 14 mm | IO-Link, PNP | NO | M12 Pre-wired Smartclick connector | Brass, nickel plated | PVC (oil-resistant) | 0.3 m | COM3 (230.4 kbps) | 77 mm | 47 mm | | Proximity sensor, inductive, nickel-brass, long body, M18, shielded, 14 mm, DC, 3-wire, PNP NO, IO-Link COM3, M12 Smartclick Pig-tail 0.3 m |
| | M18 | Quasi-flush | 14 mm | PNP | NC | Connector M12 | Brass, nickel plated | - | | | 53 mm | 34 mm | | Proximity sensor, inductive, nickel-brass, short body, M18, shielded, 14 mm, DC, 3-wire, PNP NC, M12 connector |
| | M18 | Quasi-flush | 14 mm | NPN | NO | Connector M12 | Brass, nickel plated | - | | | 53 mm | 34 mm | | Proximity sensor, inductive, nickel-brass, short body, M18, shielded, 14 mm, DC, 3-wire, NPN NO, M12 connector |
| | M18 | Quasi-flush | 14 mm | NPN | NO | Connector M12 | Brass, nickel plated | - | | | 75 mm | 48 mm | | Proximity sensor, inductive, nickel-brass, long body, M18, shielded, 14 mm, DC, 3-wire, NPN NO, M12 connector |
| | M18 | Quasi-flush | 14 mm | NPN | NC | Cable | Brass, nickel plated | PVC (oil-resistant) | 2 m | | 55 mm | 60 mm | | Proximity sensor, inductive, nickel-brass, short body, M18, shielded, 14 mm, DC, 3-wire, NPN NC, 2 m prewired |
| | M18 | Quasi-flush | 14 mm | NPN | NC | Cable | Brass, nickel plated | PVC (oil-resistant) | 5 m | | 55 mm | 60 mm | | Proximity sensor, inductive, nickel-brass, short body, M18, shielded, 14 mm, DC, 3-wire, NPN NC, 5 m prewired |
| | M18 | Quasi-flush | 14 mm | NPN | NC | Connector M12 | Brass, nickel plated | - | | | 53 mm | 34 mm | | Proximity sensor, inductive, nickel-brass, short body, M18, shielded, 14 mm, DC, 3-wire, NPN NC, M12 connector |
| | M30 | Quasi-flush | 15 mm | IO-Link, PNP | NO/NC switching | Cable | Brass, nickel plated | PVC | 2 m | COM2 (38.4 kbps) | | | | Proximity sensor, inductive, nickel-brass, short body, M30, shielded, 15 mm, DC, 3-wire, PNP NO, IO-Link COM2, 2 m prewired |
| | M30 | Quasi-flush | 15 mm | IO-Link, PNP | NO/NC switching | Connector M12 | Brass, nickel plated | | | COM2 (38.4 kbps) | | | | Proximity sensor, inductive, nickel-brass, short body, M30, shielded, 15 mm, DC, 3-wire, PNP NO, IO-Link COM2, M12 connector |
| | M30 | Flush | 15 mm | IO-Link, PNP | NO | Cable | Brass, nickel plated | PVC (oil-resistant) | 2 m | COM3 (230.4 kbps) | 60 mm | 39 mm | | Proximity sensor, inductive, nickel-brass, short body, M30, shielded, 15 mm, DC, 3-wire, PNP NO, IO-Link COM3, 2 m prewired |
| | M30 | Flush | 15 mm | IO-Link, PNP | NO | Connector M12 | Brass, nickel plated | - | | COM3 (230.4 kbps) | 58 mm | 39 mm | | Proximity sensor, inductive, nickel-brass, short body, M30, shielded, 15 mm, DC, 3-wire, PNP NO, IO-Link COM3, M12 connector |
| | M30 | Flush | 15 mm | IO-Link, PNP | NO | M12 Pre-wired Smartclick connector | Brass, nickel plated | PVC (oil-resistant) | 0.3 m | COM3 (230.4 kbps) | 60 mm | 39 mm | | Proximity sensor, inductive, nickel-brass, short body, M30, shielded, 15 mm, DC, 3-wire, PNP NO, IO-Link COM3, M12 Smartclick Pig-tail 0.3 m |
| | M30 | Quasi-flush | 15 mm | IO-Link, PNP | NO | Cable | Brass, nickel plated | PVC (oil-resistant) | 2 m | COM3 (230.4 kbps) | 60 mm | 39 mm | Flexible cable | Proximity sensor, inductive, nickel-brass short body, M30, shielded, 15 mm, DC, 3-wire, PNP NO, IO-Link COM3, 2 m prewired robotic cable |
| | M30 | Flush | 15 mm | IO-Link, PNP | NO | Cable | Brass, nickel plated | PVC (oil-resistant) | 2 m | COM3 (230.4 kbps) | 82 mm | 55 mm | | Proximity sensor, inductive, nickel-brass long body, M30, shielded, 15 mm, DC, 3-wire, PNP NO, IO-Link COM3, 2 m prewired |
| | M30 | Flush | 15 mm | IO-Link, PNP | NO | Connector M12 | Brass, nickel plated | - | | COM3 (230.4 kbps) | 80 mm | 65 mm | | Proximity sensor, inductive, nickel-brass long body, M30, shielded, 15 mm, DC, 3-wire, PNP NO, IO-Link COM3, M12 connector |
| | M30 | Quasi-flush | 15 mm | IO-Link, PNP | NO | M12 Pre-wired Smartclick connector | Brass, nickel plated | PVC (oil-resistant) | 0.3 m | COM3 (230.4 kbps) | 82 mm | 55 mm | | Proximity sensor, inductive, nickel-brass long body, M30, shielded, 15 mm, DC, 3-wire, PNP NO, IO-Link COM3, M12 Smartclick Pig-tail 0.3 m |
| | M30 | Quasi-flush | | PNP | NC | Cable | Brass, nickel plated | PVC | 2 m | | | | | Proximity sensor, inductive, nickel-brass, short body, M30, shielded, 15 mm, DC, 3-wire, PNP NC, 2 m prewired |
| | M30 | Quasi-flush | | PNP | NC | Connector M12 | Brass, nickel plated | | | | | | | Proximity sensor, inductive, nickel-brass, short body, M30, shielded, 15 mm, DC, 3-wire, PNP NC, M12 connector |
| | M30 | Quasi-flush | | PNP | NC | Connector M12 | Brass, nickel plated | | | | | | | Proximity sensor, inductive, nickel-brass, long body, M30, shielded, 15 mm, DC, 3-wire, PNP NC, M12 connector |
| | M30 | Quasi-flush | 15 mm | IO-Link, PNP | NO + NC | Cable | Brass, nickel plated | PVC (oil-resistant) | 2 m | COM2 (38.4 kbps) | | | | Proximity sensor, inductive, nickel-brass, short body, M30, shielded, 15 mm, DC, 3-wire, PNP NONC, IO-Link COM2, 2 m prewired |
| | M30 | Flush | 15 mm | IO-Link, PNP | NO + NC | Connector M12 | Brass, nickel plated | - | | COM2 (38.4 kbps) | 58 mm | 39 mm | | Proximity sensor, inductive, nickel-brass, short body, M30, shielded, 15 mm, DC, 3-wire, PNP NO+NC, IO-Link COM2, M12 connector |
| | M30 | Quasi-flush | 15 mm | IO-Link, PNP | NO + NC | Cable | Brass, nickel plated | PVC (oil-resistant) | 2 m | COM2 (38.4 kbps) | | | | Proximity sensor, inductive, nickel-brass, long body, M30, shielded, 15 mm, DC, 3-wire, PNP NONC, IO-Link COM2, 2 m prewired |
| | M30 | Quasi-flush | 15 mm | IO-Link, PNP | NO + NC | Connector M12 | Brass, nickel plated | | | COM2 (38.4 kbps) | | | | Proximity sensor, inductive, nickel-brass, long body, M30, shielded, 15 mm, DC, 3-wire, PNP NONC, IO-Link COM2, M12 connector |
| | M30 | Quasi-flush | 15 mm | NPN | NO | Cable | Brass, nickel plated | PVC | 2 m | | | | | Proximity sensor, inductive, nickel-brass, short body, M30, shielded, 15 mm, DC, 3-wire, NPN NO, 2 m prewired |
| | M30 | Quasi-flush | 15 mm | NPN | NO | Connector M12 | Brass, nickel plated | | | | | | | Proximity sensor, inductive, nickel-brass, short body, M30, shielded, 15 mm, DC, 3-wire, NPN NO, M12 connector |
| | M30 | Quasi-flush | 15 mm | NPN | NO + NC | Cable | Brass, nickel plated | PVC (oil-resistant) | 2 m | | | | | Proximity sensor, inductive, nickel-brass, short body, M30, shielded, 15 mm, DC, 3-wire, NPN NO+NC, 2 m prewired |
| | M30 | Quasi-flush | 15 mm | NPN | NO + NC | Connector M12 | Brass, nickel plated | | | | | | | Proximity sensor, inductive, nickel-brass, short body, M30, shielded, 15 mm, DC, 3-wire, NPN NO+NC, M12 connector |
| | M18 | Non-flush | 16 mm | IO-Link, PNP | NO/NC switching | Cable | Brass, nickel plated | PVC (oil-resistant) | 2 m | COM2 (38.4 kbps) | | | | Proximity sensor, inductive, nickel-brass, short body, M18, unshielded, 16 mm, DC, 3-wire, PNP NO, IO-Link COM2, 2 m prewired |
| | M18 | Non-flush | 16 mm | IO-Link, PNP | NO/NC switching | Connector M12 | Brass, nickel plated | | | COM2 (38.4 kbps) | | | | Proximity sensor, inductive, nickel-brass, short body, M18, unshielded, 16 mm, DC, 3-wire, PNP NO, IO-Link COM2, M12 connector |
| | M12 | Non-flush | 16 mm | IO-Link, PNP | NO | Cable | Brass, nickel plated | PVC (oil-resistant) | 2 m | COM3 (230.4 kbps) | 47 mm | 26 mm | | Proximity sensor, inductive, nickel-brass short body, M12, unshielded, 16 mm, DC, 3-wire, PNP NO, IO-Link COM3, 2 m prewired |
| | M12 | Non-flush | 16 mm | IO-Link, PNP | NO | Connector M12 | Brass, nickel plated | - | | COM3 (230.4 kbps) | 48 mm | 26 mm | | Proximity sensor, inductive, nickel-brass, short body, M12, unshielded, 16 mm, DC, 3-wire, PNP NO, IO-Link COM3, M12 connector |
| | M12 | Non-flush | 16 mm | IO-Link, PNP | NO | M12 Pre-wired Smartclick connector | Brass, nickel plated | PVC (oil-resistant) | 0.3 m | COM3 (230.4 kbps) | 47 mm | 26 mm | | Proximity sensor, inductive, nickel-brass, short body, M12, unshielded, 16 mm, DC, 3-wire, PNP NO, IO-Link COM3, M12 Smartclick Pig-tail 0.3 m |
| | M12 | Non-flush | 16 mm | IO-Link, PNP | NO | Cable | Brass, nickel plated | PVC (oil-resistant) | 2 m | COM3 (230.4 kbps) | 47 mm | 26 mm | Flexible cable | Proximity sensor, inductive, nickel-brass short body, M12, unshielded, 16 mm, DC, 3-wire, PNP NO, IO-Link COM3, 2 m prewired robotic cable |
| | M18 | Non-flush | 16 mm | IO-Link, PNP | NO | Cable | Brass, nickel plated | PVC (oil-resistant) | 2 m | COM3 (230.4 kbps) | 55 mm | 28 mm | | Proximity sensor, inductive, nickel-brass, short body, M18, unshielded, 16 mm, DC, 3-wire, PNP NO, IO-Link COM3, 2 m prewired |
| | M18 | Non-flush | 16 mm | IO-Link, PNP | NO | Connector M12 | Brass, nickel plated | - | | COM3 (230.4 kbps) | 53 mm | 28 mm | | Proximity sensor, inductive, nickel-brass, short body, M18, unshielded, 16 mm, DC, 3-wire, PNP NO, IO-Link COM3, M12 connector |
| | M18 | Non-flush | 16 mm | IO-Link, PNP | NO | M12 Pre-wired Smartclick connector | Brass, nickel plated | PVC (oil-resistant) | 0.3 m | COM3 (230.4 kbps) | 55 mm | 28 mm | | Proximity sensor, inductive, nickel-brass, short body, M18, unshielded, 16 mm, DC, 3-wire, PNP NO, IO-Link COM3, M12 Smartclick Pig-tail 0.3 m |
| | M18 | Non-flush | 16 mm | IO-Link, PNP | NO | Cable | Brass, nickel plated | PVC (oil-resistant) | 2 m | COM3 (230.4 kbps) | 55 mm | 28 mm | Flexible cable | Proximity sensor, inductive, nickel-brass short body, M18, unshielded, 16 mm, DC, 3-wire, PNP NO, IO-Link COM3, 2 m prewired robotic cable |
| | M12 | Non-flush | 16 mm | IO-Link, PNP | NO | Cable | Brass, nickel plated | PVC (oil-resistant) | 2 m | COM3 (230.4 kbps) | 69 mm | 48 mm | | Proximity sensor, inductive, nickel-brass long body, M12, unshielded, 16 mm, DC, 3-wire, PNP NO, IO-Link COM3, 2 m prewired |
| | M12 | Non-flush | 16 mm | IO-Link, PNP | NO | Connector M12 | Brass, nickel plated | - | | COM3 (230.4 kbps) | 70 mm | 48 mm | | Proximity sensor, inductive, nickel-brass, long body, M12, unshielded, 16 mm, DC, 3-wire, PNP NO, IO-Link COM3, M12 connector |
| | M12 | Non-flush | 16 mm | IO-Link, PNP | NO | M12 Pre-wired Smartclick connector | Brass, nickel plated | PVC (oil-resistant) | 0.3 m | COM3 (230.4 kbps) | 69 mm | 48 mm | | Proximity sensor, inductive, nickel-brass long body, M12, unshielded, 16 mm, DC, 3-wire, PNP NO, IO-Link COM3, M12 Smartclick Pig-tail 0.3 m |
| | M18 | Non-flush | 16 mm | IO-Link, PNP | NO | Cable | Brass, nickel plated | PVC (oil-resistant) | 2 m | COM3 (230.4 kbps) | 77 mm | 50 mm | | Proximity sensor, inductive, nickel-brass long body, M18, unshielded, 16 mm, DC, 3-wire, PNP NO, IO-Link COM3, 2 m prewired |
| | M18 | Non-flush | 16 mm | IO-Link, PNP | NO | Connector M12 | Brass, nickel plated | - | | COM3 (230.4 kbps) | 75 mm | 50 mm | | Proximity sensor, inductive, nickel-brass long body, M18, unshielded, 16 mm, DC, 3-wire, PNP NO, IO-Link COM3, M12 connector |
| | M18 | Non-flush | 16 mm | IO-Link, PNP | NO | M12 Pre-wired Smartclick connector | Brass, nickel plated | PVC (oil-resistant) | 0.3 m | COM3 (230.4 kbps) | 77 mm | 50 mm | | Proximity sensor, inductive, nickel-brass long body, M18, unshielded, 16 mm, DC, 3-wire, PNP NO, IO-Link COM3, M12 Smartclick Pig-tail 0.3 m |
| | M12 | Non-flush | 16 mm | PNP | NC | Connector M12 | Brass, nickel plated | - | | | 48 mm | 33 mm | | Proximity sensor, inductive, nickel-brass, short body, M12, unshielded, 16 mm, DC, 3-wire, PNP NC, M12 connector |
| | M18 | Non-flush | | PNP | NC | Cable | Brass, nickel plated | PVC (oil-resistant) | 2 m | | | | | Proximity sensor, inductive, nickel-brass, short body, M18, unshielded, 16 mm, DC, 3-wire, PNP NC, 2 m prewired |
| | M18 | Non-flush | | PNP | NC | Connector M12 | Brass, nickel plated | | | | | | | Proximity sensor, inductive, nickel-brass, short body, M18, unshielded, 16 mm, DC, 3-wire, PNP NC, M12 connector |
| | M18 | Non-flush | | PNP | NC | Cable | Brass, nickel plated | PVC (oil-resistant) | 2 m | | | | | Proximity sensor, inductive, nickel-brass, long body, M18, unshielded, 16 mm, DC, 3-wire, PNP NC, 2 m prewired |
| | M18 | Non-flush | 16 mm | IO-Link, PNP | NO + NC | Cable | Brass, nickel plated | PVC (oil-resistant) | 2 m | COM2 (38.4 kbps) | | | | Proximity sensor, inductive, nickel-brass, short body, M18, unshielded, 16 mm, DC, 3-wire, PNP NONC, IO-Link COM2, 2 m prewired |
| | M18 | Non-flush | 16 mm | IO-Link, PNP | NO + NC | Connector M12 | Brass, nickel plated | - | | COM3 (230.4 kbps) | 53 mm | 28 mm | | Proximity sensor, inductive, nickel-brass, short body, M18, unshielded, 16 mm, DC, 3-wire, PNP NO+NC, IO-Link COM2, M12 connector |
| | M18 | Non-flush | 16 mm | IO-Link, PNP | NO + NC | M12 Pre-wired Smartclick connector | Brass, nickel plated | PVC (oil-resistant) | 0.3 m | COM2 (38.4 kbps) | 55 mm | 28 mm | | Proximity sensor, inductive, nickel-brass, short body, M18, unshielded, 16 mm, DC, 3-wire, PNP NO+NC, IO-Link COM2, M12 Smartclick Pig-tail 0.3 m |
| | M18 | Non-flush | | IO-Link, PNP | NO + NC | Cable | Brass, nickel plated | PVC (oil-resistant) | 2 m | COM2 (38.4 kbps) | | | | Proximity sensor, inductive, nickel-brass, long body, M18, unshielded, 16 mm, DC, 3-wire, PNP NONC, IO-Link COM2, 2 m prewired |
| | M12 | Non-flush | 16 mm | NPN | NO | Connector M12 | Brass, nickel plated | - | | | 48 mm | 26 mm | | Proximity sensor, inductive, nickel-brass, short body, M12, unshielded, 16 mm, DC, 3-wire, NPN NO, M12 connector |
| | M18 | Non-flush | 16 mm | NPN | NO | Cable | Brass, nickel plated | PVC (oil-resistant) | 2 m | | | | | Proximity sensor, inductive, nickel-brass, short body, M18, unshielded, 16 mm, DC, 3-wire, NPN NO, 2 m prewired |
| | M18 | Non-flush | 16 mm | NPN | NO | Connector M12 | Brass, nickel plated | - | | | 53 mm | 28 mm | | Proximity sensor, inductive, nickel-brass, short body, M18, unshielded, 16 mm, DC, 3-wire, NPN NO, M12 connector |
| | M12 | Non-flush | 16 mm | NPN | NC | Cable | Brass, nickel plated | PVC (oil-resistant) | 2 m | | | | | Proximity sensor, inductive, nickel-brass, short body, M12, unshielded, 16 mm, DC, 3-wire, NPN NC, 2 m prewired |
| | M18 | Non-flush | 16 mm | NPN | NC | Connector M12 | Brass, nickel plated | | | | | | | Proximity sensor, inductive, nickel-brass, short body, M18, unshielded, 16 mm, DC, 3-wire, NPN NC, M12 connector |
| | M18 | Non-flush | 16 mm | NPN | NO + NC | Connector M12 | Brass, nickel plated | | | | | | | Proximity sensor, inductive, nickel-brass, short body, M18, unshielded, 16 mm, DC, 3-wire, NPN NO+NC, M12 connector |
| | M8 | Flush | 1.5 mm | IO-Link, PNP | NO | Connector M12 | Stainless steel | - | | COM3 (230.4 kbps) | 43 mm | 22 mm | | Proximity sensor, inductive, SUS short body, M8, shielded, 1.5 mm, DC, 3-wire, PNP NO, IO-Link COM3, M12 connector |
| | M8 | Flush | 1.5 mm | 2-wire | NO | M12 Pre-wired Smartclick connector | Stainless steel | PVC (oil-resistant reinforced) | 0.3 m | | 38 mm | 26 mm | | Proximity sensor, inductive, brass-nickel, M8, shielded, 1.5 mm, NO, 0.3 m pig-tail, DC 2-wire |
| | M8 | Flush | 1.5 mm | 2-wire | NO | M12 Pre-wired Smartclick connector | Stainless steel | PVC (oil-resistant reinforced) | 0.3 m | | 38 mm | 26 mm | | Proximity sensor, inductive, brass-nickel, M8, shielded, 1.5 mm, NO, 0.3 m pig-tail, DC 2-wire, no polarity |
| | M8 | Flush | 1.5 mm | 2-wire | NO | Cable | Stainless steel | PVC (oil-resistant reinforced) | 2 m | | 38 mm | 26 mm | | Proximity sensor, inductive, brass-nickel, M8, shielded, 1.5 mm, NO, 2 m cable, DC 2-wire |
| | M8 | Flush | 1.5 mm | 2-wire | NO | Cable | Stainless steel | PVC (oil-resistant reinforced) | 2 m | | 38 mm | 26 mm | Flexible cable | Proximity sensor, inductive, brass-nickel, M8, shielded, 1.5 mm, NO, 2 m cable robotic, DC 2-wire |
| | M8 | Flush | 1.5 mm | 2-wire | NO | Cable | Stainless steel | PVC (oil-resistant reinforced) | 2 m | | 38 mm | 26 mm | | Proximity sensor, inductive, brass-nickel, M8, shielded, 1.5 mm, NO, 2 m cable, DC 2-wire, no polarity |
| | M8 | Flush | 1.5 mm | 2-wire | NO | Cable | Stainless steel | PVC (oil-resistant reinforced) | 2 m | | 38 mm | 26 mm | Flexible cable | Proximity sensor, inductive, brass-nickel, M8, shielded, 1.5 mm, NO, 2 m cable robotic, DC 2-wire, no polarity |
| | M8 | Flush | 1.5 mm | 2-wire | NC | M12 Pre-wired Smartclick connector | Stainless steel | PVC (oil-resistant reinforced) | 0.3 m | | 38 mm | 26 mm | | Proximity sensor, inductive, brass-nickel, M8, shielded, 1.5 mm, NC, 0.3 m pig-tail, DC 2-wire |
| | M8 | Flush | 1.5 mm | 2-wire | NC | M12 Pre-wired Smartclick connector | Stainless steel | PVC (oil-resistant reinforced) | 0.3 m | | 38 mm | 26 mm | | Proximity sensor, inductive, brass-nickel, M8, shielded, 1.5 mm, NC, 0.3 m pig-tail, DC 2-wire, no polarity |
| | M8 | Flush | 1.5 mm | 2-wire | NC | Cable | Stainless steel | PVC (oil-resistant reinforced) | 2 m | | 38 mm | 26 mm | | Proximity sensor, inductive, brass-nickel, M8, shielded, 1.5 mm, NC, 2 m cable, DC 2-wire |
| | M8 | Flush | 1.5 mm | 2-wire | NC | Cable | Stainless steel | PVC (oil-resistant reinforced) | 2 m | | 38 mm | 26 mm | Flexible cable | Proximity sensor, inductive, brass-nickel, M8, shielded, 1.5 mm, NC, 2 m cable robotic, DC 2-wire |
| | M8 | Flush | 1.5 mm | 2-wire | NC | Cable | Stainless steel | PVC (oil-resistant reinforced) | 2 m | | 38 mm | 26 mm | | Proximity sensor, inductive, brass-nickel, M8, shielded, 1.5 mm, NC, 2 m cable, DC 2-wire, no polarity |
| | M8 | Flush | 1.5 mm | 2-wire | NC | Cable | Stainless steel | PVC (oil-resistant reinforced) | 2 m | | 38 mm | 26 mm | Flexible cable | Proximity sensor, inductive, brass-nickel, M8, shielded, 1.5 mm, NC, 2 m cable robotic, DC 2-wire, no polarity |
| | M30 | Flush | 20 mm | 2-wire | NO | Cable | Brass, nickel plated | PVC (oil-resistant reinforced) | 2 m | | 60 mm | 38 mm | | Proximity sensor, inductive, brass-nickel, M30, shielded, 20 mm, NO, 2 m cable, DC 2-wire |
| | M30 | Flush | 20 mm | 2-wire | NO | M12 Pre-wired Smartclick connector | Brass, nickel plated | PVC (oil-resistant reinforced) | 0.3 m | | 60 mm | 38 mm | | Proximity sensor, inductive, brass-nickel, M30, shielded, 20 mm, NO, 0.3 m pig-tail, DC 2-wire |
| | M30 | Flush | 20 mm | 2-wire | NO | M12 Pre-wired Smartclick connector | Brass, nickel plated | PVC (oil-resistant reinforced) | 0.3 m | | 60 mm | 38 mm | | Proximity sensor, inductive, brass-nickel, M30, shielded, 20 mm, NO, 0.3 m pig-tail, DC 2-wire, no polarity |
| | M30 | Flush | 20 mm | 2-wire | NO | Cable | Brass, nickel plated | PVC (oil-resistant reinforced) | 2 m | | 60 mm | 38 mm | Flexible cable | Proximity sensor, inductive, brass-nickel, M30, shielded, 20 mm, NO, 2 m cable robotic, DC 2-wire |
| | M30 | Flush | 20 mm | 2-wire | NO | Cable | Brass, nickel plated | PVC (oil-resistant reinforced) | 2 m | | 60 mm | 38 mm | | Proximity sensor, inductive, brass-nickel, M30, shielded, 20 mm, NO, 2 m cable, DC 2-wire, no polarity |
| | M30 | Flush | 20 mm | 2-wire | NO | Cable | Brass, nickel plated | PVC (oil-resistant reinforced) | 2 m | | 60 mm | 38 mm | Flexible cable | Proximity sensor, inductive, brass-nickel, M30, shielded, 20 mm, NO, 2 m cable robotic, DC 2-wire, no polarity |
| | M30 | Flush | 20 mm | 2-wire | NC | Cable | Brass, nickel plated | PVC (oil-resistant reinforced) | 2 m | | 60 mm | 38 mm | | Proximity sensor, inductive, brass-nickel, M30, shielded, 20 mm, NC, 2 m cable, DC 2-wire |
| | M30 | Flush | 20 mm | 2-wire | NC | M12 Pre-wired Smartclick connector | Brass, nickel plated | PVC (oil-resistant reinforced) | 0.3 m | | 60 mm | 38 mm | | Proximity sensor, inductive, brass-nickel, M30, shielded, 20 mm, NC, 0.3 m pig-tail, DC 2-wire |
| | M30 | Flush | 20 mm | 2-wire | NC | M12 Pre-wired Smartclick connector | Brass, nickel plated | PVC (oil-resistant reinforced) | 0.3 m | | 60 mm | 38 mm | | Proximity sensor, inductive, brass-nickel, M30, shielded, 20 mm, NC, 0.3 m pig-tail, DC 2-wire, no polarity |
| | M30 | Flush | 20 mm | 2-wire | NC | Cable | Brass, nickel plated | PVC (oil-resistant reinforced) | 2 m | | 60 mm | 38 mm | Flexible cable | Proximity sensor, inductive, brass-nickel, M30, shielded, 20 mm, NC, 2 m cable robotic, DC 2-wire |
| | M30 | Flush | 20 mm | 2-wire | NC | Cable | Brass, nickel plated | PVC (oil-resistant reinforced) | 2 m | | 60 mm | 38 mm | | Proximity sensor, inductive, brass-nickel, M30, shielded, 20 mm, NC, 2 m cable, DC 2-wire, no polarity |
| | M30 | Flush | 20 mm | 2-wire | NC | Cable | Brass, nickel plated | PVC (oil-resistant reinforced) | 2 m | | 60 mm | 38 mm | Flexible cable | Proximity sensor, inductive, brass-nickel, M30, shielded, 20 mm, NC, 2 m cable robotic, DC 2-wire, no polarity |
| | M18 | Non-flush | 20 mm | IO-Link, PNP | NO | Cable | Brass, nickel plated | PVC (oil-resistant) | 2 m | COM3 (230.4 kbps) | 77 mm | 47 mm | | Proximity sensor, inductive, nickel-brass long body, M18, unshielded, 20 mm, DC, 3-wire, PNP NO, IO-Link COM3, 2 m prewired |
| | M18 | Non-flush | 20 mm | IO-Link, PNP | NO | Connector M12 | Brass, nickel plated | - | | COM3 (230.4 kbps) | 75 mm | 47 mm | | Proximity sensor, inductive, nickel-brass long body, M18, unshielded, 20 mm, DC, 3-wire, PNP NO, IO-Link COM3, M12 connector |
| | M18 | Non-flush | 20 mm | IO-Link, PNP | NO | M12 Pre-wired Smartclick connector | Brass, nickel plated | PVC (oil-resistant) | 0.3 m | COM3 (230.4 kbps) | 77 mm | 47 mm | | Proximity sensor, inductive, nickel-brass long body, M18, unshielded, 20 mm, DC, 3-wire, PNP NO, IO-Link COM3, M12 Smartclick Pig-tail 0.3 m |
| | M18 | Non-flush | 20 mm | IO-Link, PNP | NO | Cable | Brass, nickel plated | PVC (oil-resistant) | 2 m | COM3 (230.4 kbps) | 77 mm | 47 mm | Flexible cable | Proximity sensor, inductive, nickel-brass long body, M18, unshielded, 20 mm, DC, 3-wire, PNP NO, IO-Link COM3, 2 m prewired robotic cable |
| | M18 | Non-flush | 20 mm | IO-Link, PNP | NO + NC | Cable | Brass, nickel plated | PVC (oil-resistant) | 2 m | COM2 (38.4 kbps) | 77 mm | 47 mm | | Proximity sensor, inductive, nickel-brass, long body, M18, unshielded, 20 mm, DC, 3-wire, PNP NO+NC, IO-Link COM2, 2 m prewired |
| | M18 | Non-flush | 20 mm | IO-Link, PNP | NO + NC | Connector M12 | Brass, nickel plated | - | | COM2 (38.4 kbps) | 75 mm | 47 mm | | Proximity sensor, inductive, nickel-brass, long body, M18, unshielded, 20 mm, DC, 3-wire, PNP NONC, IO-Link COM2, M12 connector |
| | M18 | Non-flush | 20 mm | 2-wire | NO | Cable | Brass, nickel plated | PVC (oil-resistant reinforced) | 2 m | | 77 mm | 47 mm | | Proximity sensor, inductive, brass-nickel, M18, non-shielded, 20 mm, NO, 2 m cable, DC 2-wire |
| | M18 | Non-flush | 20 mm | 2-wire | NO | M12 Pre-wired Smartclick connector | Brass, nickel plated | PVC (oil-resistant reinforced) | 0.3 m | | 77 mm | 47 mm | | Proximity sensor, inductive, brass-nickel, M18, non-shielded, 20 mm, NO, 0.3 m pig-tail, DC 2-wire |
| | M18 | Non-flush | 20 mm | 2-wire | NO | M12 Pre-wired Smartclick connector | Brass, nickel plated | PVC (oil-resistant reinforced) | 0.3 m | | 77 mm | 47 mm | | Proximity sensor, inductive, brass-nickel, M18, non-shielded, 20 mm, NO, 0.3 m pig-tail, DC 2-wire, no polarity |
| | M18 | Non-flush | 20 mm | 2-wire | NO | Cable | Brass, nickel plated | PVC (oil-resistant reinforced) | 2 m | | 77 mm | 47 mm | Flexible cable | Proximity sensor, inductive, brass-nickel, M18, non-shielded, 20 mm, NO, 2 m cable robotic, DC 2-wire |
| | M18 | Non-flush | 20 mm | 2-wire | NO | Cable | Brass, nickel plated | PVC (oil-resistant reinforced) | 2 m | | 77 mm | 47 mm | | Proximity sensor, inductive, brass-nickel, M18, non-shielded, 20 mm, NO, 2 m cable, DC 2-wire, no polarity |
| | M18 | Non-flush | 20 mm | 2-wire | NO | Cable | Brass, nickel plated | PVC (oil-resistant reinforced) | 2 m | | 77 mm | 47 mm | Flexible cable | Proximity sensor, inductive, brass-nickel, M18, non-shielded, 20 mm, NO, 2 m cable robotic, DC 2-wire, no polarity |
| | M18 | Non-flush | 20 mm | 2-wire | NC | Cable | Brass, nickel plated | PVC (oil-resistant reinforced) | 2 m | | 77 mm | 47 mm | | Proximity sensor, inductive, brass-nickel, M18, non-shielded, 20 mm, NC, 2 m cable, DC 2-wire |
| | M18 | Non-flush | 20 mm | 2-wire | NC | M12 Pre-wired Smartclick connector | Brass, nickel plated | PVC (oil-resistant reinforced) | 0.3 m | | 77 mm | 47 mm | | Proximity sensor, inductive, brass-nickel, M18, non-shielded, 20 mm, NC, 0.3 m pig-tail, DC 2-wire |
| | M18 | Non-flush | 20 mm | 2-wire | NC | M12 Pre-wired Smartclick connector | Brass, nickel plated | PVC (oil-resistant reinforced) | 0.3 m | | 77 mm | 47 mm | | Proximity sensor, inductive, brass-nickel, M18, non-shielded, 20 mm, NC, 0.3 m pig-tail, DC 2-wire, no polarity |
| | M18 | Non-flush | 20 mm | 2-wire | NC | Cable | Brass, nickel plated | PVC (oil-resistant reinforced) | 2 m | | 77 mm | 47 mm | Flexible cable | Proximity sensor, inductive, brass-nickel, M18, non-shielded, 20 mm, NC, 2 m cable robotic, DC 2-wire |
| | M18 | Non-flush | 20 mm | 2-wire | NC | Cable | Brass, nickel plated | PVC (oil-resistant reinforced) | 2 m | | 77 mm | 47 mm | | Proximity sensor, inductive, brass-nickel, M18, non-shielded, 20 mm, NC, 2 m cable, DC 2-wire, no polarity |
| | M18 | Non-flush | 20 mm | 2-wire | NC | Cable | Brass, nickel plated | PVC (oil-resistant reinforced) | 2 m | | 77 mm | 47 mm | Flexible cable | Proximity sensor, inductive, brass-nickel, M18, non-shielded, 20 mm, NC, 2 m cable robotic, DC 2-wire, no polarity |
| | M30 | Quasi-flush | 22 mm | IO-Link, PNP | NO | Cable | Brass, nickel plated | PVC (oil-resistant) | 2 m | COM3 (230.4 kbps) | 60 mm | 39 mm | | Proximity sensor, inductive, nickel-brass, short body, M30, shielded, 22 mm, DC, 3-wire, PNP NO, IO-Link COM3, 2 m prewired |
| | M30 | Quasi-flush | 22 mm | IO-Link, PNP | NO | Connector M12 | Brass, nickel plated | - | | COM3 (230.4 kbps) | 58 mm | 39 mm | | Proximity sensor, inductive, nickel-brass, short body, M30, shielded, 22 mm, DC, 3-wire, PNP NO, IO-Link COM3, M12 connector |
| | M30 | Quasi-flush | 22 mm | IO-Link, PNP | NO | M12 Pre-wired Smartclick connector | Brass, nickel plated | PVC (oil-resistant) | 0.3 m | COM3 (230.4 kbps) | 60 mm | 39 mm | | Proximity sensor, inductive, nickel-brass, short body, M30, shielded, 22 mm, DC, 3-wire, PNP NO, IO-Link COM3, M12 Smartclick Pig-tail 0.3 m |
| | M30 | Quasi-flush | 22 mm | IO-Link, PNP | NO | Cable | Brass, nickel plated | PVC (oil-resistant) | 2 m | COM3 (230.4 kbps) | 60 mm | 39 mm | Flexible cable | Proximity sensor, inductive, nickel-brass short body, M30, shielded, 22 mm, DC, 3-wire, PNP NO, IO-Link COM3, 2 m prewired robotic cable |
| | M30 | Quasi-flush | 22 mm | IO-Link, PNP | NO | Cable | Brass, nickel plated | PVC (oil-resistant) | 2 m | COM3 (230.4 kbps) | 82 mm | 65 mm | | Proximity sensor, inductive, nickel-brass long body, M30, shielded, 22 mm, DC, 3-wire, PNP NO, IO-Link COM3, 2 m prewired |
| | M30 | Quasi-flush | 22 mm | IO-Link, PNP | NO | Connector M12 | Brass, nickel plated | - | | COM3 (230.4 kbps) | 80 mm | 65 mm | | Proximity sensor, inductive, nickel-brass, long body, M30, shielded, 22 mm, DC, 3-wire, PNP NO, IO-Link COM3, M12 connector |
| | M30 | Quasi-flush | 22 mm | IO-Link, PNP | NO | M12 Pre-wired Smartclick connector | Brass, nickel plated | PVC (oil-resistant) | 0.3 m | COM3 (230.4 kbps) | 82 mm | 65 mm | | Proximity sensor, inductive, nickel-brass long body, M30, shielded, 22 mm, DC, 3-wire, PNP NO, IO-Link COM3, M12 Smartclick Pig-tail 0.3 m |
| | M30 | Quasi-flush | 22 mm | PNP | NC | Cable | Brass, nickel plated | PVC | 2 m | | | | | Proximity sensor, inductive, nickel-brass, short body, M30, shielded, 22 mm, DC, 3-wire, PNP NC, 2 m prewired |
| | M30 | Quasi-flush | 22 mm | PNP | NC | Connector M12 | Brass, nickel plated | | | | | | | Proximity sensor, inductive, nickel-brass, short body, M30, shielded, 22 mm, DC, 3-wire, PNP NC, M12 connector |
| | M30 | Quasi-flush | 22 mm | IO-Link, PNP | NO + NC | Connector M12 | Brass, nickel plated | - | | COM2 (38.4 kbps) | 58 mm | 39 mm | | Proximity sensor, inductive, nickel-brass, short body, M30, shielded, 22 mm, DC, 3-wire, PNP NO+NC, IO-Link COM2, M12 connector |
| | M30 | Quasi-flush | 22 mm | IO-Link, PNP | NO + NC | Connector M12 | Brass, nickel plated | - | | COM2 (38.4 kbps) | 80 mm | 65 mm | | Proximity sensor, inductive, nickel-brass, long body, M30, shielded, 22 mm, DC, 3-wire, PNP NO+NC, IO-Link COM2, M12 connector |
| | M30 | Quasi-flush | 22 mm | NPN | NO | Cable | Brass, nickel plated | PVC (oil-resistant) | 2 m | | 60 mm | 39 mm | | Proximity sensor, inductive, nickel-brass, short body, M30, shielded, 22 mm, DC, 3-wire, NPN NO, 2 m prewired |
| | M30 | Quasi-flush | 22 mm | NPN | NO | Connector M12 | Brass, nickel plated | - | | | 58 mm | 39 mm | | Proximity sensor, inductive, nickel-brass, short body, M30, shielded, 22 mm, DC, 3-wire, NPN NO, M12 connector |
| | M30 | Quasi-flush | 22 mm | NPN | NC | Cable | Brass, nickel plated | PVC (oil-resistant) | 2 m | | 60 mm | 38 mm | | Proximity sensor, inductive, nickel-brass, short body, M30, shielded, 22 mm, DC, 3-wire, NPN NC, 2 m prewired |
| | M30 | Quasi-flush | 22 mm | NPN | NC | Connector M12 | Brass, nickel plated | - | | | 60 mm | 38 mm | | Proximity sensor, inductive, nickel-brass, short body, M30, shielded, 22 mm, DC, 3-wire, NPN NC, M12 connector |
| | M30 | Quasi-flush | 23 mm | IO-Link, PNP | NO/NC switching | Connector M12 | Brass, nickel plated | | | COM2 (38.4 kbps) | | | | Proximity sensor, inductive, nickel-brass, short body, M30, shielded, 23 mm, DC, 3-wire, PNP NO, IO-Link COM2, M12 connector |
| | M30 | Quasi-flush | 23 mm | IO-Link, PNP | NO | Cable | Brass, nickel plated | PVC (oil-resistant) | 2 m | COM3 (230.4 kbps) | 60 mm | 39 mm | | Proximity sensor, inductive, nickel-brass, short body, M30, shielded, 23 mm, DC, 3-wire, PNP NO, IO-Link COM3, 2 m prewired |
| | M30 | Quasi-flush | 23 mm | IO-Link, PNP | NO | Connector M12 | Brass, nickel plated | - | | COM3 (230.4 kbps) | 58 mm | 39 mm | | Proximity sensor, inductive, nickel-brass, short body, M30, shielded, 23 mm, DC, 3-wire, PNP NO, IO-Link COM3, M12 connector |
| | M30 | Quasi-flush | 23 mm | IO-Link, PNP | NO | M12 Pre-wired Smartclick connector | Brass, nickel plated | PVC (oil-resistant) | 0.3 m | COM3 (230.4 kbps) | 60 mm | 39 mm | | Proximity sensor, inductive, nickel-brass, short body, M30, shielded, 23 mm, DC, 3-wire, PNP NO, IO-Link COM3, M12 Smartclick Pig-tail 0.3 m |
| | M30 | Quasi-flush | 23 mm | IO-Link, PNP | NO | Cable | Brass, nickel plated | PVC (oil-resistant) | 2 m | COM3 (230.4 kbps) | 60 mm | 39 mm | Flexible cable | Proximity sensor, inductive, nickel-brass short body, M30, shielded, 23 mm, DC, 3-wire, PNP NO, IO-Link COM3, 2 m prewired robotic cable |
| | M30 | Quasi-flush | 23 mm | IO-Link, PNP | NO | Cable | Brass, nickel plated | PVC (oil-resistant) | 2 m | COM3 (230.4 kbps) | 82 mm | 65 mm | | Proximity sensor, inductive, nickel-brass long body, M30, shielded, 23 mm, DC, 3-wire, PNP NO, IO-Link COM3, 2 m prewired |
| | M30 | Quasi-flush | 23 mm | IO-Link, PNP | NO | Connector M12 | Brass, nickel plated | - | | COM3 (230.4 kbps) | 80 mm | 65 mm | | Proximity sensor, inductive, nickel-brass, long body, M30, shielded, 23 mm, DC, 3-wire, PNP NO, IO-Link COM3, M12 connector |
| | M30 | Quasi-flush | 23 mm | IO-Link, PNP | NO | M12 Pre-wired Smartclick connector | Brass, nickel plated | PVC (oil-resistant) | 0.3 m | COM3 (230.4 kbps) | 82 mm | 65 mm | | Proximity sensor, inductive, nickel-brass long body, M30, shielded, 23 mm, DC, 3-wire, PNP NO, IO-Link COM3, M12 Smartclick Pig-tail 0.3 m |
| | M30 | Quasi-flush | 23 mm | NPN | NO | Connector M12 | Brass, nickel plated | - | | | 58 mm | 39 mm | | Proximity sensor, inductive, nickel-brass, short body, M30, shielded, 23 mm, DC, 3-wire, NPN NO, M12 connector |
| | M30 | Quasi-flush | 23 mm | NPN | NC | Cable | Brass, nickel plated | PVC (oil-resistant) | 2 m | | | | | Proximity sensor, inductive, nickel-brass, short body, M30, shielded, 23 mm, DC, 3-wire, NPN NC, 2 m prewired |
| | M30 | Quasi-flush | 23 mm | NPN | NC | Connector M12 | Brass, nickel plated | | | | | | | Proximity sensor, inductive, nickel-brass, short body, M30, shielded, 23 mm, DC, 3-wire, NPN NC, M12 connector |
| | M30 | Quasi-flush | 23 mm | NPN | NC | Connector M12 | Brass, nickel plated | | | | | | | Proximity sensor, inductive, nickel-brass, long body, M30, shielded, 23 mm, DC, 3-wire, NPN NC, M12 connector |
| | M8 | Flush | 2 mm | IO-Link, PNP | NO/NC switching | Cable | Stainless steel | PVC (oil-resistant) | 2 m | COM2 (38.4 kbps) | | | | Proximity sensor, inductive, short SUS body M8, shielded, 2 mm, DC, 3-wire, PNP NO, IO-Link COM2, 2 m prewired |
| | M8 | Flush | 2 mm | IO-Link, PNP | NO/NC switching | Connector M12 | Stainless steel | | | COM2 (38.4 kbps) | | | | Proximity sensor, inductive, short SUS body M8, shielded, 2 mm, DC, 3-wire, PNP NO, IO-Link COM2, M12 connector 4 pins |
| | M8 | Flush | 2 mm | IO-Link, PNP | NO/NC switching | Connector M12 | Stainless steel | | | COM2 (38.4 kbps) | | | | Proximity sensor, inductive, long SUS body M8, shielded, 2 mm, DC, 3-wire, PNP NO, IO-Link COM2, M12 connector 4 pins |
| | M8 | Flush | 2 mm | IO-Link, PNP | NO | Cable | Stainless steel | PVC (oil-resistant) | 2 m | COM3 (230.4 kbps) | 37.8 mm | 22 mm | | Proximity sensor, inductive, SUS short body, M8, shielded, 2 mm, DC, 3-wire, PNP NO, IO-Link COM3, 2 m prewired |
| | M8 | Flush | 2 mm | IO-Link, PNP | NO | Connector M12 | Stainless steel | - | | COM3 (230.4 kbps) | 43 mm | 22 mm | | Proximity sensor, inductive, SUS short body, M8, shielded, 2 mm, DC, 3-wire, PNP NO, IO-Link COM3, M12 connector |
| | M8 | Flush | 2 mm | IO-Link, PNP | NO | M12 Pre-wired Smartclick connector | Stainless steel | PVC (oil-resistant) | 0.3 m | COM3 (230.4 kbps) | 37.8 mm | 22 mm | | Proximity sensor, inductive, SUS short body, M8, shielded, 2 mm, DC, 3-wire, PNP NO, IO-Link COM3, M12 Smartclick Pig-tail 0.3 m |
| | M8 | Flush | 2 mm | IO-Link, PNP | NO | Connector M8 - 4 pin | Stainless steel | - | | COM3 (230.4 kbps) | 39 mm | 22 mm | | Proximity sensor, inductive, SUS short body, M8, shielded, 2 mm, DC, 3-wire, PNP NO, IO-Link COM3, M8 connector 4 pins |
| | M8 | Flush | 2 mm | IO-Link, PNP | NO | Connector M8 - 3 pin | Stainless steel | - | | COM3 (230.4 kbps) | 39 mm | 22 mm | | Proximity sensor, inductive, SUS short body, M8, shielded, 2 mm, DC, 3-wire, PNP NO, IO-Link COM3, M8 connector 3 pin |
| | M8 | Flush | 2 mm | IO-Link, PNP | NO | Cable | Stainless steel | PVC (oil-resistant) | 2 m | COM3 (230.4 kbps) | 37.8 mm | 22 mm | Flexible cable | Proximity sensor, inductive, SUS body, short body, M8, shielded, 2 mm, DC, 3-wire, PNP NO, IO-Link COM3, 2 m prewired robotic cable |
| | M8 | Flush | 2 mm | IO-Link, PNP | NO | Cable | Stainless steel | PVC (oil-resistant) | 2 m | COM3 (230.4 kbps) | 48 mm | 36 mm | | Proximity sensor, inductive, SUS long body, M8, shielded, 2 mm, DC, 3-wire, PNP NO, IO-Link COM3, 2 m prewired |
| | M8 | Flush | 2 mm | IO-Link, PNP | NO | Connector M12 | Stainless steel | - | | COM3 (230.4 kbps) | 53 mm | 36 mm | | Proximity sensor, inductive, SUS body, long body, M8, shielded, 2 mm, DC, 3-wire, PNP NO, IO-Link COM3, M12 connector |
| | M8 | Flush | 2 mm | IO-Link, PNP | NO | M12 Pre-wired Smartclick connector | Stainless steel | PVC (oil-resistant) | 0.3 m | COM3 (230.4 kbps) | 48 mm | 36 mm | | Proximity sensor, inductive, SUS body, long body, M8, shielded, 2 mm, DC, 3-wire, PNP NO, IO-Link COM3, M12 Smartclick Pig-tail 0.3 m |
| | M8 | Flush | 2 mm | IO-Link, PNP | NO | Connector M8 - 4 pin | Stainless steel | - | | COM3 (230.4 kbps) | 49 mm | 36 mm | | Proximity sensor, inductive, SUS long body, M8, shielded, 2 mm, DC, 3-wire, PNP NO, IO-Link COM3, M8 connector 4 pins |
| | M8 | Flush | 2 mm | IO-Link, PNP | NO | Connector M8 - 3 pin | Stainless steel | - | | COM3 (230.4 kbps) | 49 mm | 36 mm | | Proximity sensor, inductive, SUS long body, M8, shielded, 2 mm, DC, 3-wire, PNP NO, IO-Link COM3, M8 connector 3 pins |
| | M8 | Flush | | PNP | NC | Cable | Stainless steel | PVC (oil-resistant) | 2 m | | | | | Proximity sensor, inductive, short SUS body M8, shielded, 2 mm, DC, 3-wire, PNP NC, 2 m prewired |
| | M8 | Flush | | PNP | NC | Connector M12 | Stainless steel | - | | | 43 mm | 22 mm | | Proximity sensor, inductive, short SUS body M8, shielded, 2 mm, DC, 3-wire, PNP NC, M12 connector |
| | M8 | Flush | | PNP | NC | Connector M8 - 3 pin | Stainless steel | | | | | | | Proximity sensor, inductive, short SUS body M8, shielded, 2 mm, DC, 3-wire, PNP NC, M8 connector 3 pins |
| | M8 | Flush | | PNP | NC | Connector M12 | Stainless steel | | | | | | | Proximity sensor, inductive, long SUS body M8, shielded, 2 mm, DC, 3-wire, PNP NO, M12 connector |
| | M8 | Flush | 2 mm | IO-Link, PNP | NO + NC | Connector M12 | Stainless steel | | | COM2 (38.4 kbps) | | | | Proximity sensor, inductive, long SUS body M8, shielded, 2 mm, DC, 3-wire, PNP NONC, IO-Link COM2, M12 connector 4 pins |
| | M8 | Flush | 2 mm | NPN | NO | Cable | Stainless steel | PVC (oil-resistant) | 2 m | | | | | Proximity sensor, inductive, short SUS body M8, shielded, 2 mm, DC, 3-wire, NPN NO, 2 m prewired |
| | M8 | Flush | 2 mm | NPN | NO | Connector M12 | Stainless steel | - | | | 43 mm | 22 mm | | Proximity sensor, inductive, SUS short body, M8, shielded, 2 mm, DC, 3-wire, NPN NO, M12 connector |
| | M8 | | 2 mm | NPN | NO | Cable | Stainless steel | PVC | 2 m | | | | | Proximity sensor, inductive, long SUS body M8, shielded, 2 mm, DC, 3-wire, NPN NO, 2 m prewired |
| | M8 | Flush | 2 mm | NPN | NC | Connector M12 | Stainless steel | | | | | | | Proximity sensor, inductive, short SUS body M8, shielded, 2 mm, DC, 3-wire, NPN NC, M12 connector |
| | M8 | Flush | 2 mm | NPN | NC | Cable | Stainless steel | PVC (oil-resistant) | 2 m | | | | | Proximity sensor, inductive, long SUS body M8, shielded, 2 mm, DC, 3-wire, NPN NC, 2 m prewired |
| | M12 | Flush | 2.5 mm | 2-wire | NO | M12 Pre-wired Smartclick connector | Brass, nickel plated | PVC (oil-resistant reinforced) | 0.3 m | | 47 mm | 33 mm | | Proximity sensor, inductive, brass-nickel, M12, shielded, 2 mm, NO, 0.3 m pig-tail, DC 2-wire |
| | M12 | Flush | 2.5 mm | 2-wire | NO | M12 Pre-wired Smartclick connector | Brass, nickel plated | PVC (oil-resistant reinforced) | 0.3 m | | 47 mm | 33 mm | | Proximity sensor, inductive, brass-nickel, M12, shielded, 2 mm, NO, 0.3 m pig-tail, DC 2-wire, no polarity |
| | M12 | Flush | 2.5 mm | 2-wire | NO | Cable | Brass, nickel plated | PVC (oil-resistant reinforced) | 2 m | | 47 mm | 33 mm | | Proximity sensor, inductive, brass-nickel, M12, shielded, 2 mm, NO, 2 m cable, DC 2-wire |
| | M12 | Flush | 2.5 mm | 2-wire | NO | Cable | Brass, nickel plated | PVC (oil-resistant reinforced) | 2 m | | 47 mm | 33 mm | Flexible cable | Proximity sensor, inductive, brass-nickel, M12, shielded, 2 mm, NO, 2 m cable robotic, DC 2-wire |
| | M12 | Flush | 2.5 mm | 2-wire | NO | Cable | Brass, nickel plated | PVC (oil-resistant reinforced) | 2 m | | 47 mm | 33 mm | | Proximity sensor, inductive, brass-nickel, M12, shielded, 2 mm, NO, 2 m cable, DC 2-wire, no polarity |
| | M12 | Flush | 2.5 mm | 2-wire | NO | Cable | Brass, nickel plated | PVC (oil-resistant reinforced) | 2 m | | 47 mm | 33 mm | Flexible cable | Proximity sensor, inductive, brass-nickel, M12, shielded, 2 mm, NO, 2 m cable robotic, DC 2-wire, no polarity |
| | M12 | Flush | 2.5 mm | 2-wire | NC | M12 Pre-wired Smartclick connector | Brass, nickel plated | PVC (oil-resistant reinforced) | 0.3 m | | 47 mm | 33 mm | | Proximity sensor, inductive, brass-nickel, M12, shielded, 2 mm, NC, 0.3 m pig-tail, DC 2-wire |
| | M12 | Flush | 2.5 mm | 2-wire | NC | M12 Pre-wired Smartclick connector | Brass, nickel plated | PVC (oil-resistant reinforced) | 0.3 m | | 47 mm | 33 mm | | Proximity sensor, inductive, brass-nickel, M12, shielded, 2 mm, NC, 0.3 m pig-tail, DC 2-wire, no polarity |
| | M12 | Flush | 2.5 mm | 2-wire | NC | Cable | Brass, nickel plated | PVC (oil-resistant reinforced) | 2 m | | 47 mm | 33 mm | | Proximity sensor, inductive, brass-nickel, M12, shielded, 2 mm, NC, 2 m cable, DC 2-wire |
| | M12 | Flush | 2.5 mm | 2-wire | NC | Cable | Brass, nickel plated | PVC (oil-resistant reinforced) | 2 m | | 47 mm | 33 mm | Flexible cable | Proximity sensor, inductive, brass-nickel, M12, shielded, 2 mm, NC, 2 m cable robotic, DC 2-wire |
| | M12 | Flush | 2.5 mm | 2-wire | NC | Cable | Brass, nickel plated | PVC (oil-resistant reinforced) | 2 m | | 47 mm | 33 mm | | Proximity sensor, inductive, brass-nickel, M12, shielded, 2 mm, NC, 2 m cable, DC 2-wire, no polarity |
| | M12 | Flush | 2.5 mm | 2-wire | NC | Cable | Brass, nickel plated | PVC (oil-resistant reinforced) | 2 m | | 47 mm | 33 mm | Flexible cable | Proximity sensor, inductive, brass-nickel, M12, shielded, 2 mm, NC, 2 m cable robotic, DC 2-wire, no polarity |
| | M30 | Non-flush | 30 mm | IO-Link, PNP | NO/NC switching | Cable | Brass, nickel plated | PVC | 2 m | COM2 (38.4 kbps) | | | | Proximity sensor, inductive, nickel-brass, long body, M30, unshielded, 30 mm, DC, 3-wire, PNP NO, IO-Link COM2, 2 m prewired |
| | M30 | Non-flush | 30 mm | IO-Link, PNP | NO/NC switching | Connector M12 | Brass, nickel plated | | | COM2 (38.4 kbps) | | | | Proximity sensor, inductive, nickel-brass, long body, M30, unshielded, 30 mm, DC, 3-wire, PNP NO, IO-Link COM2, M12 connector |
| | M18 | Non-flush | 30 mm | IO-Link, PNP | NO | Cable | Brass, nickel plated | PVC (oil-resistant) | 2 m | COM3 (230.4 kbps) | 77 mm | 47 mm | | Proximity sensor, inductive, nickel-brass long body, M18, unshielded, 30 mm, DC, 3-wire, PNP NO, IO-Link COM3, 2 m prewired |
| | M18 | Non-flush | 30 mm | IO-Link, PNP | NO | Connector M12 | Brass, nickel plated | - | | COM3 (230.4 kbps) | 75 mm | 47 mm | | Proximity sensor, inductive, nickel-brass long body, M18, unshielded, 30 mm, DC, 3-wire, PNP NO, IO-Link COM3, M12 connector |
| | M18 | Non-flush | 30 mm | IO-Link, PNP | NO | M12 Pre-wired Smartclick connector | Brass, nickel plated | PVC (oil-resistant) | 0.3 m | COM3 (230.4 kbps) | 77 mm | 47 mm | | Proximity sensor, inductive, nickel-brass long body, M18, unshielded, 30 mm, DC, 3-wire, PNP NO, IO-Link COM3, M12 Smartclick Pig-tail 0.3 m |
| | M18 | Non-flush | 30 mm | IO-Link, PNP | NO | Cable | Brass, nickel plated | PVC (oil-resistant) | 2 m | COM3 (230.4 kbps) | 77 mm | 47 mm | Flexible cable | Proximity sensor, inductive, nickel-brass long body, M18, unshielded, 30 mm, DC, 3-wire, PNP NO, IO-Link COM3, 2 m prewired robotic cable |
| | M30 | Non-flush | 30 mm | IO-Link, PNP | NO | Cable | Brass, nickel plated | PVC (oil-resistant) | 2 m | COM3 (230.4 kbps) | 82 mm | 55 mm | | Proximity sensor, inductive, nickel-brass long body, M30, unshielded, 30 mm, DC, 3-wire, PNP NO, IO-Link COM3, 2 m prewired |
| | M30 | Non-flush | 30 mm | IO-Link, PNP | NO | Connector M12 | Brass, nickel plated | - | | COM3 (230.4 kbps) | 80 mm | 55 mm | | Proximity sensor, inductive, nickel-brass long body, M30, unshielded, 30 mm, DC, 3-wire, PNP NO, IO-Link COM3, M12 connector |
| | M30 | Non-flush | 30 mm | IO-Link, PNP | NO | M12 Pre-wired Smartclick connector | Brass, nickel plated | PVC (oil-resistant) | 0.3 m | COM3 (230.4 kbps) | 82 mm | 55 mm | | Proximity sensor, inductive, nickel-brass long body, M30, unshielded, 30 mm, DC, 3-wire, PNP NO, IO-Link COM3, M12 Smartclick Pig-tail 0.3 m |
| | M30 | Non-flush | 30 mm | IO-Link, PNP | NO | Cable | Brass, nickel plated | PVC (oil-resistant) | 2 m | COM3 (230.4 kbps) | 82 mm | 55 mm | Flexible cable | Proximity sensor, inductive, nickel-brass long body, M30, unshielded, 30 mm, DC, 3-wire, PNP NO, IO-Link COM3, 2 m prewired robotic cable |
| | M18 | Non-flush | 30 mm | NPN | NO | Connector M12 | Brass, nickel plated | - | | | 75 mm | 47 mm | | Proximity sensor, inductive, nickel-brass, long body, M18, unshielded, 30 mm, DC, 3-wire, NPN NO, M12 connector |
| | M30 | Non-flush | 30 mm | NPN | NO | Cable | Brass, nickel plated | PVC | 2 m | | | | | Proximity sensor, inductive, nickel-brass, long body, M30, unshielded, 30 mm, DC, 3-wire, NPN NO, 2 m prewired |
| | M30 | Non-flush | 30 mm | NPN | NO | Connector M12 | Brass, nickel plated | | | | | | | Proximity sensor, inductive, nickel-brass, long body, M30, unshielded, 30 mm, DC, 3-wire, NPN NO, M12 connector |
| | M8 | Quasi-flush | 3 mm | IO-Link, PNP | NO/NC switching | Connector M12 | Brass, nickel plated | | | COM2 (38.4 kbps) | | | | Proximity sensor, inductive, short brass body M8, shielded, 3 mm, DC, 3-wire, PNP NO, IO-Link COM2, M12 connector 4 pins |
| | M8 | Quasi-flush | 3 mm | IO-Link, PNP | NO/NC switching | Connector M8 - 3 pin | Brass, nickel plated | | | COM2 (38.4 kbps) | | | | Proximity sensor, inductive, short brass body M8, shielded, 3 mm, DC, 3-wire, PNP NO, IO-Link COM2, M8 connector 3 pins |
| | M8 | Quasi-flush | 3 mm | IO-Link, PNP | NO/NC switching | Connector M12 | Brass, nickel plated | | | COM2 (38.4 kbps) | | | | Proximity sensor, inductive, long brass body M8, shielded, 3 mm, DC, 3-wire, PNP NO, IO-Link COM2, M12 connector 4 pins |
| | M8 | Quasi-flush | 3 mm | IO-Link, PNP | NO/NC switching | Connector M8 - 3 pin | Brass, nickel plated | | | COM2 (38.4 kbps) | | | | Proximity sensor, inductive, long brass body M8, shielded, 3 mm, DC, 3-wire, PNP NO, IO-Link COM2, M8 connector 3 pins |
| | M8 | Flush | 3 mm | IO-Link, PNP | NO | Cable | Brass, nickel plated | PVC (oil-resistant) | 2 m | COM3 (230.4 kbps) | 38 mm | 22 mm | | Proximity sensor, inductive, short brass body M8, shielded, 3 mm, DC, 3-wire, PNP NO, IO-Link COM3, 2 m prewired |
| | M8 | Quasi-flush | 3 mm | IO-Link, PNP | NO | Cable | Brass, nickel plated | PVC (oil-resistant) | 5 m | COM3 (230.4 kbps) | 38 mm | 21 mm | | Proximity sensor, inductive, short brass body M8, shielded, 3 mm, DC, 3-wire, PNP NO, IO-Link COM3, 5 m prewired |
| | M8 | Quasi-flush | 3 mm | IO-Link, PNP | NO | Connector M12 | Brass, nickel plated | - | | COM3 (230.4 kbps) | 43 mm | 22 mm | | Proximity sensor, inductive, short brass body M8, shielded, 3 mm, DC, 3-wire, PNP NO, IO-Link COM3, M12 connector |
| | M8 | Quasi-flush | 3 mm | IO-Link, PNP | NO | M12 Pre-wired Smartclick connector | Brass, nickel plated | PVC (oil-resistant) | 0.3 m | COM3 (230.4 kbps) | 38 mm | 22 mm | | Proximity sensor, inductive, short brass body M8, shielded, 3 mm, DC, 3-wire, PNP NO, IO-Link COM3, M12 Smartclick Pig-tail 0.3 m |
| | M8 | Flush | 3 mm | IO-Link, PNP | NO | Connector M8 - 4 pin | Brass, nickel plated | - | | COM3 (230.4 kbps) | 39 mm | 22 mm | | Proximity sensor, inductive, short brass body M8, shielded, 3 mm, DC, 3-wire, PNP NO, IO-Link COM3, M8 connector 4 pins |
| | M8 | Quasi-flush | 3 mm | IO-Link, PNP | NO | Connector M8 - 3 pin | Brass, nickel plated | - | | COM3 (230.4 kbps) | 39 mm | 22 mm | | Proximity sensor, inductive, short brass body M8, shielded, 3 mm, DC, 3-wire, PNP NO, IO-Link COM3, M8 connector 3 pin |
| | M8 | Quasi-flush | 3 mm | IO-Link, PNP | NO | Cable | Brass, nickel plated | PVC (oil-resistant) | 2 m | COM3 (230.4 kbps) | 38 mm | 22 mm | Flexible cable | Proximity sensor, inductive, short brass body M8, shielded, 3 mm, DC, 3-wire, PNP NO, IO-Link COM3, 2 m prewired robotic cable |
| | M8 | Quasi-flush | 3 mm | IO-Link, PNP | NO | Cable | Brass, nickel plated | PVC (oil-resistant) | 2 m | COM3 (230.4 kbps) | 48 mm | 36 mm | | Proximity sensor, inductive, long brass body M8, shielded, 3 mm, DC, 3-wire, PNP NO, IO-Link COM3, 2 m prewired |
| | M8 | Quasi-flush | 3 mm | IO-Link, PNP | NO | Connector M12 | Brass, nickel plated | - | | COM3 (230.4 kbps) | 43 mm | 36 mm | | Proximity sensor, inductive, long brass body M8, shielded, 3 mm, DC, 3-wire, PNP NO, IO-Link COM3, M12 connector |
| | M8 | Quasi-flush | 3 mm | IO-Link, PNP | NO | M12 Pre-wired Smartclick connector | Brass, nickel plated | PVC (oil-resistant) | 0.3 m | COM3 (230.4 kbps) | 48 mm | 36 mm | | Proximity sensor, inductive, long brass body M8, shielded, 3 mm, DC, 3-wire, PNP NO, IO-Link COM3, M12 Smartclick Pig-tail 0.3 m |
| | M8 | Quasi-flush | 3 mm | IO-Link, PNP | NO | Connector M8 - 4 pin | Brass, nickel plated | - | | COM3 (230.4 kbps) | 39 mm | 36 mm | | Proximity sensor, inductive, long brass body M8, shielded, 3 mm, DC, 3-wire, PNP NO, IO-Link COM3, M8 connector 4 pins |
| | M8 | Quasi-flush | 3 mm | IO-Link, PNP | NO | Connector M8 - 3 pin | Brass, nickel plated | - | | COM3 (230.4 kbps) | 39 mm | 36 mm | | Proximity sensor, inductive, long brass body M8, shielded, 3 mm, DC, 3-wire, PNP NO, IO-Link COM3, M8 connector 3 pins |
| | M8 | Flush | 3 mm | PNP | NC | Cable | Brass, nickel plated | PVC (oil-resistant) | 2 m | | | | | Proximity sensor, inductive, short brass body M8, shielded, 3 mm, DC, 3-wire, PNP NC, 2 m prewired |
| | M8 | Flush | 3 mm | PNP | NC | Connector M12 | Brass, nickel plated | | | | | | | Proximity sensor, inductive, short brass body M8, shielded, 3 mm, DC, 3-wire, PNP NC, M12 connector |
| | M8 | Flush | 3 mm | PNP | NC | Connector M8 - 3 pin | Brass, nickel plated | | | | | | | Proximity sensor, inductive, short brass body M8, shielded, 3 mm, DC, 3-wire, PNP NC, M8 connector 3 pins |
| | M8 | Quasi-flush | 3 mm | NPN | NO | Cable | Brass, nickel plated | PVC (oil-resistant) | 2 m | | 38 mm | 21 mm | | Proximity sensor, inductive, short brass body M8, shielded, 3 mm, DC, 3-wire, NPN NO, 2 m prewired |
| | M8 | Quasi-flush | 3 mm | NPN | NO | Connector M12 | Brass, nickel plated | - | | | 43 mm | 33 mm | | Proximity sensor, inductive, short brass body M8, shielded, 3 mm, DC, 3-wire, NPN NO, M12 connector |
| | M8 | Quasi-flush | 3 mm | NPN | NO | Connector M8 - 3 pin | Brass, nickel plated | - | | | 39 mm | 33 mm | | Proximity sensor, inductive, short brass body M8, shielded, 3 mm, DC, 3-wire, NPN NO, M8 connector 3 pins |
| | M8 | Quasi-flush | 3 mm | NPN | NC | Connector M12 | Brass, nickel plated | - | | | 43 mm | 21 mm | | Proximity sensor, inductive, short brass body M8, shielded, 3 mm, DC, 3-wire, NPN NC, M12 connector |
| | M8 | Quasi-flush | 3 mm | NPN | NC | Connector M8 - 3 pin | Brass, nickel plated | - | | | 39 mm | 21 mm | | Proximity sensor, inductive, short brass body M8, shielded, 3 mm, DC, 3-wire, NPN NC, M8 connector 3 pins |
| | M8 | Flush | 3 mm | 2-wire | NO | Cable | Brass, nickel plated | PVC (oil-resistant reinforced) | 2 m | | 38 mm | 21 mm | | Proximity sensor, inductive, brass-nickel, M8, shielded, 3 mm, NO, 2 m cable, DC 2-wire |
| | M8 | Flush | 3 mm | 2-wire | NO | M12 Pre-wired Smartclick connector | Brass, nickel plated | PVC (oil-resistant reinforced) | 0.3 m | | 38 mm | 21 mm | | Proximity sensor, inductive, brass-nickel, M8, shielded, 3 mm, NO, 0.3 m pig-tail, DC 2-wire |
| | M8 | Flush | 3 mm | 2-wire | NO | M12 Pre-wired Smartclick connector | Brass, nickel plated | PVC (oil-resistant reinforced) | 0.3 m | | 38 mm | 21 mm | | Proximity sensor, inductive, brass-nickel, M8, shielded, 3 mm, NO, 0.3 m pig-tail, DC 2-wire, no polarity |
| | M8 | Flush | 3 mm | 2-wire | NO | Cable | Brass, nickel plated | PVC (oil-resistant reinforced) | 2 m | | 38 mm | 21 mm | Flexible cable | Proximity sensor, inductive, brass-nickel, M8, shielded, 3 mm, NO, 2 m cable robotic, DC 2-wire |
| | M8 | Flush | 3 mm | 2-wire | NO | Cable | Brass, nickel plated | PVC (oil-resistant reinforced) | 2 m | | 38 mm | 21 mm | | Proximity sensor, inductive, brass-nickel, M8, shielded, 3 mm, NO, 2 m cable, DC 2-wire, no polarity |
| | M8 | Flush | 3 mm | 2-wire | NO | Cable | Brass, nickel plated | PVC (oil-resistant reinforced) | 2 m | | 38 mm | 21 mm | Flexible cable | Proximity sensor, inductive, brass-nickel, M8, shielded, 3 mm, NO, 2 m cable robotic, DC 2-wire, no polarity |
| | M8 | Flush | 3 mm | 2-wire | NC | Cable | Brass, nickel plated | PVC (oil-resistant reinforced) | 2 m | | 38 mm | 21 mm | | Proximity sensor, inductive, brass-nickel, M8, shielded, 3 mm, NC, 2 m cable, DC 2-wire |
| | M8 | Flush | 3 mm | 2-wire | NC | M12 Pre-wired Smartclick connector | Brass, nickel plated | PVC (oil-resistant reinforced) | 0.3 m | | 38 mm | 21 mm | | Proximity sensor, inductive, brass-nickel, M8, shielded, 3 mm, NC, 0.3 m pig-tail, DC 2-wire |
| | M8 | Flush | 3 mm | 2-wire | NC | M12 Pre-wired Smartclick connector | Brass, nickel plated | PVC (oil-resistant reinforced) | 0.3 m | | 38 mm | 21 mm | | Proximity sensor, inductive, brass-nickel, M8, shielded, 3 mm, NC, 0.3 m pig-tail, DC 2-wire, no polarity |
| | M8 | Flush | 3 mm | 2-wire | NC | Cable | Brass, nickel plated | PVC (oil-resistant reinforced) | 2 m | | 38 mm | 21 mm | Flexible cable | Proximity sensor, inductive, brass-nickel, M8, shielded, 3 mm, NC, 2 m cable robotic, DC 2-wire |
| | M8 | Flush | 3 mm | 2-wire | NC | Cable | Brass, nickel plated | PVC (oil-resistant reinforced) | 2 m | | 38 mm | 21 mm | | Proximity sensor, inductive, brass-nickel, M8, shielded, 3 mm, NC, 2 m cable, DC 2-wire, no polarity |
| | M8 | Flush | 3 mm | 2-wire | NC | Cable | Brass, nickel plated | PVC (oil-resistant reinforced) | 2 m | | 38 mm | 21 mm | Flexible cable | Proximity sensor, inductive, brass-nickel, M8, shielded, 3 mm, NC, 2 m cable robotic, DC 2-wire, no polarity |
| | M8 | Flush | 3 mm | 2-wire | NC | Cable | Brass, nickel plated | PVC (oil-resistant reinforced) | 5 m | | 38 mm | 21 mm | Flexible cable | Proximity sensor, inductive, brass-nickel, M8, shielded, 3 mm, NC, 5 m cable robotic, DC 2-wire, no polarity |
| | M30 | Non-flush | 40 mm | IO-Link, PNP | NO | Cable | Brass, nickel plated | PVC (oil-resistant) | 2 m | COM3 (230.4 kbps) | 82 mm | 50 mm | | Proximity sensor, inductive, nickel-brass long body, M30, unshielded, 40 mm, DC, 3-wire, PNP NO, IO-Link COM3, 2 m prewired |
| | M30 | Non-flush | 40 mm | IO-Link, PNP | NO | Connector M12 | Brass, nickel plated | - | | COM3 (230.4 kbps) | 80 mm | 50 mm | | Proximity sensor, inductive, nickel-brass long body, M30, unshielded, 40 mm, DC, 3-wire, PNP NO, IO-Link COM3, M12 connector |
| | M30 | Non-flush | 40 mm | IO-Link, PNP | NO | M12 Pre-wired Smartclick connector | Brass, nickel plated | PVC (oil-resistant) | 0.3 m | COM3 (230.4 kbps) | 82 mm | 50 mm | | Proximity sensor, inductive, nickel-brass long body, M30, unshielded, 40 mm, DC, 3-wire, PNP NO, IO-Link COM3, M12 Smartclick Pig-tail 0.3 m |
| | M30 | Non-flush | 40 mm | IO-Link, PNP | NO | Cable | Brass, nickel plated | PVC (oil-resistant) | 2 m | COM3 (230.4 kbps) | 82 mm | 50 mm | Flexible cable | Proximity sensor, inductive, nickel-brass long body, M30, unshielded, 40 mm, DC, 3-wire, PNP NO, IO-Link COM3, 2 m prewired robotic cable |
| | M30 | Non-flush | 40 mm | 2-wire | NO | Cable | Brass, nickel plated | PVC (oil-resistant reinforced) | 2 m | | 82 mm | 50 mm | | Proximity sensor, inductive, brass-nickel, M30, non-shielded, 40 mm, NO, 2 m cable, DC 2-wire |
| | M30 | Non-flush | 40 mm | 2-wire | NO | M12 Pre-wired Smartclick connector | Brass, nickel plated | PVC (oil-resistant reinforced) | 0.3 m | | 82 mm | 50 mm | | Proximity sensor, inductive, brass-nickel, M30, non-shielded, 40 mm, NO, 0.3 m pig-tail, DC 2-wire |
| | M30 | Non-flush | 40 mm | 2-wire | NO | M12 Pre-wired Smartclick connector | Brass, nickel plated | PVC (oil-resistant reinforced) | 0.3 m | | 82 mm | 50 mm | | Proximity sensor, inductive, brass-nickel, M30, non-shielded, 40 mm, NO, 0.3 m pig-tail, DC 2-wire, no polarity |
| | M30 | Non-flush | 40 mm | 2-wire | NO | Cable | Brass, nickel plated | PVC (oil-resistant reinforced) | 2 m | | 82 mm | 50 mm | Flexible cable | Proximity sensor, inductive, brass-nickel, M30, non-shielded, 40 mm, NO, 2 m cable robotic, DC 2-wire |
| | M30 | Non-flush | 40 mm | 2-wire | NO | Cable | Brass, nickel plated | PVC (oil-resistant reinforced) | 2 m | | 82 mm | 50 mm | | Proximity sensor, inductive, brass-nickel, M30, non-shielded, 40 mm, NO, 2 m cable, DC 2-wire, no polarity |
| | M30 | Non-flush | 40 mm | 2-wire | NO | Cable | Brass, nickel plated | PVC (oil-resistant reinforced) | 2 m | | 82 mm | 50 mm | Flexible cable | Proximity sensor, inductive, brass-nickel, M30, non-shielded, 40 mm, NO, 2 m cable robotic, DC 2-wire, no polarity |
| | M30 | Non-flush | 40 mm | 2-wire | NC | Cable | Brass, nickel plated | PVC (oil-resistant reinforced) | 2 m | | 82 mm | 50 mm | | Proximity sensor, inductive, brass-nickel, M30, non-shielded, 40 mm, NC, 2 m cable, DC 2-wire |
| | M30 | Non-flush | 40 mm | 2-wire | NC | M12 Pre-wired Smartclick connector | Brass, nickel plated | PVC (oil-resistant reinforced) | 0.3 m | | 82 mm | 50 mm | | Proximity sensor, inductive, brass-nickel, M30, non-shielded, 40 mm, NC, 0.3 m pig-tail, DC 2-wire |
| | M30 | Non-flush | 40 mm | 2-wire | NC | M12 Pre-wired Smartclick connector | Brass, nickel plated | PVC (oil-resistant reinforced) | 0.3 m | | 82 mm | 50 mm | | Proximity sensor, inductive, brass-nickel, M30, non-shielded, 40 mm, NC, 0.3 m pig-tail, DC 2-wire, no polarity |
| | M30 | Non-flush | 40 mm | 2-wire | NC | Cable | Brass, nickel plated | PVC (oil-resistant reinforced) | 2 m | | 82 mm | 50 mm | Flexible cable | Proximity sensor, inductive, brass-nickel, M30, non-shielded, 40 mm, NC, 2 m cable robotic, DC 2-wire |
| | M30 | Non-flush | 40 mm | 2-wire | NC | Cable | Brass, nickel plated | PVC (oil-resistant reinforced) | 2 m | | 82 mm | 50 mm | | Proximity sensor, inductive, brass-nickel, M30, non-shielded, 40 mm, NC, 2 m cable, DC 2-wire, no polarity |
| | M30 | Non-flush | 40 mm | 2-wire | NC | Cable | Brass, nickel plated | PVC (oil-resistant reinforced) | 2 m | | 82 mm | 50 mm | Flexible cable | Proximity sensor, inductive, brass-nickel, M30, non-shielded, 40 mm, NC, 2 m cable robotic, DC 2-wire, no polarity |
| | M12 | Quasi-flush | 4 mm | IO-Link, PNP | NO/NC switching | Cable | Brass, nickel plated | PVC (oil-resistant) | 2 m | COM2 (38.4 kbps) | | | | Proximity sensor, inductive, nickel-brass, short body, M12, shielded, 4 mm, DC, 3-wire, PNP NO, IO-Link COM2, 2 m prewired |
| | M8 | Quasi-flush | 4 mm | IO-Link, PNP | NO/NC switching | Connector M12 | Brass, nickel plated | | | COM2 (38.4 kbps) | | | | Proximity sensor, inductive, nickel-brass, short body, M12, shielded, 4 mm, DC, 3-wire, PNP NO, IO-Link COM2, M12 connector |
| | M12 | Flush | 4 mm | IO-Link, PNP | NO | Cable | Brass, nickel plated | PVC (oil-resistant) | 2 m | COM3 (230.4 kbps) | 47 mm | 29 mm | | Proximity sensor, inductive, nickel-brass, short body, M12, shielded, 4 mm, DC, 3-wire, PNP NO, IO-Link COM3, 2 m prewired |
| | M12 | Flush | 4 mm | IO-Link, PNP | NO | Connector M12 | Brass, nickel plated | - | | COM3 (230.4 kbps) | 48 mm | 29 mm | | Proximity sensor, inductive, nickel-brass, short body, M12, shielded, 4 mm, DC, 3-wire, PNP NO, IO-Link COM3, M12 connector |
| | M12 | Flush | 4 mm | IO-Link, PNP | NO | M12 Pre-wired Smartclick connector | Brass, nickel plated | PVC (oil-resistant) | 0.3 m | COM3 (230.4 kbps) | 47 mm | 29 mm | | Proximity sensor, inductive, nickel-brass, short body, M12, shielded, 4 mm, DC, 3-wire, PNP NO, IO-Link COM3, M12 Smartclick Pig-tail 0.3 m |
| | M12 | Quasi-flush | 4 mm | IO-Link, PNP | NO | M12 Pre-wired Smartclick connector | Brass, nickel plated | PVC (oil-resistant) | 0.3 m | COM3 (230.4 kbps) | 47 mm | 29 mm | Flexible cable | Proximity sensor, inductive, nickel-brass, short body, M12, shielded, 4 mm, DC, 3-wire, PNP NO, IO-Link COM3, M12 Smartclick Pig-tail 0.3 m robotic cable |
| | M12 | Quasi-flush | 4 mm | IO-Link, PNP | NO | Cable | Brass, nickel plated | PVC (oil-resistant) | 2 m | COM3 (230.4 kbps) | 47 mm | 29 mm | Flexible cable | Proximity sensor, inductive, nickel-brass short body, M12, shielded, 4 mm, DC, 3-wire, PNP NO, IO-Link COM3, 2 m prewired robotic cable |
| | M8 | Quasi-flush | 4 mm | IO-Link, PNP | NO | Cable | Brass, nickel plated | PVC (oil-resistant) | 2 m | COM3 (230.4 kbps) | 37.8 mm | 22 mm | | Proximity sensor, inductive, short brass body M8, shielded, 4 mm, DC, 3-wire, PNP NO, IO-Link COM3, 2 m prewired |
| | M8 | Quasi-flush | 4 mm | IO-Link, PNP | NO | Connector M12 | Brass, nickel plated | - | | COM3 (230.4 kbps) | 43 mm | 22 mm | | Proximity sensor, inductive, short brass body M8, shielded, 4 mm, DC, 3-wire, PNP NO, IO-Link COM3, M12 connector |
| | M8 | Quasi-flush | 4 mm | IO-Link, PNP | NO | M12 Pre-wired Smartclick connector | Brass, nickel plated | PVC (oil-resistant) | 0.3 m | COM3 (230.4 kbps) | 37.8 mm | 22 mm | | Proximity sensor, inductive, short brass body M8, shielded, 4 mm, DC, 3-wire, PNP NO, IO-Link COM3, M12 Smartclick Pig-tail 0.3 m |
| | M8 | Quasi-flush | 4 mm | IO-Link, PNP | NO | Connector M8 - 4 pin | Brass, nickel plated | - | | COM3 (230.4 kbps) | 39 mm | 22 mm | | Proximity sensor, inductive, short brass body M8, shielded, 4 mm, DC, 3-wire, PNP NO, IO-Link COM3, M8 connector 4 pins |
| | M8 | Quasi-flush | 4 mm | IO-Link, PNP | NO | Connector M8 - 3 pin | Brass, nickel plated | - | | COM3 (230.4 kbps) | 39 mm | 22 mm | | Proximity sensor, inductive, short brass body M8, shielded, 4 mm, DC, 3-wire, PNP NO, IO-Link COM3, M8 connector 3 pin |
| | M8 | Quasi-flush | 4 mm | IO-Link, PNP | NO | Cable | Brass, nickel plated | PVC (oil-resistant) | 2 m | COM3 (230.4 kbps) | 38 mm | 22 mm | Flexible cable | Proximity sensor, inductive, short brass body M8, shielded, 4 mm, DC, 3-wire, PNP NO, IO-Link COM3, 2 m prewired robotic cable |
| | M12 | Flush | 4 mm | IO-Link, PNP | NO | Cable | Brass, nickel plated | PVC (oil-resistant) | 2 m | COM3 (230.4 kbps) | 69 mm | 55 mm | | Proximity sensor, inductive, nickel-brass, long body, M12, shielded, 4 mm, DC, 3-wire, PNP NO, IO-Link COM3, 2 m prewired |
| | M12 | Flush | 4 mm | IO-Link, PNP | NO | Connector M12 | Brass, nickel plated | - | | COM3 (230.4 kbps) | 70 mm | 55 mm | | Proximity sensor, inductive, nickel-brass long body, M12, shielded, 4 mm, DC, 3-wire, PNP NO, IO-Link COM3, M12 connector |
| | M12 | Quasi-flush | 4 mm | IO-Link, PNP | NO | M12 Pre-wired Smartclick connector | Brass, nickel plated | PVC (oil-resistant) | 0.3 m | COM3 (230.4 kbps) | 69 mm | 55 mm | | Proximity sensor, inductive, nickel-brass, long body, M12, shielded, 4 mm, DC, 3-wire, PNP NO, IO-Link COM3, M12 Smartclick Pig-tail 0.3 m |
| | M8 | Quasi-flush | 4 mm | IO-Link, PNP | NO | Cable | Brass, nickel plated | PVC (oil-resistant) | 2 m | COM3 (230.4 kbps) | 38 mm | 36 mm | | Proximity sensor, inductive, long brass body M8, shielded, 4 mm, DC, 3-wire, PNP NO, IO-Link COM3, 2 m prewired |
| | M8 | Quasi-flush | 4 mm | IO-Link, PNP | NO | Connector M12 | Brass, nickel plated | - | | COM3 (230.4 kbps) | 53 mm | 36 mm | | Proximity sensor, inductive, long brass body M8, shielded, 4 mm, DC, 3-wire, PNP NO, IO-Link COM3, M12 connector |
| | M8 | Quasi-flush | 4 mm | IO-Link, PNP | NO | M12 Pre-wired Smartclick connector | Brass, nickel plated | PVC (oil-resistant) | 0.3 m | COM3 (230.4 kbps) | 38 mm | 36 mm | | Proximity sensor, inductive, long brass body M8, shielded, 4 mm, DC, 3-wire, PNP NO, IO-Link COM3, M12 Smartclick Pig-tail 0.3 m |
| | M8 | Quasi-flush | 4 mm | IO-Link, PNP | NO | Connector M8 - 4 pin | Brass, nickel plated | - | | COM3 (230.4 kbps) | 49 mm | 36 mm | | Proximity sensor, inductive, long brass body M8, shielded, 4 mm, DC, 3-wire, PNP NO, IO-Link COM3, M8 connector 4 pins |
| | M8 | Quasi-flush | 4 mm | IO-Link, PNP | NO | Connector M8 - 3 pin | Brass, nickel plated | - | | COM3 (230.4 kbps) | 49 mm | 36 mm | | Proximity sensor, inductive, long brass body M8, shielded, 4 mm, DC, 3-wire, PNP NO, IO-Link COM3, M8 connector 3 pins |
| | M12 | Quasi-flush | 4 mm | PNP | NC | Cable | Brass, nickel plated | PVC (oil-resistant) | 2 m | | | | | Proximity sensor, inductive, nickel-brass, short body, M12, shielded, 4 mm, DC, 3-wire, PNP NC, 2 m prewired |
| | M12 | Quasi-flush | 4 mm | PNP | NC | Connector M12 | Brass, nickel plated | | | | | | | Proximity sensor, inductive, nickel-brass, short body, M12, shielded, 4 mm, DC, 3-wire, PNP NC, M12 connector |
| | M12 | Quasi-flush | 4 mm | PNP | NC | Cable | Brass, nickel plated | PVC (oil-resistant) | 2 m | | | | | Proximity sensor, inductive, nickel-brass, long body, M12, shielded, 4 mm, DC, 3-wire, PNP NC, 2 m prewired |
| | M12 | Quasi-flush | 4 mm | PNP | NC | Connector M12 | Brass, nickel plated | - | | | 70 mm | 55 mm | | Proximity sensor, inductive, nickel-brass, long body, M12, shielded, 4 mm, DC, 3-wire, PNP NC, M12 connector |
| | M12 | Quasi-flush | 4 mm | PNP | NC | M12 Pre-wired Smartclick connector | Brass, nickel plated | PVC (oil-resistant) | 0.3 m | | 69 mm | 55 mm | | Proximity sensor, inductive, nickel-brass, long body, M12, shielded, 4 mm, DC, 3-wire, PNP NC, M12 Smartclick Pig-tail 0.3 m |
| | M12 | Flush | 4 mm | IO-Link, PNP | NO + NC | Cable | Brass, nickel plated | PVC (oil-resistant) | 2 m | COM2 (38.4 kbps) | 47 mm | 29 mm | | Proximity sensor, inductive, nickel-brass, short body, M12, shielded, 4 mm, DC, 3-wire, PNP NO+NC, IO-Link COM2, 2 m prewired |
| | M12 | Quasi-flush | 4 mm | IO-Link, PNP | NO + NC | Connector M12 | Brass, nickel plated | | | COM2 (38.4 kbps) | | | | Proximity sensor, inductive, nickel-brass, short body, M12, shielded, 4 mm, DC, 3-wire, PNP NONC, IO-Link COM2, M12 connector |
| | M12 | Quasi-flush | 4 mm | IO-Link, PNP | NO + NC | Cable | Brass, nickel plated | PVC (oil-resistant) | 2 m | COM2 (38.4 kbps) | | | | Proximity sensor, inductive, nickel-brass, long body, M12, shielded, 4 mm, DC, 3-wire, PNP NONC, IO-Link COM2, 2 m prewired |
| | M12 | Flush | 4 mm | IO-Link, PNP | NO + NC | Connector M12 | Brass, nickel plated | - | | COM2 (38.4 kbps) | 70 mm | 55 mm | | Proximity sensor, inductive, nickel-brass, long body, M12, shielded, 4 mm, DC, 3-wire, PNP NO+NC, IO-Link COM2, M12 connector |
| | M12 | Quasi-flush | 4 mm | NPN | NO | Cable | Brass, nickel plated | PVC (oil-resistant) | 2 m | | | | | Proximity sensor, inductive, nickel-brass, short body, M12, shielded, 4 mm, DC, 3-wire, NPN NO, 2 m prewired |
| | M12 | Flush | 4 mm | NPN | NO | Connector M12 | Brass, nickel plated | - | | | 48 mm | 29 mm | | Proximity sensor, inductive, nickel-brass, short body, M12, shielded, 4 mm, DC, 3-wire, NPN NO, M12 connector |
| | M12 | Quasi-flush | 4 mm | NPN | NO | M12 Pre-wired Smartclick connector | Brass, nickel plated | PVC | 0.3 m | | | | | Proximity sensor, inductive, nickel-brass, short body, M12, shielded, 4 mm, DC, 3-wire, NPN NO, M12 Pre-wired Smartclick connector |
| | M8 | Flush | 4 mm | NPN | NO | Cable | Brass, nickel plated | PVC (oil-resistant) | 2 m | | | | | Proximity sensor, inductive, short brass body M8, shielded, 4 mm, DC, 3-wire, NPN NO, 2 m prewired |
| | M8 | Quasi-flush | 4 mm | NPN | NO | Connector M12 | Brass, nickel plated | - | | | 43 mm | 22 mm | | Proximity sensor, inductive, short brass body M8, shielded, 4 mm, DC, 3-wire, NPN NO, M12 connector |
| | M8 | Quasi-flush | 4 mm | NPN | NO | M12 Pre-wired Smartclick connector | Brass, nickel plated | PVC (oil-resistant) | 0.3 m | | | | | Proximity sensor, inductive, short brass body M8, shielded, 4 mm, DC, 3-wire, NPN NO, M12 Smartclick Pig-tail 0.3 m |
| | M8 | Quasi-flush | 4 mm | NPN | NO | Connector M8 - 3 pin | Brass, nickel plated | | | | | | | Proximity sensor, inductive, short brass body M8, shielded, 4 mm, DC, 3-wire, NPN NO, M8 connector 3 pins |
| | M12 | Quasi-flush | 4 mm | NPN | NC | Connector M12 | Brass, nickel plated | | | | | | | Proximity sensor, inductive, nickel-brass, short body, M12, shielded, 4 mm, DC, 3-wire, NPN NC, M12 connector |
| | M8 | Quasi-flush | 4 mm | NPN | NC | Connector M12 | Brass, nickel plated | - | | | 43 mm | 22 mm | | Proximity sensor, inductive, short brass body M8, shielded, 4 mm, DC, 3-wire, NPN NC, M12 connector |
| | M12 | Quasi-flush | 4 mm | NPN | NO + NC | Cable | Brass, nickel plated | PVC (oil-resistant) | 2 m | | | | | Proximity sensor, inductive, nickel-brass, short body, M12, shielded, 4 mm, DC, 3-wire, NPN NO+NC, 2 m prewired |
| | M12 | Quasi-flush | 4 mm | NPN | NO + NC | Connector M12 | Brass, nickel plated | | | | | | | Proximity sensor, inductive, nickel-brass, short body, M12, shielded, 4 mm, DC, 3-wire, NPN NO+NC, M12 connector |
| | M8 | Non-flush | 4 mm | IO-Link, PNP | NO/NC switching | Cable | Stainless steel | PVC (oil-resistant) | 2 m | COM2 (38.4 kbps) | | | | Proximity sensor, inductive, short SUS body M8, unshielded, 4 mm, DC, 3-wire, PNP NO, IO-Link COM2, 2 m prewired |
| | M8 | Non-flush | 4 mm | IO-Link, PNP | NO/NC switching | Connector M12 | Stainless steel | | | COM2 (38.4 kbps) | | | | Proximity sensor, inductive, short SUS body M8, unshielded, 4 mm, DC, 3-wire, PNP NO, IO-Link COM2, M12 connector 4 pins |
| | M8 | Non-flush | 4 mm | IO-Link, PNP | NO | Cable | Stainless steel | PVC (oil-resistant) | 2 m | COM3 (230.4 kbps) | 38 mm | 26 mm | | Proximity sensor, inductive, SUS short body, M8, unshielded, 4 mm, DC, 3-wire, PNP NO, IO-Link COM3, 2 m prewired |
| | M8 | Non-flush | 4 mm | IO-Link, PNP | NO | Connector M12 | Stainless steel | - | | COM3 (230.4 kbps) | 43 mm | 20 mm | | Proximity sensor, inductive, SUS short body, M8, unshielded, 4 mm, DC, 3-wire, PNP NO, IO-Link COM3, M12 connector |
| | M8 | Non-flush | 4 mm | IO-Link, PNP | NO | M12 Pre-wired Smartclick connector | Stainless steel | PVC (oil-resistant) | 0.3 m | COM3 (230.4 kbps) | 38 mm | 26 mm | | Proximity sensor, inductive, SUS short body, M8, unshielded, 4 mm, DC, 3-wire, PNP NO, IO-Link COM3, M12 Smartclick Pig-tail 0.3 m |
| | M8 | Non-flush | 4 mm | IO-Link, PNP | NO | Connector M8 - 4 pin | Stainless steel | - | | COM3 (230.4 kbps) | 39 mm | 22 mm | | Proximity sensor, inductive, SUS short body, M8, unshielded, 4 mm, DC, 3-wire, PNP NO, IO-Link COM3, M8 connector 4 pins |
| | M8 | Non-flush | 4 mm | IO-Link, PNP | NO | Connector M8 - 3 pin | Stainless steel | - | | COM3 (230.4 kbps) | 39 mm | 22 mm | | Proximity sensor, inductive, SUS short body, M8, unshielded, 4 mm, DC, 3-wire, PNP NO, IO-Link COM3, M8 connector 3 pins |
| | M8 | Non-flush | 4 mm | IO-Link, PNP | NO | Cable | Stainless steel | PVC (oil-resistant) | 2 m | COM3 (230.4 kbps) | 38 mm | 26 mm | Flexible cable | Proximity sensor, inductive, SUS short body, M8, unshielded, 4 mm, DC, 3-wire, PNP NO, IO-Link COM3, 2 m prewired robotic cable |
| | M8 | Non-flush | 4 mm | IO-Link, PNP | NO | Cable | Stainless steel | PVC (oil-resistant) | 2 m | COM3 (230.4 kbps) | 48 mm | 30 mm | | Proximity sensor, inductive, SUS long body, M8, unshielded, 4 mm, DC, 3-wire, PNP NO, IO-Link COM3, 2 m prewired |
| | M8 | Non-flush | 4 mm | IO-Link, PNP | NO | Connector M12 | Stainless steel | - | | COM3 (230.4 kbps) | 53 mm | 30 mm | | Proximity sensor, inductive, SUS long body, M8, unshielded, 4 mm, DC, 3-wire, PNP NO, IO-Link COM3, M12 connector |
| | M8 | Non-flush | 4 mm | IO-Link, PNP | NO | M12 Pre-wired Smartclick connector | Stainless steel | PVC (oil-resistant) | 0.3 m | COM3 (230.4 kbps) | 48 mm | 30 mm | | Proximity sensor, inductive, SUS long body, M8, unshielded, 4 mm, DC, 3-wire, PNP NO, IO-Link COM3, M12 Smartclick Pig-tail 0.3 m |
| | M8 | Non-flush | 4 mm | IO-Link, PNP | NO | Connector M8 - 4 pin | Stainless steel | - | | COM3 (230.4 kbps) | 49 mm | 30 mm | | Proximity sensor, inductive, SUS long body, M8, unshielded, 4 mm, DC, 3-wire, PNP NO, IO-Link COM3, M8 connector 4 pins |
| | M8 | Non-flush | 4 mm | IO-Link, PNP | NO | Connector M8 - 3 pin | Stainless steel | - | | COM3 (230.4 kbps) | 49 mm | 30 mm | | Proximity sensor, inductive, SUS long body, M8, unshielded, 4 mm, DC, 3-wire, PNP NO, IO-Link COM3, M8 connector 3 pins |
| | M8 | Non-flush | 4 mm | PNP | NC | Cable | Stainless steel | PVC (oil-resistant) | 2 m | | | | | Proximity sensor, inductive, short SUS body M8, unshielded, 4 mm, DC, 3-wire, PNP NC, 2 m prewired |
| | M8 | Non-flush | 4 mm | PNP | NC | Connector M12 | Stainless steel | | | | | | | Proximity sensor, inductive, short SUS body M8, unshielded, 4 mm, DC, 3-wire, PNP NC, M12 connector |
| | M8 | Non-flush | 4 mm | NPN | NO | Cable | Stainless steel | PVC (oil-resistant) | 2 m | | | | | Proximity sensor, inductive, short SUS body M8, unshielded, 4 mm, DC, 3-wire, NPN NO, 2 m prewired |
| | M8 | Non-flush | 4 mm | NPN | NO | Connector M12 | Stainless steel | | | | | | | Proximity sensor, inductive, short SUS body M8, unshielded, 4 mm, DC, 3-wire, NPN NO, M12 connector |
| | M30 | Non-flush | 50 mm | IO-Link, PNP | NO | Cable | Brass, nickel plated | PVC (oil-resistant) | 2 m | COM3 (230.4 kbps) | 97 mm | 65 mm | | Proximity sensor, inductive, nickel-brass long body, M30, unshielded, 50 mm, DC, 3-wire, PNP NO, IO-Link COM3, 2 m prewired |
| | M30 | Non-flush | 50 mm | IO-Link, PNP | NO | Connector M12 | Brass, nickel plated | - | | COM3 (230.4 kbps) | 95 mm | 65 mm | | Proximity sensor, inductive, nickel-brass long body, M30, unshielded, 50 mm, DC, 3-wire, PNP NO, IO-Link COM3, M12 connector |
| | M30 | Non-flush | 50 mm | IO-Link, PNP | NO | M12 Pre-wired Smartclick connector | Brass, nickel plated | PVC (oil-resistant) | 0.3 m | COM3 (230.4 kbps) | 97 mm | 65 mm | | Proximity sensor, inductive, nickel-brass long body, M30, unshielded, 50 mm, DC, 3-wire, PNP NO, IO-Link COM3, M12 Smartclick Pig-tail 0.3 m |
| | M30 | Non-flush | 50 mm | IO-Link, PNP | NO | Cable | Brass, nickel plated | PVC (oil-resistant) | 2 m | COM3 (230.4 kbps) | 97 mm | 65 mm | Flexible cable | Proximity sensor, inductive, nickel-brass long body, M30, unshielded, 50 mm, DC, 3-wire, PNP NO, IO-Link COM3, 2 m prewired robotic cable |
| | M30 | Non-flush | 50 mm | PNP | NC | Connector M12 | Brass, nickel plated | | | | | | | Proximity sensor, inductive, nickel-brass, long body, M30, unshielded, 50 mm, DC, 3-wire, PNP NC, M12 connector |
| | M30 | Non-flush | 50 mm | NPN | NO | Connector M12 | Brass, nickel plated | | | | | | | Proximity sensor, inductive, nickel-brass, long body, M30, unshielded, 50 mm, DC, 3-wire, NPN NO, M12 connector |
| | M30 | Non-flush | 50 mm | NPN | NC | Connector M12 | Brass, nickel plated | | | | | | | Proximity sensor, inductive, nickel-brass, long body, M30, unshielded, 50 mm, DC, 3-wire, NPN NC, M12 connector |
| | M18 | Flush | 5 mm | 2-wire | NO | M12 Pre-wired Smartclick connector | Brass, nickel plated | PVC (oil-resistant reinforced) | 0.3 m | | 54 mm | 37 mm | | Proximity sensor, inductive, brass-nickel, M18, shielded, 5 mm, NO, 0.3 m pig-tail, DC 2-wire |
| | M18 | Flush | 5 mm | 2-wire | NO | M12 Pre-wired Smartclick connector | Brass, nickel plated | PVC (oil-resistant reinforced) | 0.3 m | | 54 mm | 37 mm | | Proximity sensor, inductive, brass-nickel, M18, shielded, 5 mm, NO, 0.3 m pig-tail, DC 2-wire, no polarity |
| | M18 | Flush | 5 mm | 2-wire | NO | Cable | Brass, nickel plated | PVC (oil-resistant reinforced) | 2 m | | 54 mm | 37 mm | | Proximity sensor, inductive, brass-nickel, M18, shielded, 5 mm, NO, 2 m cable, DC 2-wire |
| | M18 | Flush | 5 mm | 2-wire | NO | Cable | Brass, nickel plated | PVC (oil-resistant reinforced) | 2 m | | 54 mm | 37 mm | Flexible cable | Proximity sensor, inductive, brass-nickel, M18, shielded, 5 mm, NO, 2 m cable robotic, DC 2-wire |
| | M18 | Flush | 5 mm | 2-wire | NO | Cable | Brass, nickel plated | PVC (oil-resistant reinforced) | 2 m | | 54 mm | 37 mm | | Proximity sensor, inductive, brass-nickel, M18, shielded, 5 mm, NO, 2 m cable, DC 2-wire, no polarity |
| | M18 | Flush | 5 mm | 2-wire | NO | Cable | Brass, nickel plated | PVC (oil-resistant reinforced) | 2 m | | 54 mm | 37 mm | Flexible cable | Proximity sensor, inductive, brass-nickel, M18, shielded, 5 mm, NO, 2 m cable robotic, DC 2-wire, no polarity |
| | M18 | Flush | 5 mm | 2-wire | NC | M12 Pre-wired Smartclick connector | Brass, nickel plated | PVC (oil-resistant reinforced) | 0.3 m | | 54 mm | 37 mm | | Proximity sensor, inductive, brass-nickel, M18, shielded, 5 mm, NC, 0.3 m pig-tail, DC 2-wire |
| | M18 | Flush | 5 mm | 2-wire | NC | M12 Pre-wired Smartclick connector | Brass, nickel plated | PVC (oil-resistant reinforced) | 0.3 m | | 54 mm | 37 mm | | Proximity sensor, inductive, brass-nickel, M18, shielded, 5 mm, NC, 0.3 m pig-tail, DC 2-wire, no polarity |
| | M18 | Flush | 5 mm | 2-wire | NC | Cable | Brass, nickel plated | PVC (oil-resistant reinforced) | 2 m | | 54 mm | 37 mm | | Proximity sensor, inductive, brass-nickel, M18, shielded, 5 mm, NC, 2 m cable, DC 2-wire |
| | M18 | Flush | 5 mm | 2-wire | NC | Cable | Brass, nickel plated | PVC (oil-resistant reinforced) | 2 m | | 54 mm | 37 mm | Flexible cable | Proximity sensor, inductive, brass-nickel, M18, shielded, 5 mm, NC, 2 m cable robotic, DC 2-wire |
| | M18 | Flush | 5 mm | 2-wire | NC | Cable | Brass, nickel plated | PVC (oil-resistant reinforced) | 2 m | | 54 mm | 37 mm | | Proximity sensor, inductive, brass-nickel, M18, shielded, 5 mm, NC, 2 m cable, DC 2-wire, no polarity |
| | M18 | Flush | 5 mm | 2-wire | NC | Cable | Brass, nickel plated | PVC (oil-resistant reinforced) | 2 m | | 54 mm | 37 mm | Flexible cable | Proximity sensor, inductive, brass-nickel, M18, shielded, 5 mm, NC, 2 m cable robotic, DC 2-wire, no polarity |
| | M12 | Non-flush | 5 mm | IO-Link, PNP | NO/NC switching | Connector M12 | Brass, nickel plated | | | COM2 (38.4 kbps) | | | | Proximity sensor, inductive, nickel-brass, long body, M12, unshielded, 5 mm, DC, 3-wire, PNP NO, IO-Link COM2, M12 connector |
| | M12 | Quasi-flush | 6 mm | IO-Link, PNP | NO/NC switching | Connector M12 | Brass, nickel plated | | | COM2 (38.4 kbps) | | | | Proximity sensor, inductive, nickel-brass, short body, M12, shielded, 6 mm, DC, 3-wire, PNP NO, IO-Link COM2, M12 connector |
| | M12 | Quasi-flush | 6 mm | IO-Link, PNP | NO | Cable | Brass, nickel plated | PVC (oil-resistant) | 2 m | COM3 (230.4 kbps) | 47 mm | 29 mm | | Proximity sensor, inductive, nickel-brass, short body, M12, shielded, 6 mm, DC, 3-wire, PNP NO, IO-Link COM3, 2 m prewired |
| | M12 | Quasi-flush | 6 mm | IO-Link, PNP | NO | Connector M12 | Brass, nickel plated | - | | COM3 (230.4 kbps) | 48 mm | 29 mm | | Proximity sensor, inductive, nickel-brass, short body, M12, shielded, 6 mm, DC, 3-wire, PNP NO, IO-Link COM3, M12 connector |
| | M12 | Quasi-flush | 6 mm | IO-Link, PNP | NO | M12 Pre-wired Smartclick connector | Brass, nickel plated | PVC (oil-resistant) | 0.3 m | COM3 (230.4 kbps) | 47 mm | 29 mm | | Proximity sensor, inductive, nickel-brass short body, M12, shielded, 6 mm, DC, 3-wire, PNP NO, IO-Link COM3, M12 Smartclick Pig-tail 0.3 m |
| | M12 | Quasi-flush | 6 mm | IO-Link, PNP | NO | M12 Pre-wired Smartclick connector | Brass, nickel plated | PVC (oil-resistant) | 0.3 m | COM3 (230.4 kbps) | 47 mm | 29 mm | Flexible cable | Proximity sensor, inductive, nickel-brass, short body, M12, shielded, 6 mm, DC, 3-wire, PNP NO, IO-Link COM3, M12 Smartclick Pig-tail 0.3 m robotic cable |
| | M12 | Quasi-flush | 6 mm | IO-Link, PNP | NO | Cable | Brass, nickel plated | PVC (oil-resistant) | 2 m | COM3 (230.4 kbps) | 47 mm | 29 mm | Flexible cable | Proximity sensor, inductive, nickel-brass short body, M12, shielded, 6 mm, DC, 3-wire, PNP NO, IO-Link COM3, 2 m prewired robotic cable |
| | M12 | Quasi-flush | 6 mm | IO-Link, PNP | NO | Cable | Brass, nickel plated | PVC (oil-resistant) | 2 m | COM3 (230.4 kbps) | 69 mm | 55 mm | | Proximity sensor, inductive, nickel-brass long body, M12, shielded, 6 mm, DC, 3-wire, PNP NO, IO-Link COM3, 2 m prewired |
| | M12 | Quasi-flush | 6 mm | IO-Link, PNP | NO | Connector M12 | Brass, nickel plated | - | | COM3 (230.4 kbps) | 70 mm | 55 mm | | Proximity sensor, inductive, nickel-brass, long body, M12, shielded, 6 mm, DC, 3-wire, PNP NO, IO-Link COM3, M12 connector |
| | M12 | Quasi-flush | 6 mm | IO-Link, PNP | NO | M12 Pre-wired Smartclick connector | Brass, nickel plated | PVC (oil-resistant) | 0.3 m | COM3 (230.4 kbps) | 69 mm | 55 mm | | Proximity sensor, inductive, nickel-brass, long body, M12, shielded, 6 mm, DC, 3-wire, PNP NO, IO-Link COM3, M12 Smartclick Pig-tail 0.3 m |
| | M12 | Quasi-flush | 6 mm | PNP | NC | Cable | Brass, nickel plated | PVC (oil-resistant) | 2 m | | 47 mm | 29 mm | | Proximity sensor, inductive, nickel-brass, short body, M12, shielded, 6 mm, DC, 3-wire, PNP NC, 2 m prewired |
| | M12 | Quasi-flush | 6 mm | PNP | NC | Connector M12 | Brass, nickel plated | - | | | 48 mm | 29 mm | | Proximity sensor, inductive, nickel-brass, short body, M12, shielded, 6 mm, DC, 3-wire, PNP NC, M12 connector |
| | M12 | Quasi-flush | 6 mm | PNP | NC | M12 Pre-wired Smartclick connector | Brass, nickel plated | PVC (oil-resistant) | 0.3 m | | 47 mm | 29 mm | | Proximity sensor, inductive, nickel-brass, short body, M12, shielded, 6 mm, DC, 3-wire, PNP NC, M12 Smartclick Pig-tail 0.3 m |
| | M12 | Quasi-flush | 6 mm | IO-Link, PNP | NO + NC | Connector M12 | Brass, nickel plated | - | | COM2 (38.4 kbps) | 48 mm | 29 mm | | Proximity sensor, inductive, nickel-brass, short body, M12, shielded, 6 mm, DC, 3-wire, PNP NO+NC, IO-Link COM2, M12 connector |
| | M12 | Quasi-flush | 6 mm | NPN | NO | Cable | Brass, nickel plated | PVC (oil-resistant) | 2 m | | 47 mm | 28 mm | | Proximity sensor, inductive, nickel-brass, short body, M12, shielded, 6 mm, DC, 3-wire, NPN NO, 2 m prewired |
| | M12 | Quasi-flush | 6 mm | NPN | NO | Connector M12 | Brass, nickel plated | - | | | 48 mm | 28 mm | | Proximity sensor, inductive, nickel-brass, short body, M12, shielded, 6 mm, DC, 3-wire, NPN NO, M12 connector |
| | M12 | Quasi-flush | 6 mm | NPN | NC | Cable | Brass, nickel plated | PVC (oil-resistant) | 2 m | | 47 mm | 28 mm | | Proximity sensor, inductive, nickel-brass, short body, M12, shielded, 6 mm, DC, 3-wire, NPN NC, 2 m prewired |
| | M12 | Quasi-flush | 6 mm | NPN | NC | Connector M12 | Brass, nickel plated | - | | | 48 mm | 28 mm | | Proximity sensor, inductive, nickel-brass, short body, M12, shielded, 6 mm, DC, 3-wire, NPN NC, M12 connector |
| | M8 | Non-flush | 6 mm | IO-Link, PNP | NO | Cable | Stainless steel | PVC (oil-resistant) | 2 m | COM3 (230.4 kbps) | 38 mm | 20 mm | | Proximity sensor, inductive, SUS short body, M8, unshielded, 6 mm, DC, 3-wire, PNP NO, IO-Link COM3, 2 m prewired |
| | M8 | Non-flush | 6 mm | IO-Link, PNP | NO | Connector M12 | Stainless steel | - | | COM3 (230.4 kbps) | 43 mm | 20 mm | | Proximity sensor, inductive, SUS short body, M8, unshielded, 6 mm, DC, 3-wire, PNP NO, IO-Link COM3, M12 connector |
| | M8 | Non-flush | 6 mm | IO-Link, PNP | NO | M12 Pre-wired Smartclick connector | Stainless steel | PVC (oil-resistant) | 0.3 m | COM3 (230.4 kbps) | 38 mm | 20 mm | | Proximity sensor, inductive, SUS short body, M8, unshielded, 6 mm, DC, 3-wire, PNP NO, IO-Link COM3, M12 Smartclick Pig-tail 0.3 m |
| | M8 | Non-flush | 6 mm | IO-Link, PNP | NO | Connector M8 - 4 pin | Stainless steel | - | | COM3 (230.4 kbps) | 39 mm | 20 mm | | Proximity sensor, inductive, SUS short body, M8, unshielded, 6 mm, DC, 3-wire, PNP NO, IO-Link COM3, M8 connector 4 pins |
| | M8 | Non-flush | 6 mm | IO-Link, PNP | NO | Connector M8 - 3 pin | Stainless steel | - | | COM3 (230.4 kbps) | 39 mm | 20 mm | | Proximity sensor, inductive, SUS short body, M8, unshielded, 6 mm, DC, 3-wire, PNP NO, IO-Link COM3, M8 connector 3 pins |
| | M8 | Non-flush | 6 mm | IO-Link, PNP | NO | Cable | Stainless steel | PVC (oil-resistant) | 2 m | COM3 (230.4 kbps) | 38 mm | 20 mm | Flexible cable | Proximity sensor, inductive, SUS short body, M8, unshielded, 6 mm, DC, 3-wire, PNP NO, IO-Link COM3, 2 m prewired robotic cable |
| | M8 | Non-flush | 6 mm | IO-Link, PNP | NO | Cable | Stainless steel | PVC (oil-resistant) | 2 m | COM3 (230.4 kbps) | 48 mm | 20 mm | | Proximity sensor, inductive, SUS long body, M8, unshielded, 6 mm, DC, 3-wire, PNP NO, IO-Link COM3, 2 m prewired |
| | M8 | Non-flush | 6 mm | IO-Link, PNP | NO | Connector M12 | Stainless steel | - | | COM3 (230.4 kbps) | 53 mm | 30 mm | | Proximity sensor, inductive, SUS long body, M8, unshielded, 6 mm, DC, 3-wire, PNP NO, IO-Link COM3, M12 connector |
| | M8 | Non-flush | 6 mm | IO-Link, PNP | NO | M12 Pre-wired Smartclick connector | Stainless steel | PVC (oil-resistant) | 0.3 m | COM3 (230.4 kbps) | 48 mm | 20 mm | | Proximity sensor, inductive, SUS long body, M8, unshielded, 6 mm, DC, 3-wire, PNP NO, IO-Link COM3, M12 Smartclick Pig-tail 0.3 m |
| | M8 | Non-flush | 6 mm | IO-Link, PNP | NO | Connector M8 - 4 pin | Stainless steel | - | | COM3 (230.4 kbps) | 49 mm | 30 mm | | Proximity sensor, inductive, SUS long body, M8, unshielded, 6 mm, DC, 3-wire, PNP NO, IO-Link COM3, M8 connector 4 pins |
| | M8 | Non-flush | 6 mm | IO-Link, PNP | NO | Connector M8 - 3 pin | Stainless steel | - | | COM3 (230.4 kbps) | 49 mm | 30 mm | | Proximity sensor, inductive, SUS long body, M8, unshielded, 6 mm, DC, 3-wire, PNP NO, IO-Link COM3, M8 connector 3 pins |
| | M8 | Non-flush | 6 mm | 2-wire | NO | Cable | Stainless steel | PVC (oil-resistant reinforced) | 2 m | | 38 mm | 20 mm | | Proximity sensor, inductive, stainless steel, M8, non-shielded, 6 mm, NO, 2 m cable, DC 2-wire |
| | M8 | Non-flush | 6 mm | 2-wire | NO | Cable | Stainless steel | PVC (oil-resistant reinforced) | 5 m | | 38 mm | 20 mm | | Proximity sensor, inductive, stainless steel, M8, non-shielded, 6 mm, NO, 5 m cable, DC 2-wire |
| | M8 | Non-flush | 6 mm | 2-wire | NO | M12 Pre-wired Smartclick connector | Stainless steel | PVC (oil-resistant reinforced) | 0.3 m | | 38 mm | 20 mm | | Proximity sensor, inductive, stainless steel, M8, non-shielded, 6 mm, NO, 0.3 m pig-tail, DC 2-wire |
| | M8 | Non-flush | 6 mm | 2-wire | NO | M12 Pre-wired Smartclick connector | Stainless steel | PVC (oil-resistant reinforced) | 0.3 m | | 38 mm | 20 mm | | Proximity sensor, inductive, stainless steel, M8, non-shielded, 6 mm, NO, 0.3 m pig-tail, DC 2-wire, no polarity |
| | M8 | Non-flush | 6 mm | 2-wire | NO | Cable | Stainless steel | PVC (oil-resistant reinforced) | 2 m | | 38 mm | 20 mm | Flexible cable | Proximity sensor, inductive, stainless steel, M8, non-shielded, 6 mm, NO, 2 m cable robotic, DC 2-wire |
| | M8 | Non-flush | 6 mm | 2-wire | NO | Cable | Stainless steel | PVC (oil-resistant reinforced) | 2 m | | 38 mm | 20 mm | | Proximity sensor, inductive, stainless steel, M8, non-shielded, 6 mm, NO, 2 m cable, DC 2-wire, no polarity |
| | M8 | Non-flush | 6 mm | 2-wire | NO | Cable | Stainless steel | PVC (oil-resistant reinforced) | 2 m | | 38 mm | 20 mm | Flexible cable | Proximity sensor, inductive, stainless steel, M8, non-shielded, 6 mm, NO, 2 m cable robotic, DC 2-wire, no polarity |
| | M8 | Non-flush | 6 mm | 2-wire | NC | Cable | Stainless steel | PVC (oil-resistant reinforced) | 2 m | | 38 mm | 20 mm | | Proximity sensor, inductive, stainless steel, M8, non-shielded, 6 mm, NC, 2 m cable, DC 2-wire |
| | M8 | Non-flush | 6 mm | 2-wire | NC | M12 Pre-wired Smartclick connector | Stainless steel | PVC (oil-resistant reinforced) | 0.3 m | | 38 mm | 20 mm | | Proximity sensor, inductive, stainless steel, M8, non-shielded, 6 mm, NC, 0.3 m pig-tail, DC 2-wire |
| | M8 | Non-flush | 6 mm | 2-wire | NC | M12 Pre-wired Smartclick connector | Stainless steel | PVC (oil-resistant reinforced) | 0.3 m | | 38 mm | 20 mm | | Proximity sensor, inductive, stainless steel, M8, non-shielded, 6 mm, NC, 0.3 m pig-tail, DC 2-wire, no polarity |
| | M8 | Non-flush | 6 mm | 2-wire | NC | Cable | Stainless steel | PVC (oil-resistant reinforced) | 2 m | | 38 mm | 20 mm | Flexible cable | Proximity sensor, inductive, stainless steel, M8, non-shielded, 6 mm, NC, 2 m cable robotic, DC 2-wire |
| | M8 | Non-flush | 6 mm | 2-wire | NC | Cable | Stainless steel | PVC (oil-resistant reinforced) | 2 m | | 38 mm | 20 mm | | Proximity sensor, inductive, stainless steel, M8, non-shielded, 6 mm, NC, 2 m cable, DC 2-wire, no polarity |
| | M8 | Non-flush | 6 mm | 2-wire | NC | Cable | Stainless steel | PVC (oil-resistant reinforced) | 2 m | | 38 mm | 20 mm | Flexible cable | Proximity sensor, inductive, stainless steel, M8, non-shielded, 6 mm, NC, 2 m cable robotic, DC 2-wire, no polarity |
| | M12 | Flush | 7 mm | 2-wire | NO | Cable | Brass, nickel plated | PVC (oil-resistant reinforced) | 2 m | | 47 mm | 28 mm | | Proximity sensor, inductive, brass-nickel, M12, shielded, 7 mm, NO, 2 m cable, DC 2-wire |
| | M12 | Flush | 7 mm | 2-wire | NO | M12 Pre-wired Smartclick connector | Brass, nickel plated | PVC (oil-resistant reinforced) | 0.3 m | | 47 mm | 28 mm | | Proximity sensor, inductive, brass-nickel, M12, shielded, 7 mm, NO, 0.3 m pig-tail, DC 2-wire |
| | M12 | Flush | 7 mm | 2-wire | NO | M12 Pre-wired Smartclick connector | Brass, nickel plated | PVC (oil-resistant reinforced) | 0.3 m | | 47 mm | 28 mm | | Proximity sensor, inductive, brass-nickel, M12, shielded, 7 mm, NO, 0.3 m pig-tail, DC 2-wire, no polarity |
| | M12 | Flush | 7 mm | 2-wire | NO | Cable | Brass, nickel plated | PVC (oil-resistant reinforced) | 2 m | | 47 mm | 28 mm | Flexible cable | Proximity sensor, inductive, brass-nickel, M12, shielded, 7 mm, NO, 2 m cable robotic, DC 2-wire |
| | M12 | Flush | 7 mm | 2-wire | NO | Cable | Brass, nickel plated | PVC (oil-resistant reinforced) | 2 m | | 47 mm | 28 mm | | Proximity sensor, inductive, brass-nickel, M12, shielded, 7 mm, NO, 2 m cable, DC 2-wire, no polarity |
| | M12 | Flush | 7 mm | 2-wire | NO | Cable | Brass, nickel plated | PVC (oil-resistant reinforced) | 2 m | | 47 mm | 28 mm | Flexible cable | Proximity sensor, inductive, brass-nickel, M12, shielded, 7 mm, NO, 2 m cable robotic, DC 2-wire, no polarity |
| | M12 | Flush | 7 mm | 2-wire | NC | Cable | Brass, nickel plated | PVC (oil-resistant reinforced) | 2 m | | 47 mm | 28 mm | | Proximity sensor, inductive, brass-nickel, M12, shielded, 7 mm, NC, 2 m cable, DC 2-wire |
| | M12 | Flush | 7 mm | 2-wire | NC | M12 Pre-wired Smartclick connector | Brass, nickel plated | PVC (oil-resistant reinforced) | 0.3 m | | 47 mm | 28 mm | | Proximity sensor, inductive, brass-nickel, M12, shielded, 7 mm, NC, 0.3 m pig-tail, DC 2-wire |
| | M12 | Flush | 7 mm | 2-wire | NC | M12 Pre-wired Smartclick connector | Brass, nickel plated | PVC (oil-resistant reinforced) | 0.3 m | | 47 mm | 28 mm | | Proximity sensor, inductive, brass-nickel, M12, shielded, 7 mm, NC, 0.3 m pig-tail, DC 2-wire, no polarity |
| | M12 | Flush | 7 mm | 2-wire | NC | Cable | Brass, nickel plated | PVC (oil-resistant reinforced) | 2 m | | 47 mm | 28 mm | Flexible cable | Proximity sensor, inductive, brass-nickel, M12, shielded, 7 mm, NC, 2 m cable robotic, DC 2-wire |
| | M12 | Flush | 7 mm | 2-wire | NC | Cable | Brass, nickel plated | PVC (oil-resistant reinforced) | 2 m | | 47 mm | 28 mm | | Proximity sensor, inductive, brass-nickel, M12, shielded, 7 mm, NC, 2 m cable, DC 2-wire, no polarity |
| | M12 | Flush | 7 mm | 2-wire | NC | Cable | Brass, nickel plated | PVC (oil-resistant reinforced) | 2 m | | 47 mm | 28 mm | Flexible cable | Proximity sensor, inductive, brass-nickel, M12, shielded, 7 mm, NC, 2 m cable robotic, DC 2-wire, no polarity |
| | M18 | Quasi-flush | 8 mm | IO-Link, PNP | NO | Cable | Brass, nickel plated | PVC (oil-resistant) | 2 m | COM2 (38.4 kbps) | 53 mm | 34 mm | | Proximity sensor, inductive, nickel-brass, short body, M18, shielded, 8 mm, DC, 3-wire, PNP NO, IO-Link COM2, 2 m prewired |
| | M18 | Quasi-flush | 8 mm | IO-Link, PNP | NO | Connector M12 | Brass, nickel plated | | | COM2 (38.4 kbps) | 53 mm | 34 mm | | Proximity sensor, inductive, nickel-brass, short body, M18, shielded, 8 mm, DC, 3-wire, PNP NO, IO-Link COM2, M12 connector |
| | M18 | Flush | 8 mm | IO-Link, PNP | NO | Cable | Brass, nickel plated | PVC (oil-resistant) | 2 m | COM3 (230.4 kbps) | 55 mm | 34 mm | | Proximity sensor, inductive, nickel-brass, short body, M18, shielded, 8 mm, DC, 3-wire, PNP NO, IO-Link COM3, 2 m prewired |
| | M18 | Flush | 8 mm | IO-Link, PNP | NO | Connector M12 | Brass, nickel plated | - | | COM3 (230.4 kbps) | 53 mm | 34 mm | | Proximity sensor, inductive, nickel-brass, short body, M18, shielded, 8 mm, DC, 3-wire, PNP NO, IO-Link COM3, M12 connector |
| | M18 | Flush | 8 mm | IO-Link, PNP | NO | M12 Pre-wired Smartclick connector | Brass, nickel plated | PVC (oil-resistant) | 0.3 m | COM3 (230.4 kbps) | 55 mm | 34 mm | | Proximity sensor, inductive, nickel-brass, short body, M18, shielded, 8 mm, DC, 3-wire, PNP NO, IO-Link COM3, M12 Smartclick Pig-tail 0.3 m |
| | M18 | Quasi-flush | 8 mm | IO-Link, PNP | NO | Cable | Brass, nickel plated | PVC (oil-resistant) | 2 m | COM3 (230.4 kbps) | 55 mm | 34 mm | Flexible cable | Proximity sensor, inductive, nickel-brass short body, M18, shielded, 8 mm, DC, 3-wire, PNP NO, IO-Link COM3, 2 m prewired robotic cable |
| | M18 | Flush | 8 mm | IO-Link, PNP | NO | Cable | Brass, nickel plated | PVC (oil-resistant) | 2 m | COM3 (230.4 kbps) | 77 mm | 50 mm | | Proximity sensor, inductive, nickel-brass long body, M18, shielded, 8 mm, DC, 3-wire, PNP NO, IO-Link COM3, 2 m prewired |
| | M18 | Flush | 8 mm | IO-Link, PNP | NO | Connector M12 | Brass, nickel plated | - | | COM3 (230.4 kbps) | 75 mm | 48 mm | | Proximity sensor, inductive, nickel-brass long body, M18, shielded, 8 mm, DC, 3-wire, PNP NO, IO-Link COM3, M12 connector |
| | M18 | Quasi-flush | 8 mm | IO-Link, PNP | NO | M12 Pre-wired Smartclick connector | Brass, nickel plated | PVC (oil-resistant) | 0.3 m | COM3 (230.4 kbps) | 77 mm | 50 mm | | Proximity sensor, inductive, nickel-brass long body, M18, shielded, 8 mm, DC, 3-wire, PNP NO, IO-Link COM3, M12 Smartclick Pig-tail 0.3 m |
| | M18 | Quasi-flush | 8 mm | PNP | NC | Cable | Brass, nickel plated | PVC (oil-resistant) | 2 m | | 53 mm | 34 mm | | Proximity sensor, inductive, nickel-brass, short body, M18, shielded, 8 mm, DC, 3-wire, PNP NC, 2 m prewired |
| | M18 | Quasi-flush | 8 mm | PNP | NC | Connector M12 | Brass, nickel plated | | | | 53 mm | 34 mm | | Proximity sensor, inductive, nickel-brass, short body, M18, shielded, 8 mm, DC, 3-wire, PNP NC, M12 connector |
| | M18 | Quasi-flush | 8 mm | PNP | NC | Connector M12 | Brass, nickel plated | | | | | | | Proximity sensor, inductive, nickel-brass, long body, M18, shielded, 8 mm, DC, 3-wire, PNP NC, M12 connector |
| | M18 | Flush | 8 mm | IO-Link, PNP | NO + NC | Cable | Brass, nickel plated | PVC (oil-resistant) | 2 m | COM2 (38.4 kbps) | 55 mm | 34 mm | | Proximity sensor, inductive, nickel-brass, short body, M18, shielded, 8 mm, DC, 3-wire, PNP NO+NC, IO-Link COM2, 2 m prewired |
| | M18 | Flush | 8 mm | IO-Link, PNP | NO + NC | Connector M12 | Brass, nickel plated | - | | COM2 (38.4 kbps) | 53 mm | 34 mm | | Proximity sensor, inductive, nickel-brass, short body, M18, shielded, 8 mm, DC, 3-wire, PNP NO+NC, IO-Link COM2, M12 connector |
| | M18 | Quasi-flush | 8 mm | IO-Link, PNP | NO + NC | M12 Pre-wired Smartclick connector | Brass, nickel plated | PVC (oil-resistant) | 0.3 m | COM2 (38.4 kbps) | 55 mm | 34 mm | | Proximity sensor, inductive, nickel-brass, short body, M18, shielded, 8 mm, DC, 3-wire, PNP NO+NC, IO-Link COM2, M12 Smartclick Pig-tail 0.3 m |
| | | Quasi-flush | 8 mm | IO-Link, PNP | NO + NC | Cable | Brass, nickel plated | PVC (oil-resistant) | 2 m | COM2 (38.4 kbps) | | | | Proximity sensor, inductive, nickel-brass, long body, M18, shielded, 8 mm, DC, 3-wire, PNP NONC, IO-Link COM2, 2 m prewired |
| | M18 | Flush | 8 mm | IO-Link, PNP | NO + NC | Connector M12 | Brass, nickel plated | - | | COM2 (38.4 kbps) | 75 mm | 60 mm | | Proximity sensor, inductive, nickel-brass, long body, M18, shielded, 8 mm, DC, 3-wire, PNP NO+NC, IO-Link COM2, M12 connector |
| | M18 | Quasi-flush | 8 mm | NPN | NO | Cable | Brass, nickel plated | PVC (oil-resistant) | 2 m | | 53 mm | 34 mm | | Proximity sensor, inductive, nickel-brass, short body, M18, shielded, 8 mm, DC, 3-wire, NPN NO, 2 m prewired |
| | M18 | Flush | 8 mm | NPN | NO | Connector M12 | Brass, nickel plated | - | | | 53 mm | 34 mm | | Proximity sensor, inductive, nickel-brass, short body, M18, shielded, 8 mm, DC, 3-wire, NPN NO, M12 connector |
| | M18 | Quasi-flush | 8 mm | NPN | NC | Connector M12 | Brass, nickel plated | | | | 53 mm | 34 mm | | Proximity sensor, inductive, nickel-brass, short body, M18, shielded, 8 mm, DC, 3-wire, NPN NC, M12 connector |
| | M18 | Flush | 8 mm | PNP | NO | Cable | Brass, nickel plated | PVC (oil-resistant) | 2 m | | 55 mm | 34 mm | | Proximity sensor, inductive, nickel-brass, short body, M18, shielded, 8 mm, DC, 3-wire, NPN NO+NC, 2 m prewired |
| | M12 | Non-flush | 8 mm | IO-Link, PNP | NO | Cable | Brass, nickel plated | PVC (oil-resistant) | 2 m | COM2 (38.4 kbps) | | | | Proximity sensor, inductive, nickel-brass, short body, M12, unshielded, 8 mm, DC, 3-wire, PNP NO, IO-Link COM2, 2 m prewired |
| | M12 | Non-flush | 8 mm | IO-Link, PNP | NO | Connector M12 | Brass, nickel plated | - | | COM2 (38.4 kbps) | 48 mm | 19 mm | | Proximity sensor, inductive, nickel-brass, short body, M12, unshielded, 8 mm, DC, 3-wire, PNP NO, IO-Link COM2, M12 connector |
| | M12 | Non-flush | 8 mm | IO-Link, PNP | NO | Connector M12 | Brass, nickel plated | - | | COM2 (38.4 kbps) | 70 mm | 48 mm | | Proximity sensor, inductive, nickel-brass, long body, M12, unshielded, 8 mm, DC, 3-wire, PNP NO, IO-Link COM2, M12 connector |
| | M8 | Non-flush | 8 mm | IO-Link, PNP | NO/NC switching | Connector M8 - 3 pin | Brass, nickel plated | | | COM2 (38.4 kbps) | | | | Proximity sensor, inductive, SUS body, long body, M8, unshielded, 8 mm, DC, 3-wire, PNP NO, IO-Link COM2, M8 connector 3 pins |
| | M12 | Non-flush | 8 mm | IO-Link, PNP | NO | Cable | Brass, nickel plated | PVC (oil-resistant) | 2 m | COM3 (230.4 kbps) | 47 mm | 26 mm | | Proximity sensor, inductive, nickel-brass short body, M12, unshielded, 8 mm, DC, 3-wire, PNP NO, IO-Link COM3, 2 m prewired |
| | M12 | Non-flush | 8 mm | IO-Link, PNP | NO | Connector M12 | Brass, nickel plated | - | | COM3 (230.4 kbps) | 48 mm | 19 mm | | Proximity sensor, inductive, nickel-brass, short body, M12, unshielded, 8 mm, DC, 3-wire, PNP NO, IO-Link COM3, M12 connector |
| | M12 | Non-flush | 8 mm | IO-Link, PNP | NO | M12 Pre-wired Smartclick connector | Brass, nickel plated | PVC (oil-resistant) | 0.3 m | COM3 (230.4 kbps) | 47 mm | 26 mm | | Proximity sensor, inductive, nickel-brass short body, M12, unshielded, 8 mm, DC, 3-wire, PNP NO, IO-Link COM3, M12 Smartclick Pig-tail 0.3 m |
| | M12 | Non-flush | 8 mm | IO-Link, PNP | NO | Cable | Brass, nickel plated | PVC (oil-resistant) | 2 m | COM3 (230.4 kbps) | 47 mm | 26 mm | Flexible cable | Proximity sensor, inductive, nickel-brass short body, M12, unshielded, 8 mm, DC, 3-wire, PNP NO, IO-Link COM3, 2 m prewired robotic cable |
| | M8 | Non-flush | 8 mm | IO-Link, PNP | NO | Cable | Stainless steel | PVC (oil-resistant) | 2 m | COM3 (230.4 kbps) | 38 mm | 20 mm | | Proximity sensor, inductive, SUS short body, M8, unshielded, 8 mm, DC, 3-wire, PNP NO, IO-Link COM3, 2 m prewired |
| | M8 | Non-flush | 8 mm | IO-Link, PNP | NO | Connector M12 | Stainless steel | - | | COM3 (230.4 kbps) | 43 mm | 20 mm | | Proximity sensor, inductive, SUS short body, M8, unshielded, 8 mm, DC, 3-wire, PNP NO, IO-Link COM3, M12 connector |
| | M8 | Non-flush | 8 mm | IO-Link, PNP | NO | M12 Pre-wired Smartclick connector | Stainless steel | PVC (oil-resistant) | 0.3 m | COM3 (230.4 kbps) | 38 mm | 20 mm | | Proximity sensor, inductive, SUS body, short body, M8, unshielded, 8 mm, DC, 3-wire, PNP NO, IO-Link COM3, M12 Smartclick Pig-tail 0.3 m |
| | M8 | Non-flush | 8 mm | IO-Link, PNP | NO | Connector M8 - 4 pin | Stainless steel | - | | COM3 (230.4 kbps) | 39 mm | 20 mm | | Proximity sensor, inductive, SUS short body, M8, unshielded, 8 mm, DC, 8-wire, PNP NO, IO-Link COM3, M8 connector 4 pins |
| | M8 | Non-flush | 8 mm | IO-Link, PNP | NO | Connector M8 - 3 pin | Stainless steel | - | | COM3 (230.4 kbps) | 39 mm | 20 mm | | Proximity sensor, inductive, SUS short body, M8, unshielded, 8 mm, DC, 3-wire, PNP NO, IO-Link COM3, M8 connector 3 pins |
| | M8 | Non-flush | 8 mm | IO-Link, PNP | NO | Cable | Stainless steel | PVC (oil-resistant) | 2 m | COM3 (230.4 kbps) | 38 mm | 20 mm | Flexible cable | Proximity sensor, inductive, SUS short body, M8, unshielded, 8 mm, DC, 3-wire, PNP NO, IO-Link COM3, 2 m prewired robotic cable |
| | M12 | Non-flush | 8 mm | IO-Link, PNP | NO | Cable | Brass, nickel plated | PVC (oil-resistant) | 2 m | COM3 (230.4 kbps) | 69 mm | 48 mm | | Proximity sensor, inductive, nickel-brass long body, M12, unshielded, 8 mm, DC, 3-wire, PNP NO, IO-Link COM3, 2 m prewired |
| | M12 | Non-flush | 8 mm | IO-Link, PNP | NO | Connector M12 | Brass, nickel plated | - | | COM3 (230.4 kbps) | 70 mm | 48 mm | | Proximity sensor, inductive, nickel-brass long body, M12, unshielded, 8 mm, DC, 3-wire, PNP NO, IO-Link COM3, M12 connector |
| | M12 | Non-flush | 8 mm | IO-Link, PNP | NO | M12 Pre-wired Smartclick connector | Brass, nickel plated | PVC (oil-resistant) | 0.3 m | COM3 (230.4 kbps) | 69 mm | 48 mm | | Proximity sensor, inductive, nickel-brass long body, M12, unshielded, 8 mm, DC, 3-wire, PNP NO, IO-Link COM3, M12 Smartclick Pig-tail 0.3 m |
| | M8 | Non-flush | 8 mm | IO-Link, PNP | NO | Cable | Stainless steel | PVC (oil-resistant) | 2 m | COM3 (230.4 kbps) | 48 mm | 20 mm | | Proximity sensor, inductive, SUS long body, M8, unshielded, 8 mm, DC, 3-wire, PNP NO, IO-Link COM3, 2 m prewired |
| | M8 | Non-flush | 8 mm | IO-Link, PNP | NO | Connector M12 | Stainless steel | - | | COM3 (230.4 kbps) | 53 mm | 30 mm | | Proximity sensor, inductive, SUS long body, M8, unshielded, 8 mm, DC, 3-wire, PNP NO, IO-Link COM3, M12 connector |
| | M8 | Non-flush | 8 mm | IO-Link, PNP | NO | M12 Pre-wired Smartclick connector | Stainless steel | PVC (oil-resistant) | 0.3 m | COM3 (230.4 kbps) | 48 mm | 20 mm | | Proximity sensor, inductive, SUS long body, M8, unshielded, 8 mm, DC, 3-wire, PNP NO, IO-Link COM3, M12 Smartclick Pig-tail 0.3 m |
| | M8 | Non-flush | 8 mm | IO-Link, PNP | NO | Connector M8 - 4 pin | Stainless steel | - | | COM3 (230.4 kbps) | 49 mm | 30 mm | | Proximity sensor, inductive, SUS long body, M8, unshielded, 8 mm, DC, 3-wire, PNP NO, IO-Link COM3, M8 connector 4 pins |
| | M8 | Non-flush | 8 mm | IO-Link, PNP | NO | Connector M8 - 3 pin | Stainless steel | - | | COM3 (230.4 kbps) | 49 mm | 30 mm | | Proximity sensor, inductive, SUS long body, M8, unshielded, 8 mm, DC, 3-wire, PNP NO, IO-Link COM3, M8 connector 3 pins |
| | M12 | Non-flush | 8 mm | PNP | NC | Cable | Brass, nickel plated | PVC (oil-resistant) | 2 m | | | | | Proximity sensor, inductive, nickel-brass, short body, M12, unshielded, 8 mm, DC, 3-wire, PNP NC, 2 m prewired |
| | M12 | Non-flush | 8 mm | PNP | NC | Connector M12 | Brass, nickel plated | - | | | 48 mm | 19 mm | | Proximity sensor, inductive, nickel-brass, short body, M12, unshielded, 8 mm, DC, 3-wire, PNP NC, M12 connector |
| | | Non-flush | 8 mm | PNP | NC | Cable | Brass, nickel plated | PVC (oil-resistant) | 2 m | | | | | Proximity sensor, inductive, nickel-brass, long body, M12, unshielded, 8 mm, DC, 3-wire, PNP NC, 2 m prewired |
| | | Non-flush | 8 mm | PNP | NC | Connector M12 | Brass, nickel plated | | | | | | | Proximity sensor, inductive, nickel-brass, long body, M12, unshielded, 8 mm, DC, 3-wire, PNP NC, M12 connector |
| | M12 | Non-flush | 8 mm | IO-Link, PNP | NO + NC | Cable | Brass, nickel plated | PVC (oil-resistant) | 2 m | COM2 (38.4 kbps) | | | | Proximity sensor, inductive, nickel-brass, short body, M12, unshielded, 8 mm, DC, 3-wire, PNP NONC, IO-Link COM2, 2 m prewired |
| | M12 | Non-flush | 8 mm | IO-Link, PNP | NO + NC | Connector M12 | Brass, nickel plated | - | | COM2 (38.4 kbps) | 48 mm | 19 mm | | Proximity sensor, inductive, nickel-brass, short body, M12, unshielded, 8 mm, DC, 3-wire, PNP NO+NC, IO-Link COM2, M12 connector |
| | M12 | Non-flush | 8 mm | IO-Link, PNP | NO + NC | Connector M12 | Brass, nickel plated | - | | COM2 (38.4 kbps) | 70 mm | 48 mm | | Proximity sensor, inductive, nickel-brass, long body, M12, unshielded, 8 mm, DC, 3-wire, PNP NO+NC, IO-Link COM2, M12 connector |
| | M12 | Non-flush | 8 mm | NPN | NO | Cable | Brass, nickel plated | PVC (oil-resistant) | 2 m | | | | | Proximity sensor, inductive, nickel-brass, short body, M12, unshielded, 8 mm, DC, 3-wire, NPN NO, 2 m prewired |
| | | Non-flush | 8 mm | NPN | NO | Connector M12 | Brass, nickel plated | | | | | | | Proximity sensor, inductive, nickel-brass, short body, M12, unshielded, 8 mm, DC, 3-wire, NPN NO, M12 connector |
| | M12 | Non-flush | 8 mm | NPN | NO | Cable | Brass, nickel plated | PVC (oil-resistant) | 2 m | | | | | Proximity sensor, inductive, nickel-brass, long body, M12, unshielded, 8 mm, DC, 3-wire, NPN NO, 2 m prewired |
| | M12 | Non-flush | 8 mm | NPN | NO | Connector M12 | Brass, nickel plated | - | | | 70 mm | 48 mm | | Proximity sensor, inductive, nickel-brass, long body, M12, unshielded, 8 mm, DC, 3-wire, NPN NO, M12 connector |
| | M8 | Non-flush | 8 mm | NPN | NO | Cable | Stainless steel | PVC (oil-resistant) | 2 m | | 48 mm | 36 mm | | Proximity sensor, inductive, SUS long body, M8, unshielded, 8 mm, DC, 3-wire, NPN NO, 2 m prewired |
| | M12 | Quasi-flush | 9 mm | IO-Link, PNP | NO | Cable | Brass, nickel plated | PVC (oil-resistant) | 2 m | COM3 (230.4 kbps) | 47 mm | 29 mm | | Proximity sensor, inductive, nickel-brass, short body, M12, shielded, 9 mm, DC, 3-wire, PNP NO, IO-Link COM3, 2 m prewired |
| | M12 | Quasi-flush | 9 mm | IO-Link, PNP | NO | Connector M12 | Brass, nickel plated | - | | COM3 (230.4 kbps) | 48 mm | 29 mm | | Proximity sensor, inductive, nickel-brass, short body, M12, shielded, 9 mm, DC, 3-wire, PNP NO, IO-Link COM3, M12 connector |
| | M12 | Quasi-flush | 9 mm | IO-Link, PNP | NO | M12 Pre-wired Smartclick connector | Brass, nickel plated | PVC (oil-resistant) | 0.3 m | COM3 (230.4 kbps) | 47 mm | 29 mm | | Proximity sensor, inductive, nickel-brass, short body, M12, shielded, 9 mm, DC, 3-wire, PNP NO, IO-Link COM3, M12 Smartclick Pig-tail 0.3 m |
| | M12 | Quasi-flush | 9 mm | IO-Link, PNP | NO | M12 Pre-wired Smartclick connector | Brass, nickel plated | PVC (oil-resistant) | 0.3 m | COM3 (230.4 kbps) | 47 mm | 29 mm | Flexible cable | Proximity sensor, inductive, nickel-brass, short body, M12, shielded, 9 mm, DC, 3-wire, PNP NO, IO-Link COM3, M12 Smartclick Pig-tail 0.3 m robotic cable |
| | M12 | Quasi-flush | 9 mm | IO-Link, PNP | NO | Cable | Brass, nickel plated | PVC (oil-resistant) | 2 m | COM3 (230.4 kbps) | 47 mm | 29 mm | Flexible cable | Proximity sensor, inductive, nickel-brass short body, M12, shielded, 9 mm, DC, 3-wire, PNP NO, IO-Link COM3, 2 m prewired robotic cable |
| | M12 | Quasi-flush | 9 mm | IO-Link, PNP | NO | Cable | Brass, nickel plated | PVC (oil-resistant) | 2 m | COM3 (230.4 kbps) | 69 mm | 55 mm | | Proximity sensor, inductive, nickel-brass, long body, M12, shielded, 9 mm, DC, 3-wire, PNP NO, IO-Link COM3, 2 m cable |
| | M12 | Quasi-flush | 9 mm | IO-Link, PNP | NO | Connector M12 | Brass, nickel plated | - | | COM3 (230.4 kbps) | 70 mm | 55 mm | | Proximity sensor, inductive, nickel-brass, long body, M12, shielded, 9 mm, DC, 3-wire, PNP NO, IO-Link COM3, M12 connector |
| | M12 | Quasi-flush | 9 mm | IO-Link, PNP | NO | M12 Pre-wired Smartclick connector | Brass, nickel plated | PVC (oil-resistant) | 0.3 m | COM3 (230.4 kbps) | 69 mm | 55 mm | | Proximity sensor, inductive, nickel-brass, long body, M12, shielded, 9 mm, DC, 3-wire, PNP NO, IO-Link COM3, M12 Smartclick Pig-tail 0.3 m |
| | M12 | Quasi-flush | 9 mm | PNP | NC | Connector M12 | Brass, nickel plated | | | | | | | Proximity sensor, inductive, nickel-brass, short body, M12, shielded, 9 mm, DC, 3-wire, PNP NC, M12 connector |
| | M12 | Non-flush | 9 mm | PNP | NC | M12 Pre-wired Smartclick connector | Brass, nickel plated | PVC (oil-resistant) | 0.3 m | | | | | Proximity sensor, inductive, nickel-brass, short body, M12, shielded, 9 mm, DC, 3-wire, PNP NC, M12 Smartclick Pig-tail 0.3 m |
| | M12 | Quasi-flush | 9 mm | NPN | NO | Cable | Brass, nickel plated | PVC (oil-resistant) | 2 m | | 47 mm | 29 mm | | Proximity sensor, inductive, nickel-brass, short body, M12, shielded, 9 mm, DC, 3-wire, NPN NO, 2 m prewired |
| | M12 | Quasi-flush | 9 mm | NPN | NO | Connector M12 | Brass, nickel plated | - | | | 48 mm | 29 mm | | Proximity sensor, inductive, nickel-brass, short body, M12, shielded, 9 mm, DC, 3-wire, NPN NO, M12 connector |
| | M12 | Quasi-flush | 9 mm | NPN | NO | M12 Pre-wired Smartclick connector | Brass, nickel plated | PVC (oil-resistant) | 0.3 m | | 47.1 mm | 29 mm | | Proximity sensor, inductive, nickel-brass, short body, M12, shielded, 9 mm, DC, 3-wire, NPN NO, M12 Smartclick Pig-tail 0.3 m |
| | M12 | Quasi-flush | 9 mm | NPN | NO | Cable | Brass, nickel plated | PVC (oil-resistant) | 2 m | | 69 mm | 55 mm | | Proximity sensor, inductive, nickel-brass, long body, M12, shielded, 9 mm, DC, 3-wire, NPN NO, 2 m prewired |
| | M12 | Quasi-flush | 9 mm | NPN | NO | Connector M12 | Brass, nickel plated | - | | | 70 mm | 55 mm | | Proximity sensor, inductive, nickel-brass, long body, M12, shielded, 9 mm, DC, 3-wire, NPN NO, M12 connector |
| | M12 | Quasi-flush | 9 mm | NPN | NC | Connector M12 | Brass, nickel plated | - | | | 48 mm | 29 mm | | Proximity sensor, inductive, nickel-brass, short body, M12, shielded, 9 mm, DC, 3-wire, NPN NC, M12 connector |
Comparar produtos
Mostrar mais produtos
Como o podemos ajudar?
Se tiver alguma questão ou pretender solicitar um orçamento, contacte-nos ou envie um pedido.
Características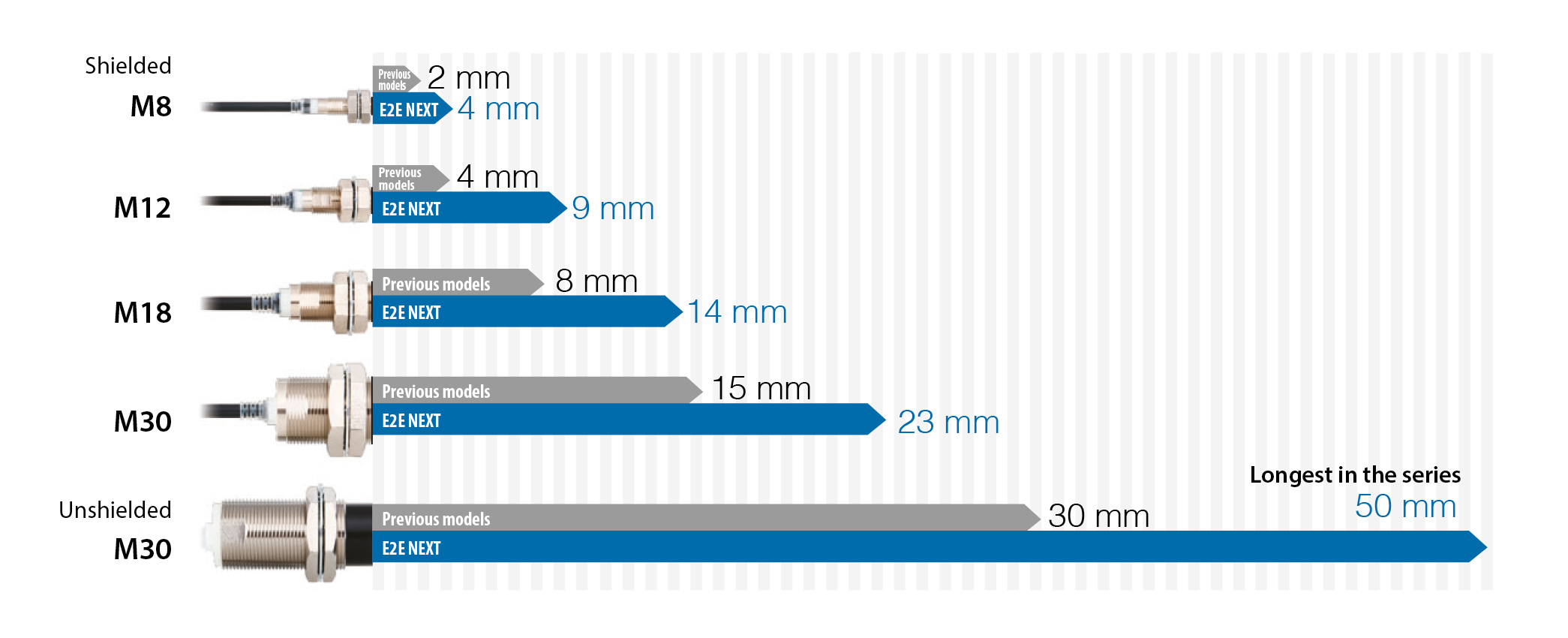 Permite um design mais amplo com menor risco de contacto
Com os modelos anteriores, para evitar falsas detecções, era necessário adoptar designs de instalação com maior risco de contacto. O sensor de proximidade E2E NEXT PREMIUM consegue detectar com precisão a distâncias superiores, o que significa que é possível adoptar designs com mais espaço e menor risco de contacto.

Um tamanho mais pequeno em comparação a modelos anteriores
Comparações de tamanho entre modelos com distâncias de detecção equivalentes ("E2E NEXT" corresponde a modelos de distância quádrupla)

Actualize facilmente instalações existentes para permitir "substituições em 10 segundos* de sensores de proximidade"
A distância de detecção do modelo HIGH SPEC é aproximadamente o dobro dos modelos anteriores. Por exemplo, a distância de detecção do modelo de distância quádrupla de tamanho M12 é de 9 mm, igual à distância dos modelos M18 convencionais. Utilizando estes sensores em conjunto com o "e-jig" é possível actualizar facilmente as instalações existentes para que seja possível substituir os respectivos sensores em apenas 10 segundos.*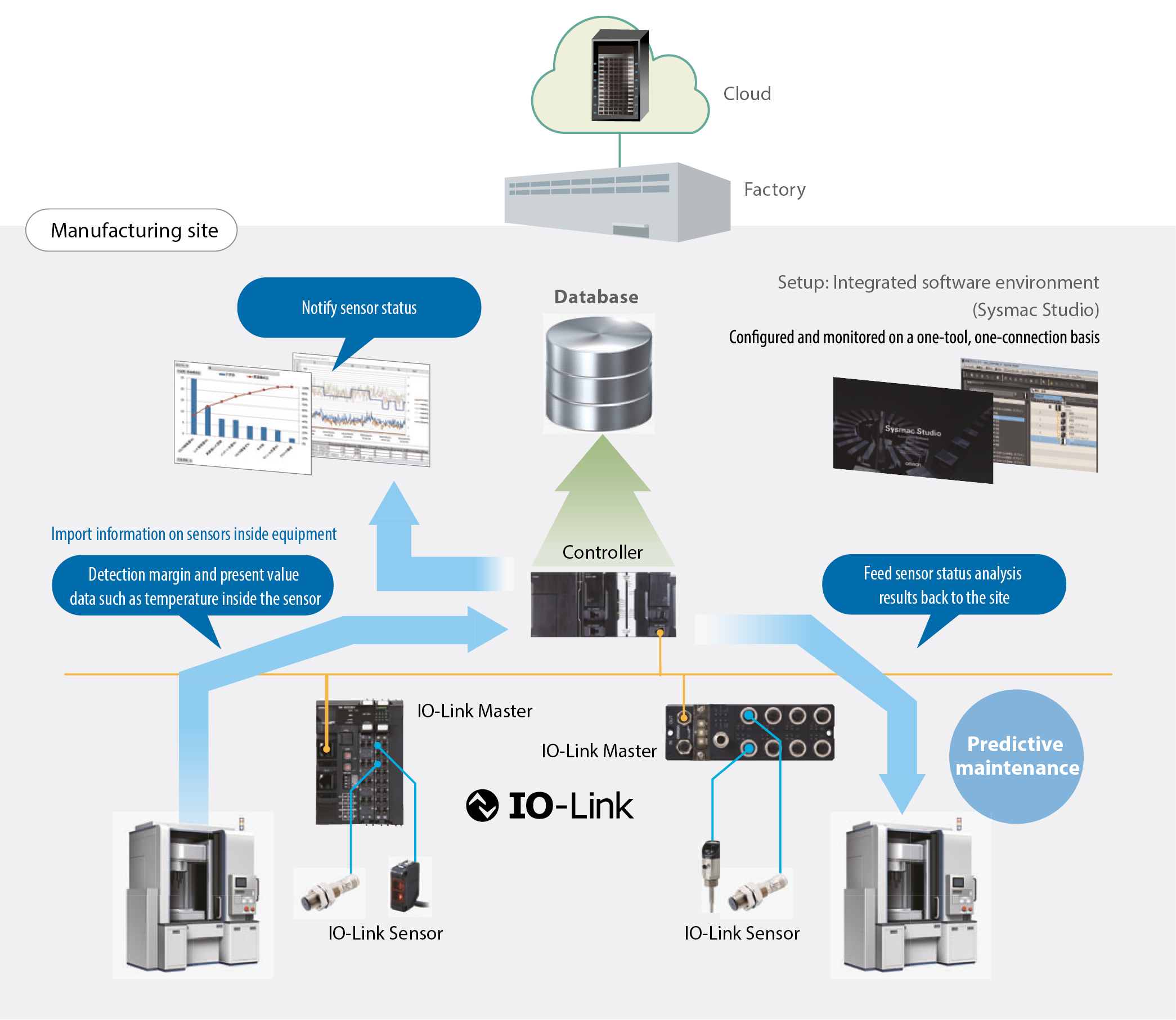 Permite realizar manutenções preventivas através de monitorização do estado
Ligar sensores a controladores utilizando a unidade mestre IO-Link permite enviar informações necessárias para um funcionamento estável de dispositivos anfitriões. Isto permite a monitorização do estado e detecção de falhas dos sensores, o que por sua vez contribui para a manutenção preditiva do equipamento e das instalações. Também é possível aumentar a produtividade das instalações, acumulando informações nas bases de dados e fornecendo resultados de análises de volta ao equipamento no local.
Vídeos
E2E NEXT Proximity Sensor: long distance detection
The E2E NEXT proximity sensor has a longer detection range compared to previous models, and allows for more spacious designs with less risk of contact. It also enables you to standardize your designs by letting you adopt a single one-size model instead of multiple models of different sizes.